Pear Recipes
We love pears for their mild, floral sweetness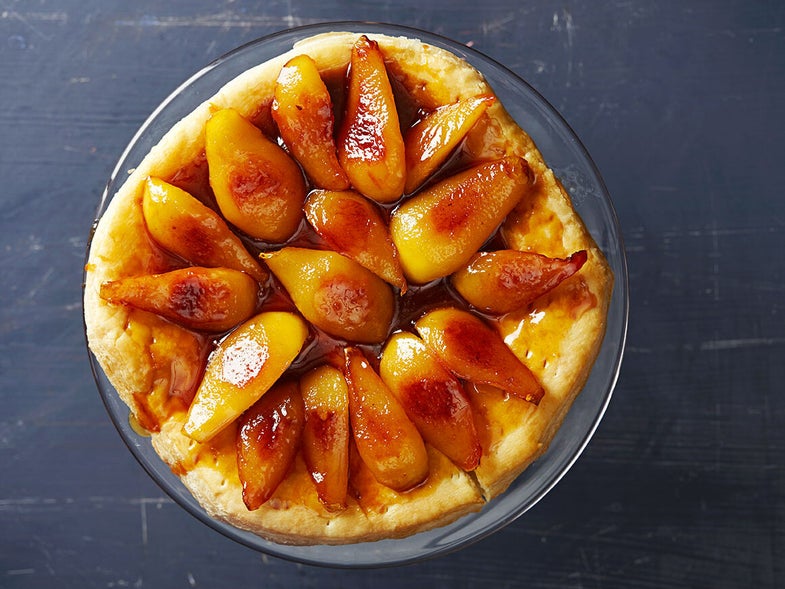 Mild and sweet with flavors that range from subtly citrusy to floral, juicy pears add a bright burst of sweetness to all kinds of sweet and savory fall dishes. From roast lamb and ravioli to tarte tatin and pie, we've rounded up our favorite pear recipes.
Pears are great for adding a touch of sweetness to savory dishes. Try serving beer-braised pork belly on a bed of arugula with caramelized pears. In our pear-marinated roast leg of lamb the fruit does double duty. Not only does it add flavor, but the enzymes in the pears actually tenderize the meat.
When it comes to dessert, we love simply poaching pears. Try poaching the fruit in a mixture of fernet, cinnamon, star anise, and vanilla bean and then reducing the liquid into a thick sauce. For a warming fall pie, combine pears with spicy ginger and top with a grumbly streusel.
Sweet pears are wonderful in cocktails. Our spiced pear collins mixes homemade pear puree and rosemary-clove simple syrup with gin and lemon juice, with a splash of sparkling wine adding effervescence. The Coup DeVille is made with pear-infused vodka, pear liqueur, honey, lemon juice, and prosecco.
Find all of these dishes, drinks, and more in our collection of pear recipes.