Recipes
Cider-Braised Red Cabbage
The ideal sweet and tangy side dish to star alongside your Sunday sauerbraten.
Serves

serves 10-12 people

Cook

1 hour 20 minutes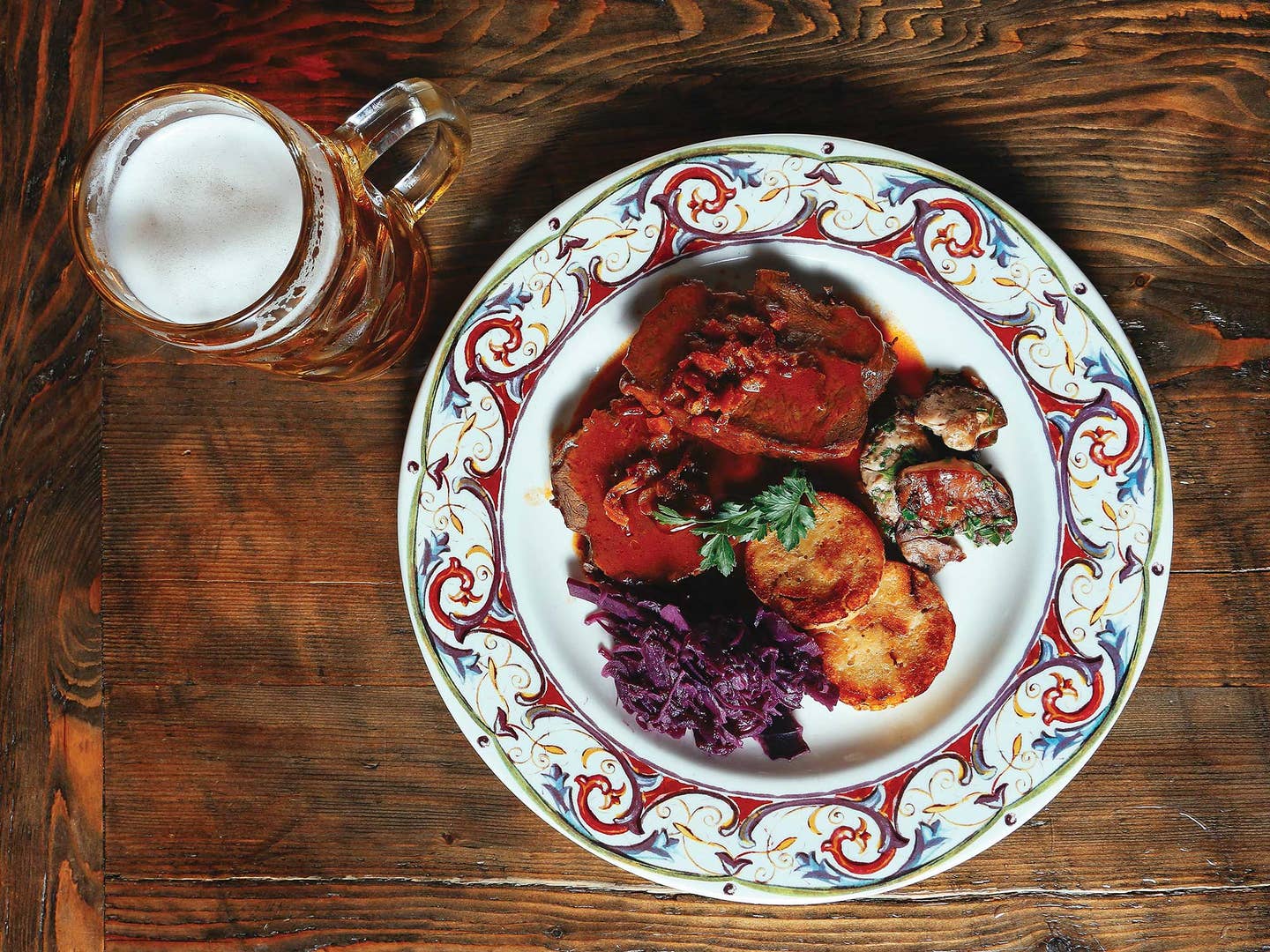 Cider-​braised cabbage, a common side dish in Germany, is both sweet and sour. It's great paired with sauerbraten and pretzel dumplings. Browning the cabbage in batches adds more time to preparation but results in deeper flavors. Austrian chef Thomas Ferlesch of Werkstatt restaurant in Brooklyn uses a generous amount of fat—he prefers lard or duck fat for their richness—and dry red wine to round out the tart flavors of cranberry, vinegar, and apple cider.
Ingredients
1⁄2 cup plus 2 Tbsp. lard, duck fat, or olive oil, or more as needed
1 yellow onion, coarsely chopped (1 cup)
1 tsp. caraway seeds
1⁄2 tsp. kosher salt
1⁄2 tsp. freshly ground black pepper
5 garlic cloves, smashed
1 bay leaf
1 head red cabbage, cored and thinly sliced
1 1⁄2 cups red wine
1 cup apple cider
1 cup fresh or frozen and defrosted cranberries
1 tbsp. red wine vinegar
4 cloves
1 cinnamon stick
Instructions
Step 1
In a large pot over medium-high heat, heat the lard until melted. Add the onion and cook, stirring occasionally, until softened, 3 minutes. Add the caraway seeds, salt, pepper, garlic, and bay leaf, and cook, stirring constantly, for 1 minute. Increase the heat to high. Add a third of the cabbage and cook, stirring occasionally, until browned in places, 5 minutes. Transfer to a bowl using tongs and repeat with the remaining cabbage, adding it to the pot in two more batches. (Add more cooking fat between batches if necessary.) Return all of the cabbage to the pot and cook over high heat for 5 more minutes. Add the red wine, cider, cranberries, vinegar, cloves, and cinnamon stick. Reduce heat to low and cover the pot; cook until tender, tossing the cabbage occasionally with tongs, about 45 minutes. Taste and adjust the seasoning as needed. Serve braised red cabbage hot.