Recipes
German Pretzel Dumplings (Serviettenknödel)
Serves

serves 10-12

Cook

3 hours 20 minutes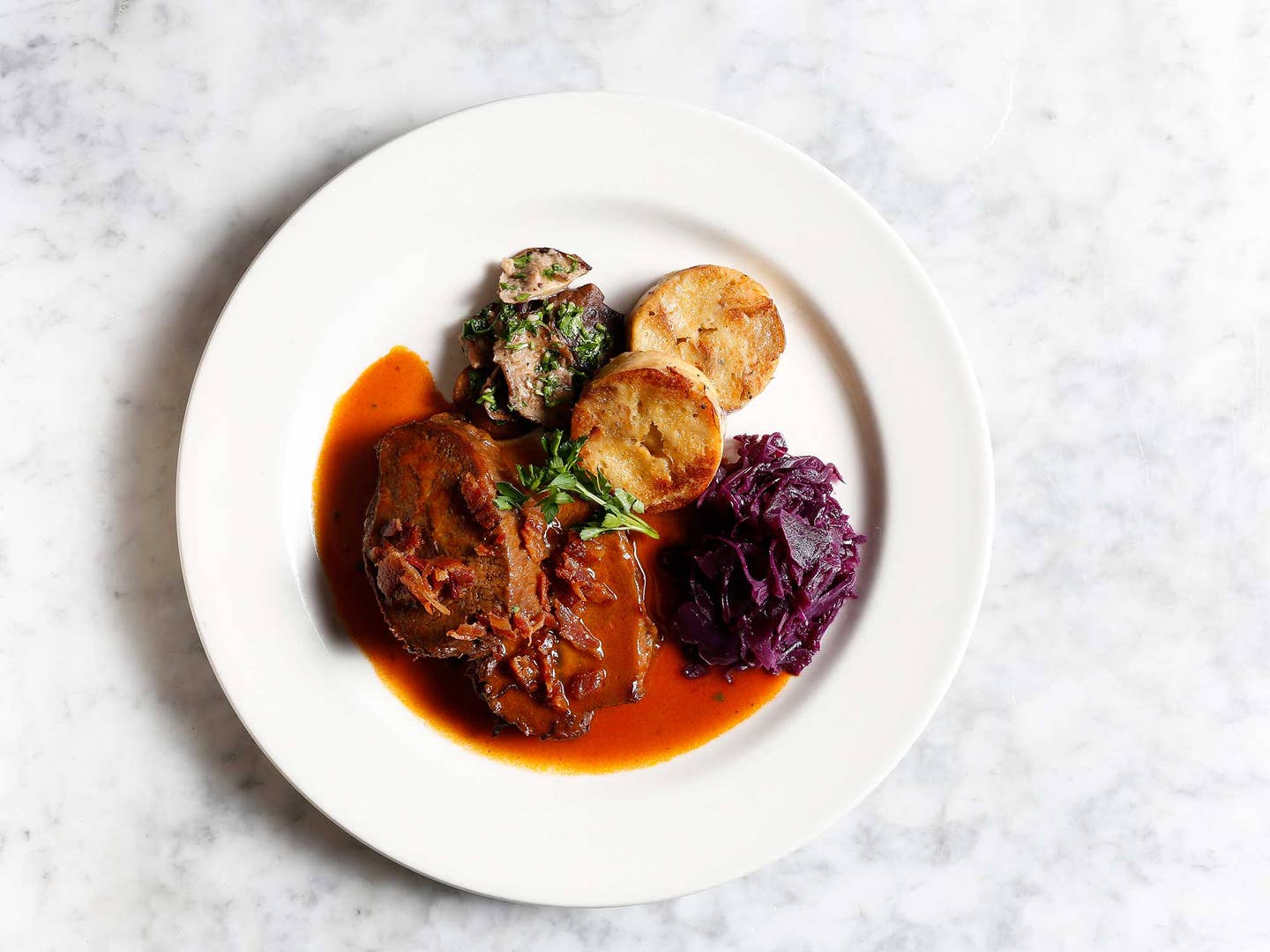 These savory dumplings are great for sopping up the juices from sauerbraten and other braised meats. Start with day-old pretzels to help the dough crisp up more quickly.
Ingredients
1⁄2 cup lard
2 yellow onions, minced (1 3/4 cup)
3⁄4 cup flat-leaf parsley, chopped
1 qt. milk
8 large eggs
1 pinch nutmeg
Kosher salt
Freshly ground black pepper
6 soft pretzels, bagels, or day-old kaiser rolls, cut into 1-inch pieces (1 1/4 lb.)
Unsalted butter
Instructions
Step 1
In a large skillet over medium heat, add the lard and heat until melted. Add the onion and cook, stirring occasionally, until softened and golden brown, 30 minutes. Mix in the parsley. Turn off the heat and let cool.
Step 2
In a large bowl, mix the milk, eggs, nutmeg, and salt and pepper to taste. Add the pretzel pieces and the cooled onion mixture and let soak for 1 hour. (Mixture may be runny.)
Step 3
On a clean workstation, lay out a sheet of plastic wrap. Place about 1 cup of the dough mixture on the plastic wrap in a log shape. Close the plastic wrap around the mixture to form a 1 1⁄2- to 2-inch-thick roll, then tie knots at both ends. Wrap the roll in aluminum foil for an extra seal. Repeat with the remaining pretzel mixture. (You will have 6–7 rolls.)
Step 4
In a large pot of boiling, well-salted water, add the rolls. Cook at a gentle boil for 30 minutes.
Step 5
Transfer the rolls to a clean cutting board. (Dough rolls can be kept overnight in the refrigerator at this stage.) Unwrap and cut into 1 1⁄2- to 2-inch-thick slices.
Step 6
Line a baking sheet with paper towels. In a large skillet over medium-high heat, melt 2–3 tablespoons butter. When foam begins to subside but butter solids are not yet browned, add as many slices as will fit in the pan (about 15). Cook, turning as needed, until the dumplings are well browned on both sides, about 20 minutes. Repeat with the remaining dumplings, cleaning out the pan and adding more butter between batches.