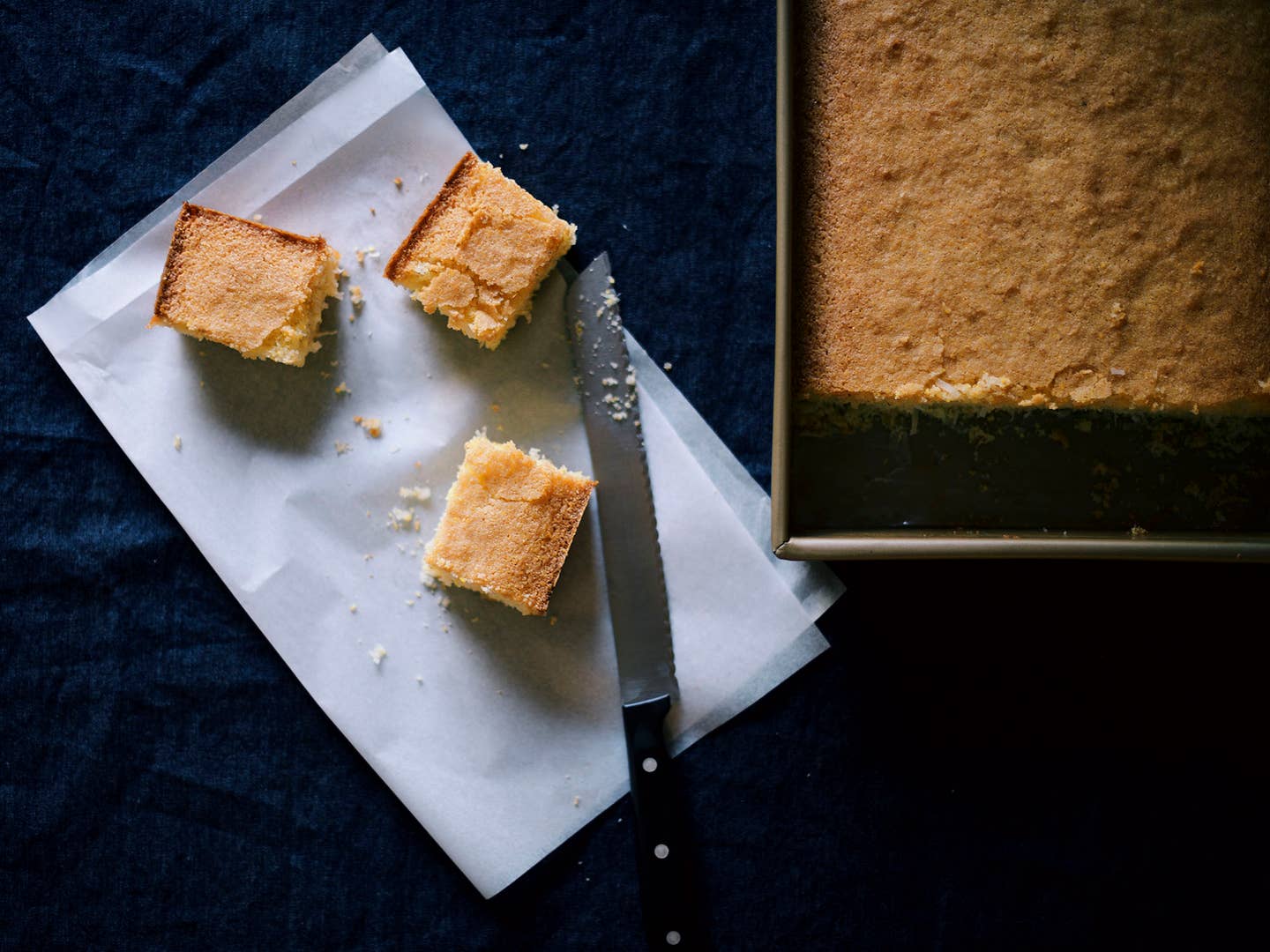 Recipes
For the Ultimate Coconut Cake, Look to India
Nik Sharma breaks down the secrets to baath, a Goan coconut cake that calls for four forms of coconut
"It needs to soak for a long time to get the perfect crumb," my grandmother used to tell me whenever she poured semolina into fresh coconut milk while preparing baath, a Goan coconut cake that was one of her signature—and one of my favorite—desserts. It's perhaps the wisest thing she ever taught me.
Though I moved to the United States when I was 20, I grew up in Bombay, where I enjoyed desserts from kulfi to kheer to syrup-soaked gulab jamun. What makes baath especially interesting, though, it shows the Portuguese influence in Goan cuisine. During the 15th century, Goa was a colony of Portugal, and baath closely resembles Portuguese coconut cake, bolo de coco—baath is just a little less rich, a little more crumbly, and a little better, if you ask me. Because Goa is coastal and lined with towering coconut trees, the inclusion of fresh coconut milk in the majority of Goan foods—including this cake—makes all the difference.
But what makes this cake so special isn't its use of coconut, its soft crumb, or even its importance to Goa—it's the memories of my grandmother preparing it. She would begin by cracking a fresh coconut and shredding its inner white flesh, which she'd grind to a smooth paste with hot water, extracting the milk to fold into the cake batter. Then she'd take semolina, the the backbone of the cake, and soak it in the milk for hours and hours, forcing the tiny semolina granules to absorb as much liquid as possible. Like a moth to a flame, when she'd pull the steaming cake out of the oven, I'd be too impatient and greedy to wait for it to cool, burning my tongue on it every time.
Now that I live in the United States where I have a harder time coming across fresh coconuts, I recreate my grandmother's coconut cake with a can of coconut milk and coconut cream to get that same rich and sweet aromatic flavor. My version is not quite the same, but it's almost as good—just as long as I remember my grandmother's golden rule: "soak that semolina!"
Nik Sharma is a San Francisco-based writer and the photographer behind the blog A Brown Table, where he shares his love for all things food. In 2015, he won the award for Best Photo-Based Culinary blog at the International Association of Culinary Professionals (IACP) and was also nominated in the Best Photography category in the 2015 SAVEUR Blog Awards.