Trinidadian Green Seasoning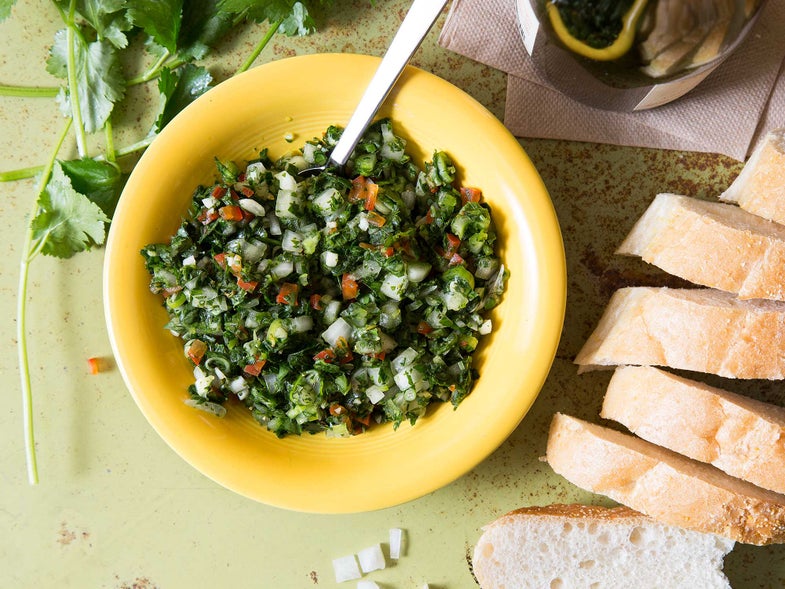 This savory herb-laced salsa from Trinidad and Tobago is used to marinate meat and seafood or to flavor any number of spicy, hearty stews.
Featured in: 5 Easy, No-Cook Caribbean Condiments to Put on Everything
Green Seasoning
An earthy, fresh, easy-to-make salsa from Trinidad and Tobago that can go on anything.
Yield:
makes about 2 cups
Time: 15 minutes
Ingredients
1⁄2 cup finely chopped culantro or cilantro
1⁄2 cup finely chopped flat-leaf parsley
1⁄4 cup fresh lime juice
2 tbsp. water
1 tbsp. finely chopped thyme
2 cloves garlic, minced
2 scallions, thinly sliced
1 stalk celery, finely chopped
1⁄2 small white onion, finely chopped
1⁄4 red bell pepper, finely chopped
Kosher salt and freshly ground black pepper
Instructions
In a large bowl, mix all the ingredients together with 2 tablespoons water and season with salt and pepper. Store in an airtight container for up to 3 days.