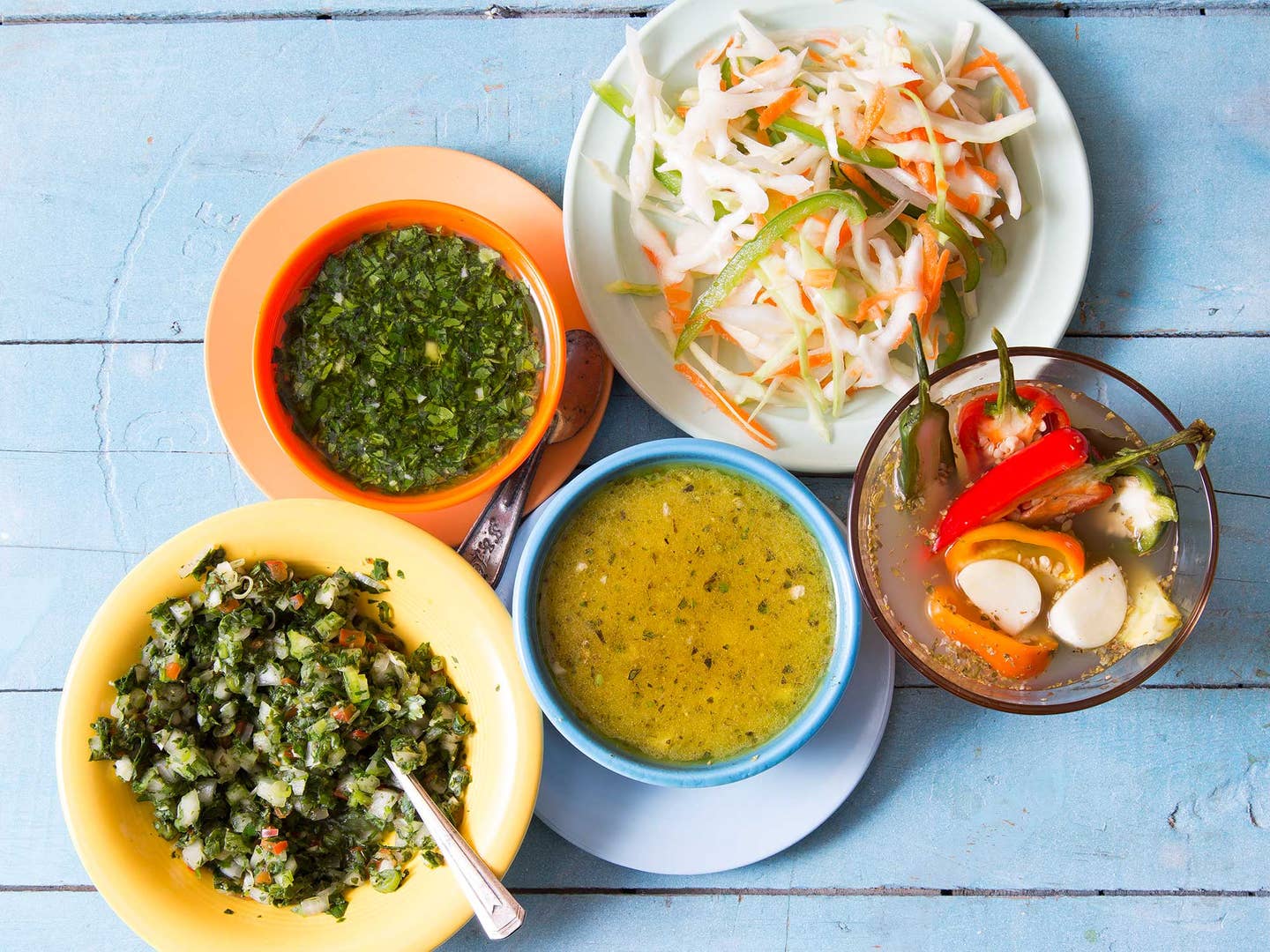 Recipes
5 Easy, No-Cook Caribbean Condiments to Put on Everything
Spicy, sour, and ready in 15 minutes
The regional variation and bounty of Caribbean cooking is endless, and this extends to more than what spices go into a dish of curry goat. Across the Caribbean, fresh, spicy, full-powered condiments are king, and while some Caribbean islands lay claim to a national dish, others lay claim to a national salsa.
What do these five condiments from five islands have in common? They're fresh and raw, go with all the Caribbean staples (as well as most everything else), and are dead-simple to make. Use them as dips, salsas, or even marinades.
Some require specialized ingredients. Sour oranges (citrus fruit with juice that tastes somewhere between a lime and an orange) and local chile peppers make these condiments uniquely Caribbean. But they also take well to substitution. Limes or vinegar can replace sour oranges. Jalapeños can replace ajíes caballeros and other hard to find Caribbean chillies. Or you can just add a pinch of sugar to balance some of the heat.
A food processor will make preparing any of these condiments that much easier, but don't even bother plugging it in. All you need is a rough chop and 15 minutes to make any of these Caribbean condiments. But make a double batch, because you'll go through them fast.
Trinidad and Tobago: Green Seasoning
Green seasoning is to Trinidad and Tobago what pesto is to northern Italy. It is an extension of the island's spice-laden foods: a coarse, chunky blend of herbs, onions, and garlic. The base for green seasoning is culantro, known throughout the nation as bandhaniya (by the Indian communities) and shado beni (as derived from French chardon béni), which is similar to cilantro. Green season doubles as a marinade and salsa, commonly used for fish, poultry, and beef, and is added to a number of common Trinidadian like pelau (a one-pot meat and rice dish) and callaloo (greens stewed in coconut milk).
Mojo is most commonly used as a marinade in Cuban cooking, but it is also served as a sauce with the island's root vegetables. The main ingredient is garlic, and a lot of it. The amount of oil used varies depending on what you're cooking (less oil for fatty pork, more oil for lean chicken), and some cooks add oregano and cumin. It's one of the simpler condiments to make, but it goes a long way.
Get the recipe for Mojo »
Pique is a spicy, heavily-seasoned and complex vinegar. It's sweet and salty, sour and spicy, and found on the table in almost every home and restaurant in Puerto Rico. It's one of the few homemade Caribbean sauces that gets bottled so it can cure, and is typically used as an accompaniment to rice and beans and plantains. But you'll find many variations. The sweetness and spice levels can easily be adjusted by adding or cutting back on pineapple and chiles.
Get the recipe for Pique »
Dominican Republic: Wasakaka
Wasakaka is similar to Argentina's chimichurri. With just four ingredients (lime juice, olive oil, parsley, and garlic), wasakaka is one of the simplest Caribbean condiments there is, and it's almost always served with roasted and grilled chicken.
Haitian pikliz is less a sauce than a spicy coleslaw, but its tart, spicy dressing plays well with grilled or braised meat. It's a base of shredded cabbage, onions, bell peppers, and carrots, to which habaneros, vinegar, and citrus are added. So in addition to spice, texture and contrast are delivered from the crunchy vegetables. Pikliz gets better the longer it sits. The vegetable soften slightly and soak up the vinegar and citrus.