How to Make Burnt Citrus Salt
Chef Ari Taymor shows us how to make the finishing salt that should be in your kitchen cabinet, right now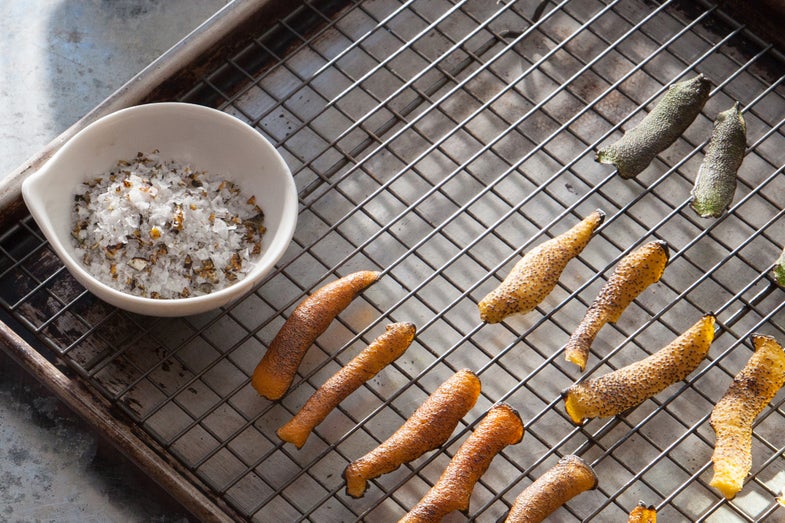 No dish isn't improved by a little finishing salt on top. Salt preserves the flavor of whatever you're incorporating into it, and the finished product makes quick work of future breakfasts, lunches, and dinners. Sprinkle truffle salt over hard-boiled eggs or tarragon salt over chicken thighs; whip hand-chopped garlic-herb salt with butter for an instant steak sauce; or garnish slices of a holiday roast with spruce salt. Et ,voilà, super flavorful dishes in a snap.
In this video, chef Ari Taymor of Alma in Los Angeles, offers a citrus riff on the seasoning. Four types of citrus peel—grapefruit, orange, lime, and Meyer lemon—go into his finishing salt. To make it, start with washed, dried citrus and then, as Taymor dictates, "use as little weight as possible up against the fruit," to remove the peel in strips, avoiding the fibrous white pith as you go (a Y-shaped peeler is your friend in this task). While some pith is unavoidable, too much will impart an unpleasant bitterness. He then torches the peels, though a short trip under the broiler will accomplish the task just as well. Toasting the peels activates the citrus oils, adds a bit of char, and caramelizes the rind's natural sugars, resulting in a complex, layered flavor. Chopping the peels by hand instead of throwing it in a food processor allows Taymor to make ensure the peel isn't too fine—a little texture will impart singular pops of flavor throughout the salt. A final rub of the salt into the citrus peels helps to fully extract the flavorful oils.
So once you've made it, now what? Add a boost of flavor to a piece of grilled fish, season a roasted sweet potato with Greek yogurt and chives; or add a sprinkle to desserts, like sea salt caramels or an olive oil-hot fudge sundae.
Get the recipe for Burnt Citrus Salt »