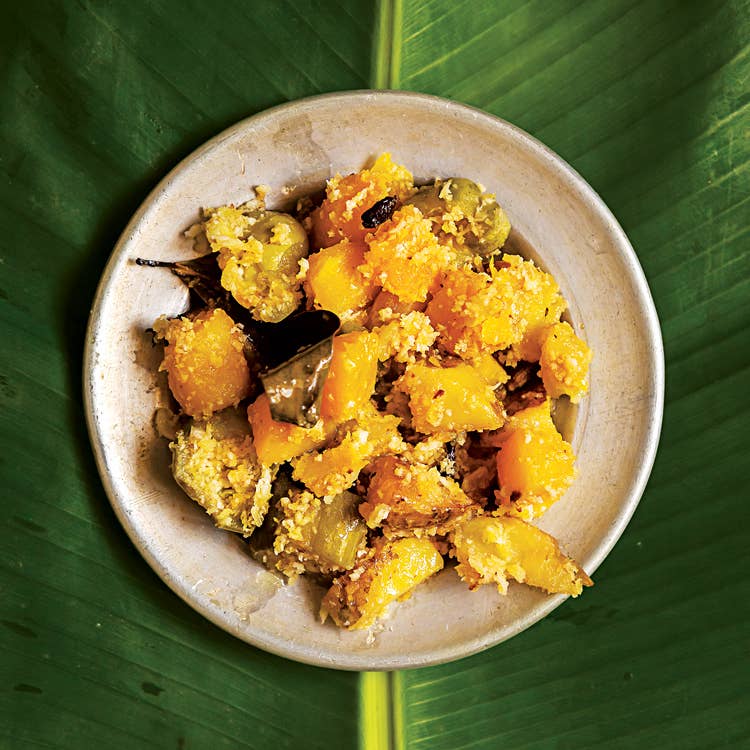 Recipes
Turn Your Extra Squash and Root Vegetables Into This Easy Indian Curry
Potatoes? Pumpkin? All welcome in ghanta tarkari, where they get doses of ghee, coconut, and spices for the perfect vegetarian side
Root vegetables and squash: two essential easy-to-cook-with winter staples best bought in bulk. But even creative cooks fall into ruts, and there are only so many salads, slaws, roasts, and stews you can make before boredom sets in. Okay, that's a lot of options, but when you're buying potatoes by the five-pound bag it helps to be prepared.
That's where this easy curry from West Bengal sets in. We liked it so much we used it as the cover image for our India issue a couple years back. It's called ghanta tarkari, and it's a simple mix of potatoes, squash, and gourds cooked in ghee, tossed with sweet, chewy coconut, and kissed with some common spices: clove, bay leaf, cinnamon, and some green chile. In other words: you very likely have most of the ingredients on hand to cook this now, so why don't you?
Sauce-free Indian curries like these are really just slightly-more-elaborate vegetable sautés—toast spices in some fat, add in your vegetables, and finish with salt and a touch of sugar to season the simple, healthful glaze that coats the vegetables. Our recipe calls for veggies like potol and loofah, common staples in that corner of India, but this dish is destined for adaptation. Have some carrots or turnips lingering in your fridge? They aren't typical additions here, but they're darn tasty.