11 Root Vegetable Recipes to Take You Beyond the Roasting Pan
Carrot tahini dips? Shaved celery root? We've got you covered.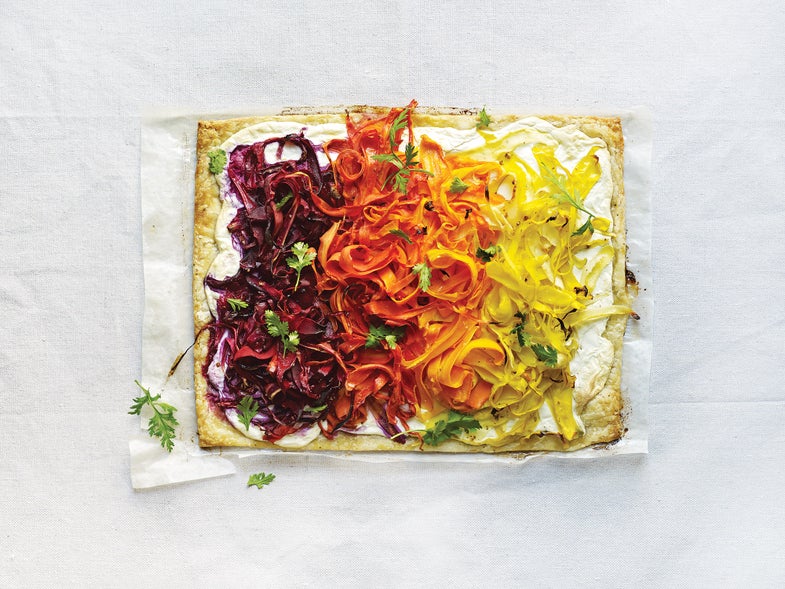 Sure, dark, leafy greens have the look and feel of healthy food, but root vegetables pack just as much nutritious power with more colors than their cruciferous counterparts. And they're not just the base of winter soups and stews either. Multi-colored carrots add pops of yellow, purple, brown, and white to your dish and need just a simple roasting to bring out their sweetness. Beets dye your dishes crimson and purple and bring an earthy herbal flavor that adds depth to dips, spreads, and salads. Find sunchokes at your local market, then add them to salads, roast them whole, or slice them into chips. From fries to creamy mash, potatoes are perhaps the most versatile edible tuber. And there are more types of spuds than you might think. Even if the garden is frozen over, winter doesn't need to be drab. Add a pop of color to your dinner with our favorite ways to cook root vegetables.
Piles of colorful carrot ribbons—which skew more savory than sweet, thanks to a lemony coriander-flecked dressing—come out of the oven glistening and retaining some of their bite. The keys to the couldn't-be-flakier crust beneath: keeping the ingredients as cold as possible, and not overhandling the dough. Leftovers of the tart can be refrigerated and recrisped in the oven the next day. Get the recipe >
Tahini's nutty, luxurious properties don't stop at hummus. Keep the sesame paste flowing with this vibrant, creamy carrot purée. Get the recipe >
Fresh mint, Aleppo pepper, and cumin flavor this humble carrot salad, sweetened lightly by a dressing made with the carrots' cooking liquid, which becomes a concentrated syrup when reduced. Get the recipe >
This Puerto Rican chicken soup is hearty with starchy vegetables. Get the recipe >
In this simple Japan-meets-California salad, cookbook author Nancy Singleton Hachisu tosses radishes with cilantro and a fragrant rice vinegar and soy sauce vinaigrette before topping them with goat cheese. Get the recipe >
A cool and tangy crème fraîche dressing adorns roasted beets for a simple, colorful side dish. We like to use a combination of red and golden beets for presentation. Get the recipe >
In this bold salad, roasted, pickled, and raw beets tangle with a creamy orange-yogurt dressing. Combine the ingredients just before serving to keep the red and yellow beets from staining each other. Get the recipe >
This light and delicious salad from chef Dan Kluger makes wonderful use of winter produce. Crisp, raw celery root (a.k.a. celeriac) mingles with tart, julienned apples, crunchy croutons, and a tarragon-infused, mayonnaise-based dressing. Get the recipe >
Rosemary and thyme add aromatic depth to roasted root vegetables in this hearty side. Get the recipe >
Though it is typically made with root vegetables, come spring, Heena Patel likes to put a bright seasonal spin on the southern Gujarati vegetable dish undhiyu. Get the recipe >
Red quinoa, which is similar in flavor and texture to white quinoa, adds color to this warm, hearty salad, and pickled sunchokes offer a snappy counterpoint to the roasted root vegetables. Get the recipe >