Recipes
Cottage Cheese Pancakes with Sour Cream and Dill (Lidnivikis)
Serves

makes 10 pancakes

Cook

45 minutes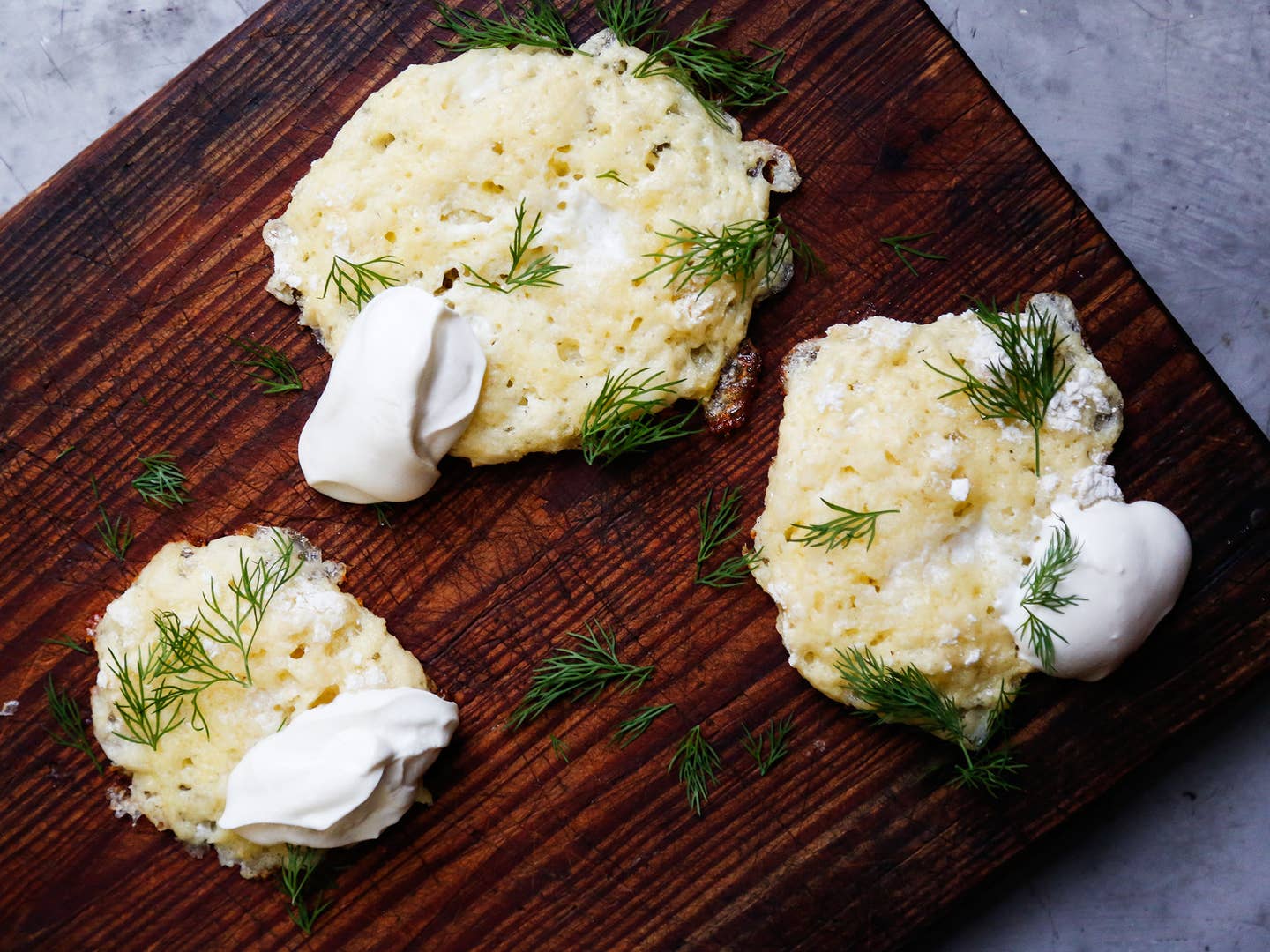 These old school Polish pancakes are lighter, fluffier, and cheesier than the batter-based standard. The dough, cottage cheese and egg barely bound together with flour, is sliced into rounds and baked, rather than cooked in a pan. Be careful not to overwork the dough when adding flour; the pancakes should be fall-apart tender.
Ingredients
2 cups cottage cheese (about 1 lb.)
3 large eggs
1 1⁄2 cups (7 1/2 oz.) all-purpose flour
1 tsp. baking powder
1 tsp. kosher salt
4 tbsp. unsalted butter
Dill fronds, to garnish
Sour cream, for serving
Instructions
Step 1
Heat the oven to 350°. In a large bowl, stir the cottage cheese with the eggs. Add 1 cup flour, the baking powder, and salt and mix until just combined.
Step 2
Sprinkle the remaining 1⁄2 cup flour lengthwise down the middle of a piece of parchment paper. Pour the cottage cheese batter on top of the flour in an approximately 12-by-2 1⁄2-inch log, then lift the long sides of the parchment and roll the log back and forth over the parchment until it's coated in flour (the dough will be very wet and soft). Using a knife, cut the log into 1 1⁄2-inch-thick rounds and using the side of your knife for help, quickly transfer the rounds to parchment paper-lined baking sheets, spacing them 2 inches apart and laying them cut side up.
Step 3
Bake, rotating the baking sheets top to bottom and front to back halfway through cooking, until lightly browned on the bottom and set in the middle, about 20 minutes. Transfer the baking sheets to a rack and, using a flat spatula, transfer the pancakes to a plate or serving platter. Pinch off small knobs of butter with your fingers and place over each pancake. Sprinkle the pancakes with dill and serve while hot with sour cream.