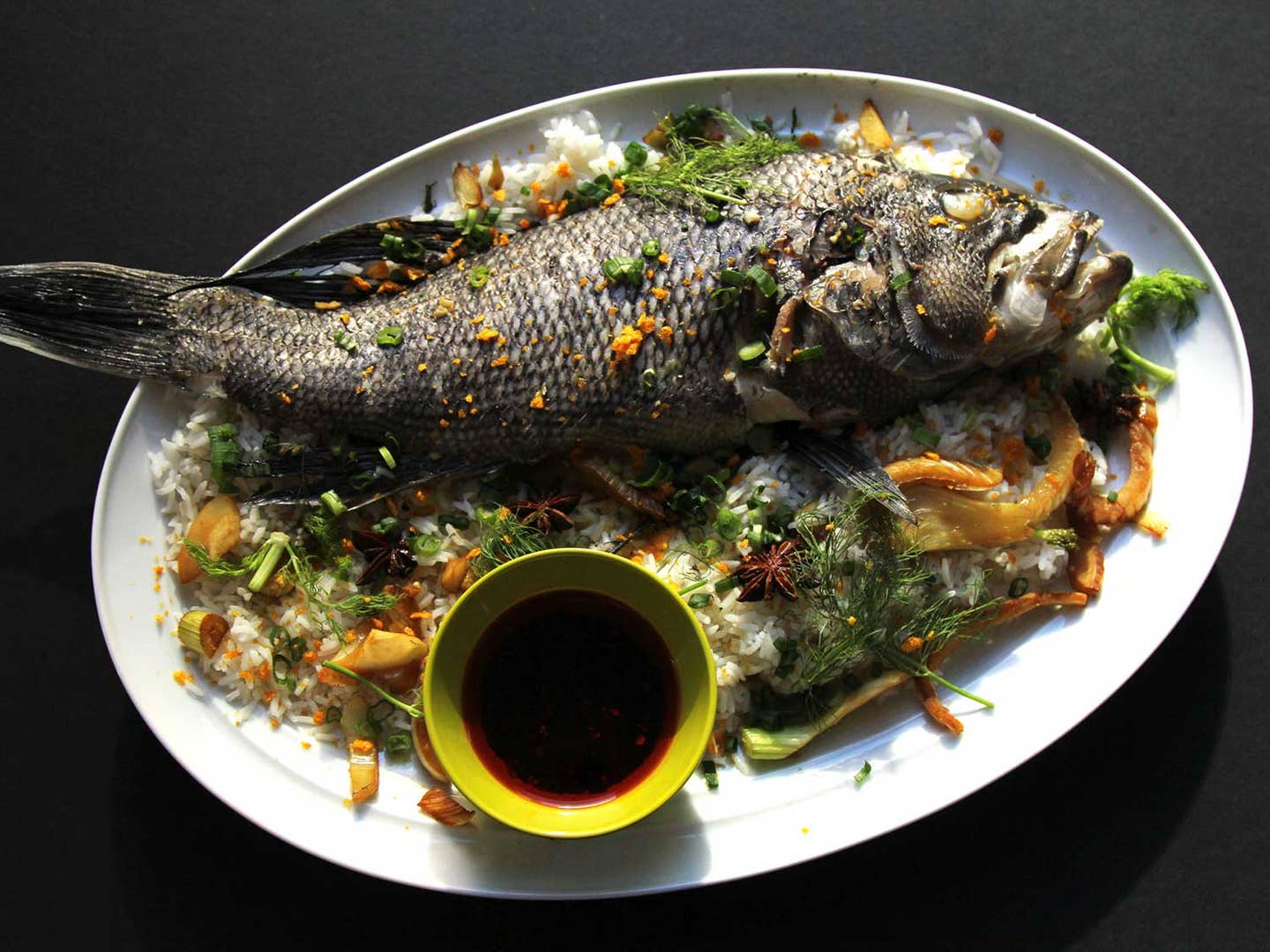 Recipes
This Whole Steamed Fish is the Perfect Way to Ring in the Lunar New Year
It is the perfect centerpiece for a Lunar New Year feast that symbolizes wishes for prosperity in the new year
A little salty, a little sweet, and with a touch of acid, this version of the traditional Lunar New Year steamed fish is something you'll want to make throughout the upcoming Year of the Dog. Chef Jonathan Wu at Nom Wah Tu restaurant in New York City's Chinatown is one of the original chefs of the legendary Nom Wah Tea Parlor. He shares his recipe for a seasonally- and locally-inspired preparation of the whole fish.
It all begins with fresh ingredients. Wu prefers black bass or porgy, but he tends to pick porgy because the higher fat content is great for steaming. "In the spectrum of things, porgy is in between the oiliness of a sardine and the clean, non-fat of a cod," says Wu. Not only is porgy local, but it's also bycatch, making it a sustainable as well as delicious choice.
For flavor he adds douchi, salted and fermented black soybeans, which are a traditional Chinese pairing for fish. "They are a fermented food, so they have incredible amounts of umani. They're salty, deeply savory, and there are notes of chocolate, black garlic, and bitterness to them too," says Wu. The dried tangerine peel shows the influence of both Chinese cuisine and Wu's European training. Dried tangerine is found in most Chinese grocery stores, but he likens its pairing with douchi and fennel to a traditional Italian salad of fennel, citrus, and olives. His special touch is to candy and then dehydrated the peel into a fine dust.
The fish is served family-style, butterflied, but with the head, dorsal fin, and tail still attached. "The idea was to give the full experience of the meal and keep with the notion of a whole fish for auspiciousness but make it easier to eat," says Wu. If you can exercise the willpower to save a little fish for the next day, it signifies good fortune for the new year. Fish in Chinese (yu) is actually a homophone for the word abundance; a traditional holiday greeting 'nian nian you yu' can both mean "abundance and prosperity every year," and "may we eat fish every year." Wu suggests saving the fish juices, which stock can be used for a sauce the next day or by adding with flakes of leftover fish to cubed, sautéed potatoes, like a hash. Served alongside dumplings, which represent wealth, and long noodles for long life, this steamed fish is the perfect centerpiece for a Lunar New Year feast that symbolizes wishes for prosperity in the new year.