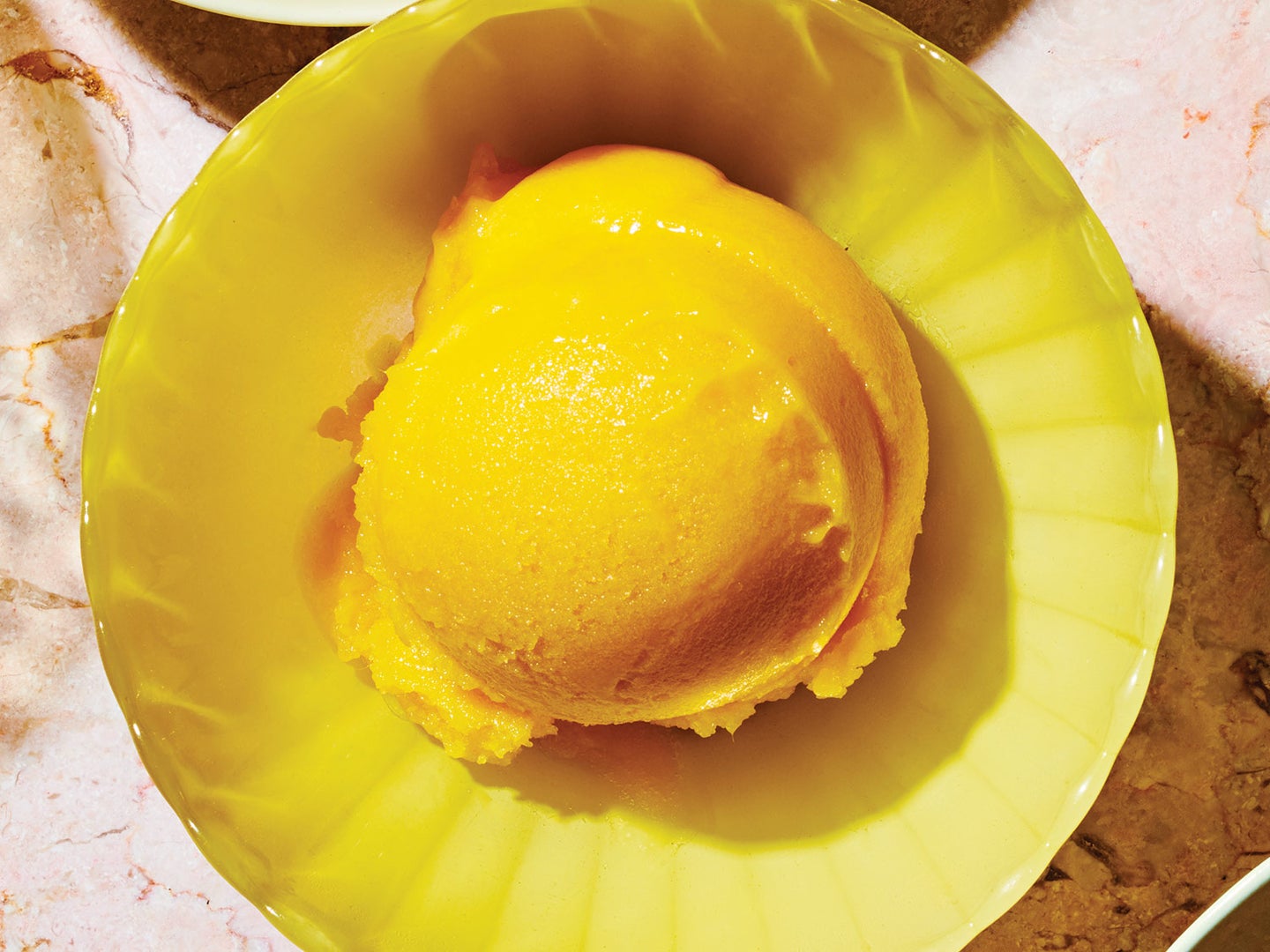 Champagne mangoes—also known as ataulfo mangoes—are in season from February through August. Their flavor outshines that of more widely available varieties. Honey-sweet, slightly musky, and with an impossibly silky, non-fibrous texture, they are the perfect sorbet fruit. Look for soft-ripe flesh and skin with little or no spotting.
Featured in: Sorbet Lessons from Paris's Coolest Scoop Shop
Equipment
Champagne Mango Sorbet
In this two-ingredient sorbet, ripe champagne mangoes, also known as ataulfo mangoes, need only a bit of sugar to shine.
Yield:
makes about 1 quart
Time: 4 hours, 45 minutes
Ingredients
⅔ cup (160 g) raw cane sugar
3½ cups (600 g) ripe mango flesh, peeled and coarsely chopped (from about 4 champagne mangoes)
Instructions
In a small pot over medium heat, whisk 1⅓ cups (300 grams) cold water and the sugar. Bring to a boil, stirring occasionally, until the sugar dissolves. Remove from the heat and let cool to room temperature.
In a blender, add the mango and purée until liquefied. Transfer 2⅔ cups (600 grams) of the puréed fruit into a large bowl and reserve; save the rest for another use.
Whisk the prepared syrup into the mango purée. Transfer the mixture to the bowl of an ice cream maker, and churn according to the manufacturer's directions until the sorbet is thick and frozen, with the consistency of soft serve, about 30 minutes. Transfer to an airtight metal or plastic container and freeze until set, at least 3–4 hours.
To serve, dip an ice cream scoop or spoon in hot water, or temper the sorbet in the refrigerator for 20 minutes before scooping. Serve immediately.