Recipes
Mario Batali's Baked Cardoons with Parmesan Bread Crumbs
Serves

serves 6-8

Cook

2 hours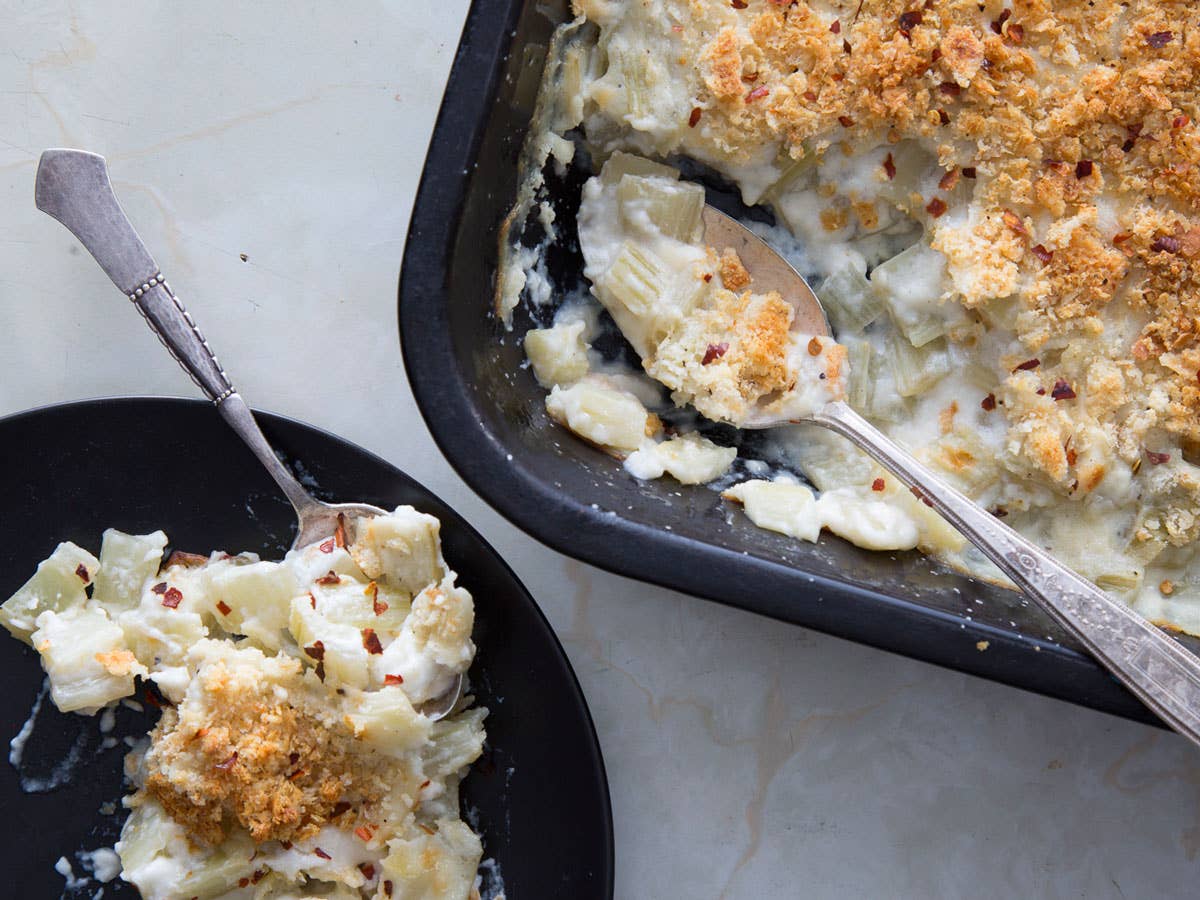 The bitterness of cardoons shoots through a rich bechamel, topped with cheesy parmesan bread crumbs, in Chef Mario Batali's homestyle Italian gratin.
Ingredients
Kosher salt
3 lb. cardoons, trimmed, peeled, and cut into 1/2-inch–long pieces
2 lemons, halved
5 tbsp. unsalted butter
6 tbsp. all-purpose flour
3 cups whole milk
Freshly ground black pepper
1 cup Parmigiano-Reggiano
1 cup fresh bread crumbs
Crushed red chile flakes
Instructions
Step 1
In a large pot of boiling salted water, cook the cardoons and lemon halves until the cardoons are very tender, 45 to 50 minutes. Drain the cardoons and discard the lemon halves.
Step 2
Heat the oven to 400°. In a medium saucepan, melt the butter over medium heat. Add the flour and cook, whisking constantly, for 2 minutes. Slowly pour the milk into the pan and cook, stirring steadily, until the milk thickens and begins to boil, about 10 minutes. Remove the besciamella from the heat and season with salt and pepper. Spoon two-thirds of the besciamella into a large bowl and stir in the cardoons. Scrape the cardoons into a 9-by-13-inch baking dish and spread the remaining besciamella over the top.
Step 3
In a small bowl, toss the Parmigiano with the bread crumbs, season with salt and pepper, and sprinkle evenly over the cardoons. Bake until the cardoons are bubbly and the bread crumbs are golden brown, about 20 minutes. Remove the dish from the oven and sprinkle with chile flakes.