Recipes
Latkes with Chopped Liver and Pickled Onions
Noah Bernamoff's riff on classic potato pancakes.
Serves

serves 8

Cook

1 hour 15 minutes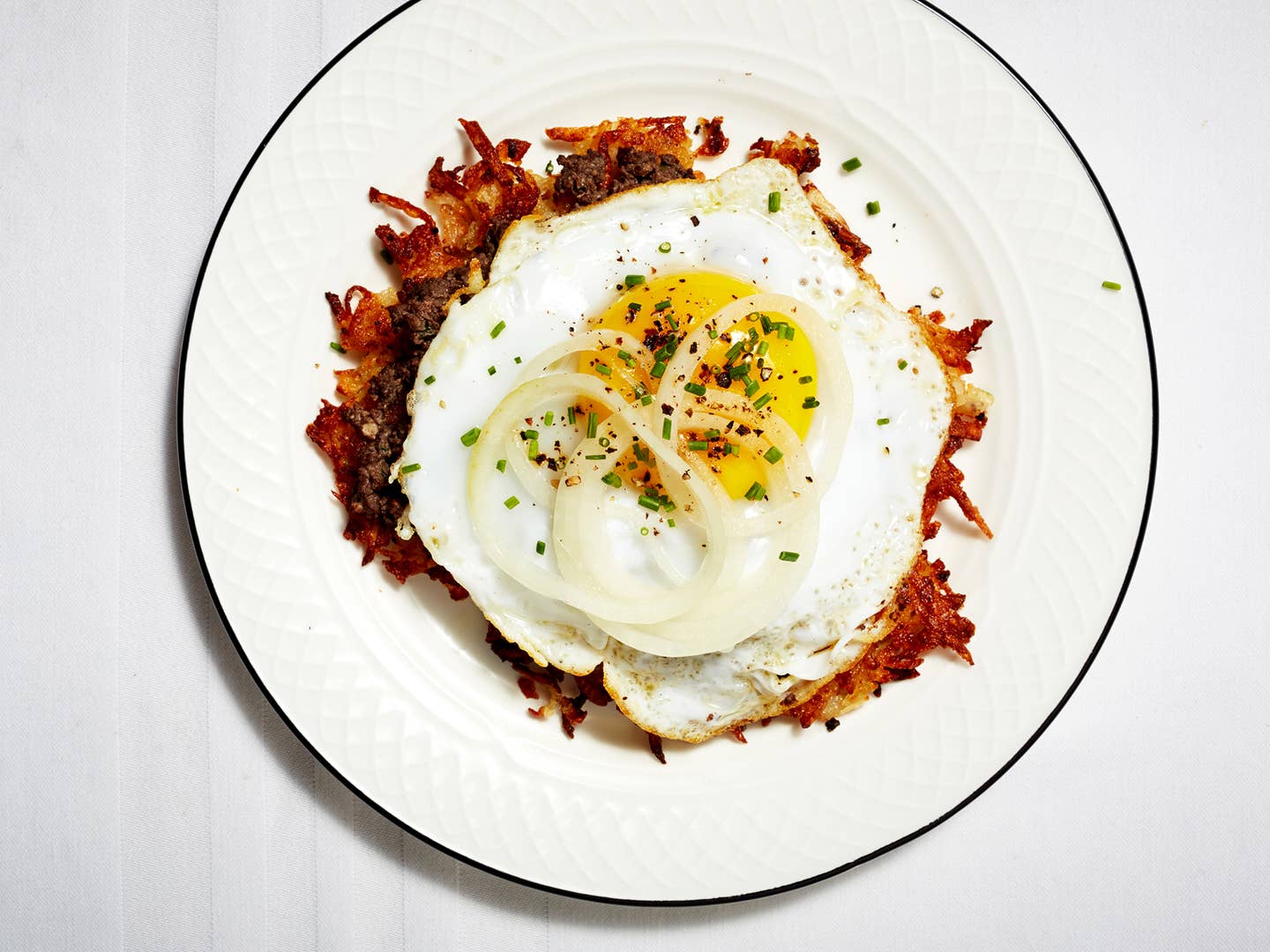 Noah Bernamoff of Mile End Deli and Black Seed Bagels in New York City tops crispy latkes with chopped liver, fried duck eggs, and pickled onions.
Ingredients
3 russet potatoes (2 lbs.), peeled
1 large yellow onion, peeled
3⁄4 tsp. cream of tartar
1⁄2 cup matzo meal
1 1⁄2 tsp. kosher salt
3⁄4 tsp. freshly ground black pepper, plus more
2 large eggs, lightly beaten
1⁄2 cup vegetable oil
8 fried duck or large chicken eggs
Finely chopped chives, to garnish
Chopped Liver and Pickled Onions, to serve
Instructions
Step 1
Make the latkes: Heat the oven to 250° and place a wire rack on a baking sheet. Using the grating blade of a food processor or a box grater, grate the potatoes and onion into a large bowl lined with a kitchen towel. Gather the sides of the towel and squeeze the potatoes and onion to remove as much liquid as possible. Transfer the potatoes and onions to a clean bowl and toss with the cream of tartar. Add the matzo meal, salt, pepper, and 1⁄4 cup of the beaten eggs (discard the rest) and mix with your hands until evenly combined.
Step 2
Heat 2 tablespoons oil in a large skillet over medium-high. Using a 1⁄2-cup measure, place 2 mounds of the potato mixture in the skillet and flatten each into a 6-inch-wide, 1⁄4-inch-thick latke. Cook the latkes, turning once, until golden brown and crisp, about 6 minutes. Transfer the latkes to the rack on the baking sheet and keep warm in the oven while you fry the remaining latkes using the remaining 6 tablespoons oil. Place each latke on a serving plate and smear with some of the chopped liver. Top with a fried egg and some pickled onions. Sprinkle with more pepper and chives before serving.