Our Most Pinned Grilling Recipes to Keep Your Outdoors All Summer
Our Pinterest users take to the grill with their favorite warm-weather dishes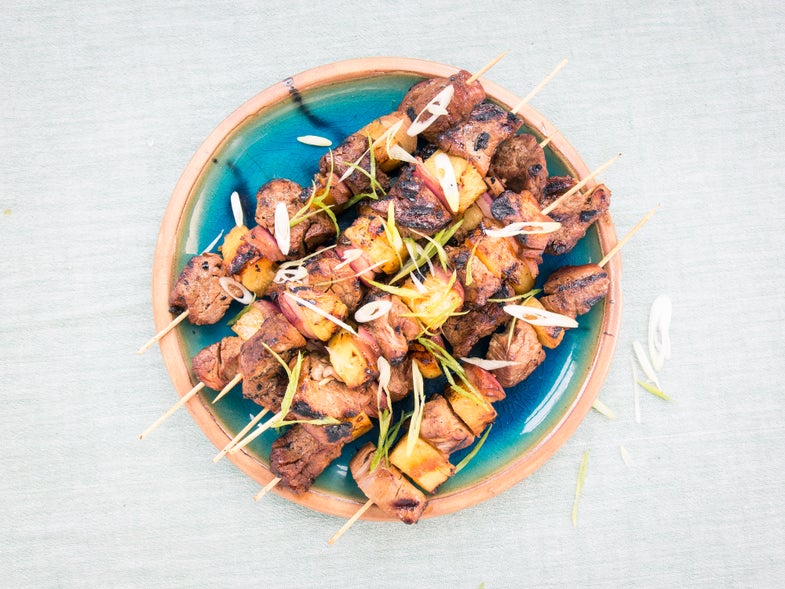 Grills are for so much more than steaks and burgers. Well, they're certainly for steaks and burgers, but our Pinterest fans are really set on using their favorite grills for more colorful summery ingredients.
That includes eggplant, grilled until soft and smoky. Lobsters, which we think taste better over hot coals than in a bath of boiling water. And fruit garnishes for cocktails, because summer drinks love a touch of flame.
Hungry for more? Be sure to follow us on Pinterest and see all our grilling guide here.
The Margarita is essential to America's canon of summertime drinks, and adding a grilled element makes it that much more American. Burnished pineapple adds a rich layer of fruitiness while mezcal lends a veil of smoke and spice. For even more smoke and spice, add a salt rim laced with chile powder and coriander. Get the recipe for Grilled Pineapple Margarita »
Sliced, grilled vegetables served in a simple marinade or vinaigrette are a fixture at many Tuscan meals. Get the recipe for Grilled Eggplant With Basil Vinaigrette »
Chimichurri, a kind of spicy, vinegar-laced pesto, is the condiment of choice for steak in Argentina. [Get the recipe for Rib-Eye Steak with Chimichurri »](https://www.saveur.com/article/Recipes/Rib-Eye-Steaks-with-Chimichurri/_
The all-brisket patty for this burger—from San Francisco's Wes Rowe, a pop-up burger slinger—is grilled, but in a cast-iron pan over the flame. Get the recipe for the "Grill Everything but the Burger" Brisket Burger »
Hot coals char the lobster shells and impart a subtle smokiness to the sweet meat. You can upgrade the classic sides, too, by blackening the corn a bit and adding tangy grilled tomatillos and briny raw oysters. Squeeze seared lemons or limes over everything. This feast can be prepared quickly and is meant to be casual—eaten with fingers and the occasional fork (bib optional). Get the recipe for Coal-Grilled Lobsters with Charred Corn, Tomatillos, and Blue Potatoes »
In South Africa, rump is used to describe the sirloin of a lamb, the tender strip of flesh connecting the leg to the loin. "While legs of lamb are more traditional at a braai," says Cape Town butcher Andy Fenner, "think of it like a large steak, with one lean side and one that's nice and fatty. The rump is more manageable, and just as tasty." Fenner scores the fatty side in a crosshatch pattern so the seasonings can penetrate deep into the meat. "Season it for 3 to 5 hours before cooking to draw the moisture out and get a good sear," he says. Then pair it with a fresh, acidic salsa verde. Get the recipe for Grilled Lamb Sirloin with Salsa Verde »
Chef Chris Fischer likes to lay out these charred mushrooms at the start of a meal for snacking—they put cheese plates and crudités to shame. Tossing them with the marinade infuses them with deep flavor. Get the recipe for Grilled Shiitake Mushroom with Chile and Thyme »
A fragrant mix of oyster sauce, cilantro, and ginger pulls double duty here as both a marinade and dipping sauce for lamb rib chops. Get the recipe for Grilled Lamb Chops with Ginger Sauce »
Langouste à la vanille is the national dish of Comoros, an African archipelago set in the channel between Mozambique and Madagascar. It's traditionally made with local rock lobster, though any kind of lobster will do for this dish, as will langoustines, shrimp, or even scallops. Get the recipe for Grilled Lobsters with Vanilla Cream Sauce (Langoustine à la Vanille) »
This is a recipe you should double or even triple. Trust us. Most of the preparation is done in advance, leaving just a brief sear over high heat to finish—perfect for while you're waiting for the fire to die down. Recipe adapted from Ox's Around the Fire. Get the recipe for Grilled Artichoke »
Sweet grilled onion and pineapple stand up against rich marinated pork in these easy, Hawaiian-inspired skewers. Get the recipe for Pineapple and Pork Teriyaki Skewers »