Recipes
Mozambican Coconut Crab Curry (Caranguejo e Coco)
Serves

serves 2

Cook

1 hour 45 minutes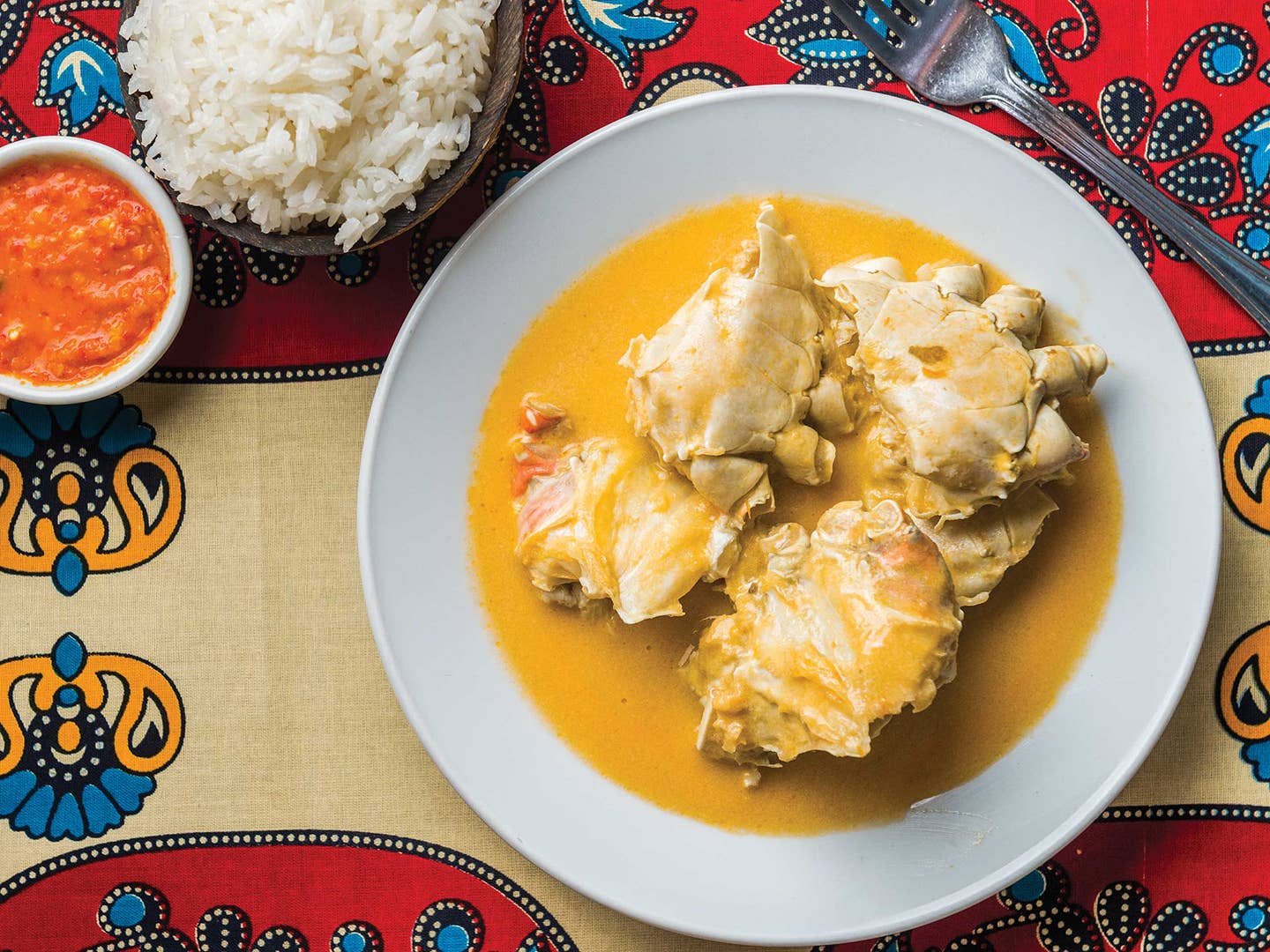 Mozambique was colonized by Portugal for almost five centuries. At Cantinho do Aziz, Khalid Aziz draws crowds with Mozambican dishes that honor his family's heritage, like this take on a traditional crab curry. The first step for this dish calls for making coconut milk from unsweetened coconut, which has a cleaner flavor and lighter texture than the canned variety. If you'd like, save the rehydrated coconut to flavor the accompanying white rice. Otherwise, feel free to discard it.
The Portuguese capital is redefining its cuisine with a new openness to foreign flavors and far-flung influences
Ingredients
8 cups (1 lb. 8 oz.) unsweetened coconut
1⁄4 cup plus 1 Tbsp. olive oil
2 medium white onions, minced
1 cup canned crushed tomatoes
2 cloves garlic, chopped (2 tsp.)
1 lb. cooked Mozambican or Alaskan king crab legs, broken apart at the joints
1 tbsp. kosher salt
Cilantro leaves, for garnish
Cooked white rice, for serving
Instructions
Step 1
In a large pot over high heat, bring 8 cups water to a boil. Add the coconut and let cook for 1 minute. Remove the pot from the heat and let rest until the coconut is cool enough to handle. Using your hands, squeeze the coconut flesh in batches to extract the coconut milk (you should have about 4 1⁄2 cups milk).
Step 2
In a 12-inch skillet, heat the oil over medium-high heat. Add the onion and cook, stirring occasionally, until softened and caramelized, about 25 minutes. Add the tomatoes, garlic, and crab, and cook, stirring occasionally, 3 minutes. Add the coconut milk and bring to a gentle boil. Let simmer, stirring occasionally, 30 minutes. Season with salt to taste. Garnish with cilantro and serve with rice.