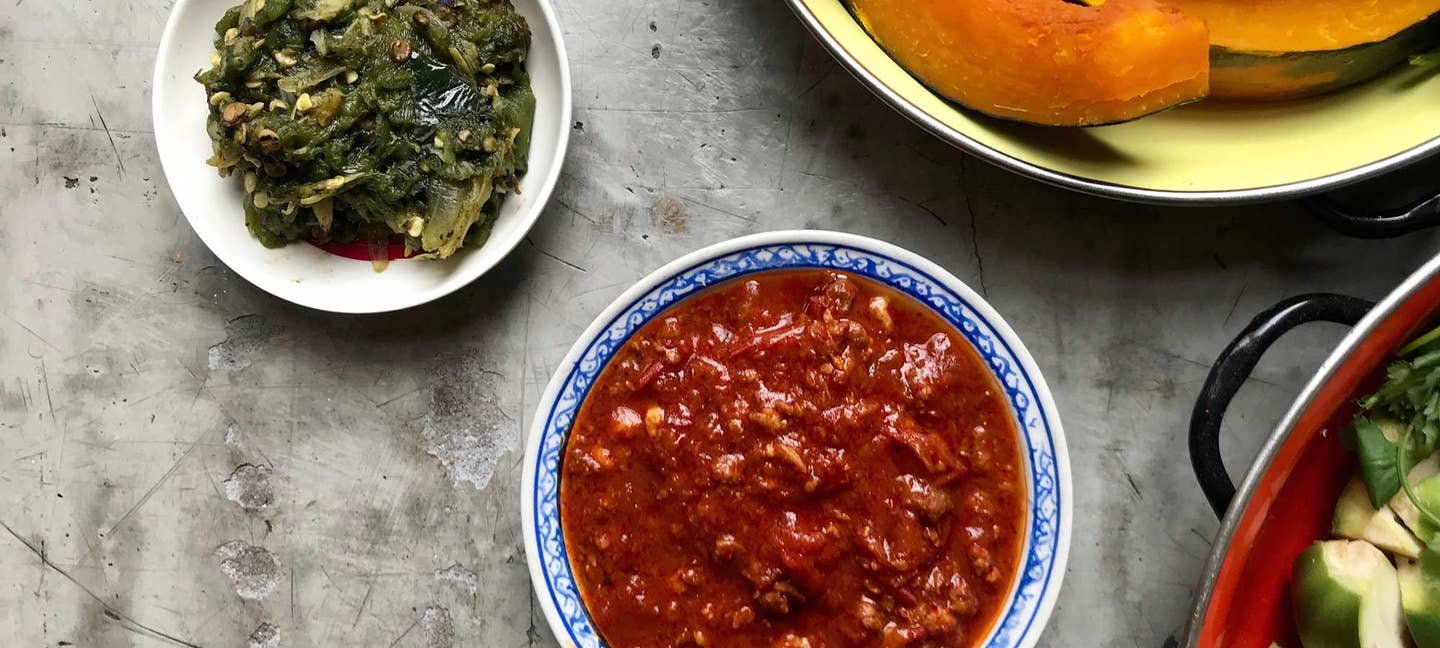 Recipes
Nam Phriks: The Spicy Thai Condiments You'll Want to Put on Everything
These umami-rich, chile-based dips from northern Thailand are the perfect partners for sticky rice and beyond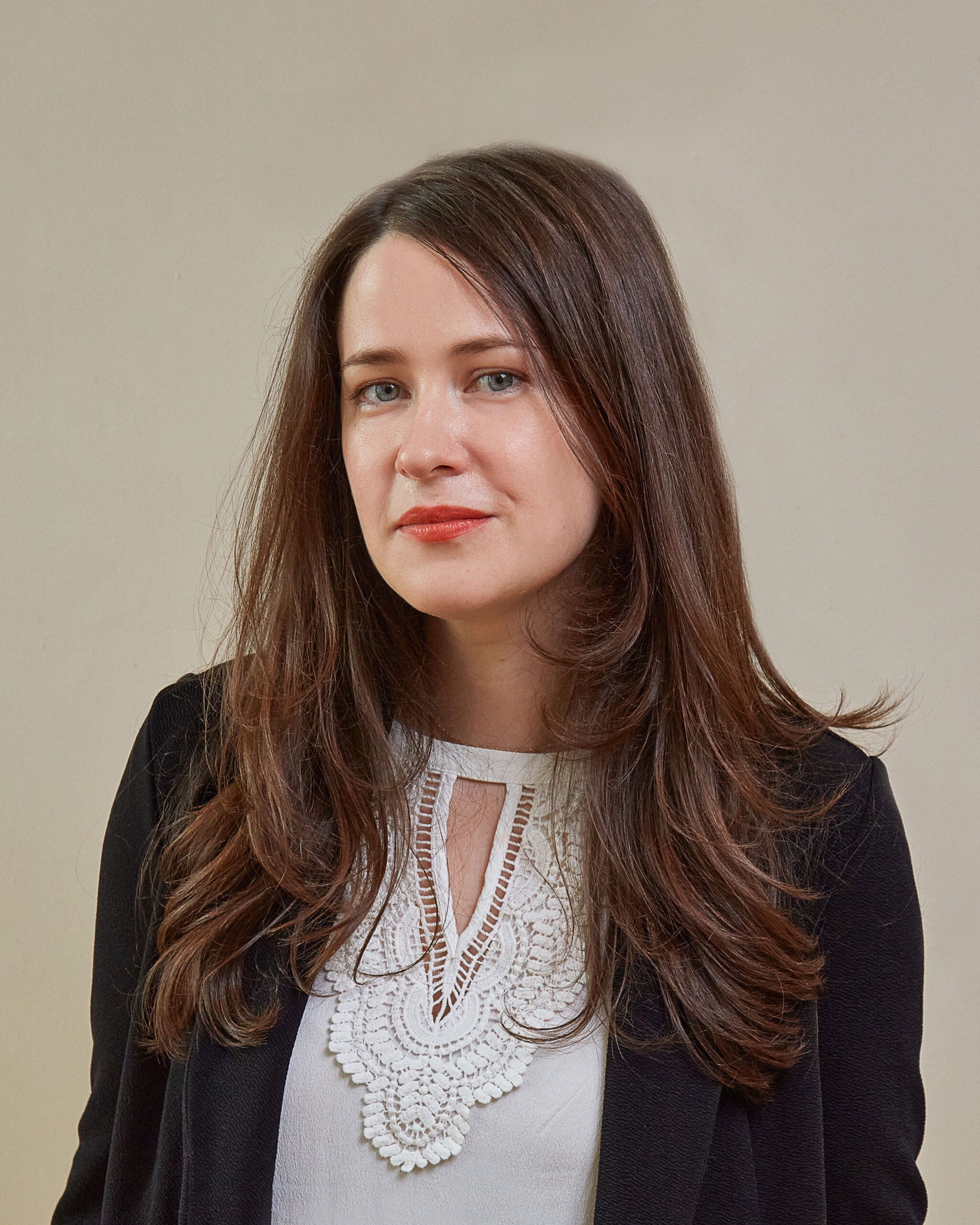 ---
As I cooked through Austin Bush's (recently James Beard award-nominated) The Food of Northern Thailand along with the SAVEUR Cookbook Club this spring, there was one category of recipes that really stood out: nam phrik, which translates to "chile water." A family of dishes that can be found all over Thailand, it nearly always starts with either fresh or dried chiles and lives somewhere between a dip and a relish. Northern Thai nam phriks are an excellent entry point into the richly flavored cuisine, particularly for cooks who might find Bush's comprehensive tome a little overwhelming. The condiment also has all kinds of delicious applications in the kitchen, which we're especially excited about with grilling season soon upon us (we here at SAVEUR have been testing cookout fare for months!).
Nam phriks are not exclusive to northern Thailand—different styles are enjoyed throughout the country. They can take many forms: some are soft and juicy, similar to a salsa; while others are oily and jam-like, or dry and crumbly. The ingredients can also vary widely depending on the region and the cook. The condiment can be vegetarian, or fortified with anything from umami-rich shrimp paste and fish sauce to dried or smoked fish and ground pork. Regardless of whatever protein is added, the aromatic vegetables are usually the undisputed stars of the dish. Nam phriks are humble, everyday food, typically eaten at home with steamed or raw vegetables, fresh herbs, and plenty of sticky rice for dipping.
According to Bush, nam phrik is perhaps Thailand's most regional dish—so much so that "one can almost instantly determine which part of the country they're in, just by looking at the nam phrik." In general, northern Thai nam phriks are coarser in texture and more rustic. They also "tend to revolve around ingredients that have been cooked—typically grilled—before entering the mortar," Bush explains. These grilled components in turn lend distinctive smoky and charred notes to the finished dish. Beyond those commonalities, however, the variations are seemingly endless—The Food of Northern Thailand alone features 10 different nam phrik recipes, ranging from the fiery classic nam phrik num and the saucy tomato-and-pork-based nam phrik ong, to the dry garlic-and-galangal nam phrik khaa and the funky, fermented nam phrik nam phak.
Grilled-Chile Dip with Shallots and Garlic (Nam Phrik Num)
Nam phrik num, the most popular nam phrik in the northern Thai repertoire, is as simple as it is addictive. Phrik num chiles, ginger, garlic, and shallots are grilled over coals until they are softened and charred, then pounded into a coarse, stringy paste. Seasoned with a touch of salt or soy sauce, nam phrik num has a clean, direct flavor, with a soft, pleasantly fibrous texture not unlike Middle Eastern baba ghannouj. The condiment is so beloved and celebrated, Bush notes, that it's even available at souvenir shops at the Chiang Mai International Airport.
Preserved Yu Choy Green Dip (Nam Phrik Nam Phak)
Less well-known but equally tasty is nam phrik nam phak, which hails from the village of Ban San Thang Luang in rural Chiang Rai. It's traditionally made with yu choy that's been dried in the sun for several days, but we had great results using a dehydrator in the test kitchen; a low oven would also work well. Once the greens are sufficiently dried, they're fermented, boiled, and finally pounded in a mortar and pestle with spices, garlic, and toasted chiles. The relish may be one of the more complicated nam phrik recipes, but the results are so worth the effort.
Most northern Thai nam phriks are much less involved, requiring just a few simple cooking techniques, such as grilling over coals or toasting in a dry wok. Pro tip: If you're toasting dried chiles in a wok, make sure you have adequate ventilation unless you want your whole family to be seized with a fit of capsicum-smoke-induced coughing (which I learned the hard way when attempting this technique in my studio apartment). Also key is knowing how to use a mortar and pestle: the Thai granite kind is ideal for pounding and grinding chiles to the desired texture and for progressively working in layers of flavor. The process provides several opportunities to taste and tweak before moving on to the next ingredient, making it an ideal learning exercise for cooks still familiarizing themselves with northern Thai cuisine.
Thai Tomato-and-Ground-Pork Dip (Nam Phrik Ong)
While Bush calls for all the traditional methods in his nam phrik recipes, he acknowledges that Thai cooks, like busy cooks everywhere, are not above taking shortcuts. Increasingly, they are trading their heavy mortars and pestles for quicker, more nimble blenders and food processors (though the texture doesn't come close to what you get with the original grind-and-pound method). Wanphen Jumpajan, who taught Bush how to make nam phrik ong, prefers to toast her chiles in the microwave for ease and speed unless it's a special occasion. Many Thai families even buy their nam phriks in small bags from the market, to supplement home-cooked rice and vegetables.
For those of us who don't have that option, it's the perfect excuse to invest in a Thai mortar and pestle and make nam phriks the old-school way. Nothing beats pounding and grinding the chiles by hand, and since the dips can be made ahead from start to finish, they're a brilliant option for any indoor or outdoor feast. They're also equally at home in the starring role or as a supporting player. Accompanied by sticky rice, steamed vegetables, fresh herbs, and pork rinds for dipping, nam phriks make a fine lunch or appetizer course; served with other dishes, they're an essential part of a traditional northern Thai meal.
And there's no need to stop there—nam phriks are wonderful with grilled or fried meat, a nontraditional but equally satisfying pairing. Bush suggests serving nam phrik num with crispy fried chicken, and we found that the bitter herbal and citrusy notes of nam phrik nam phak make it a fitting match for grilled lamb. Whether you treat nam phrik like a condiment at your next barbecue or make it a dish unto itself, you can't go wrong.