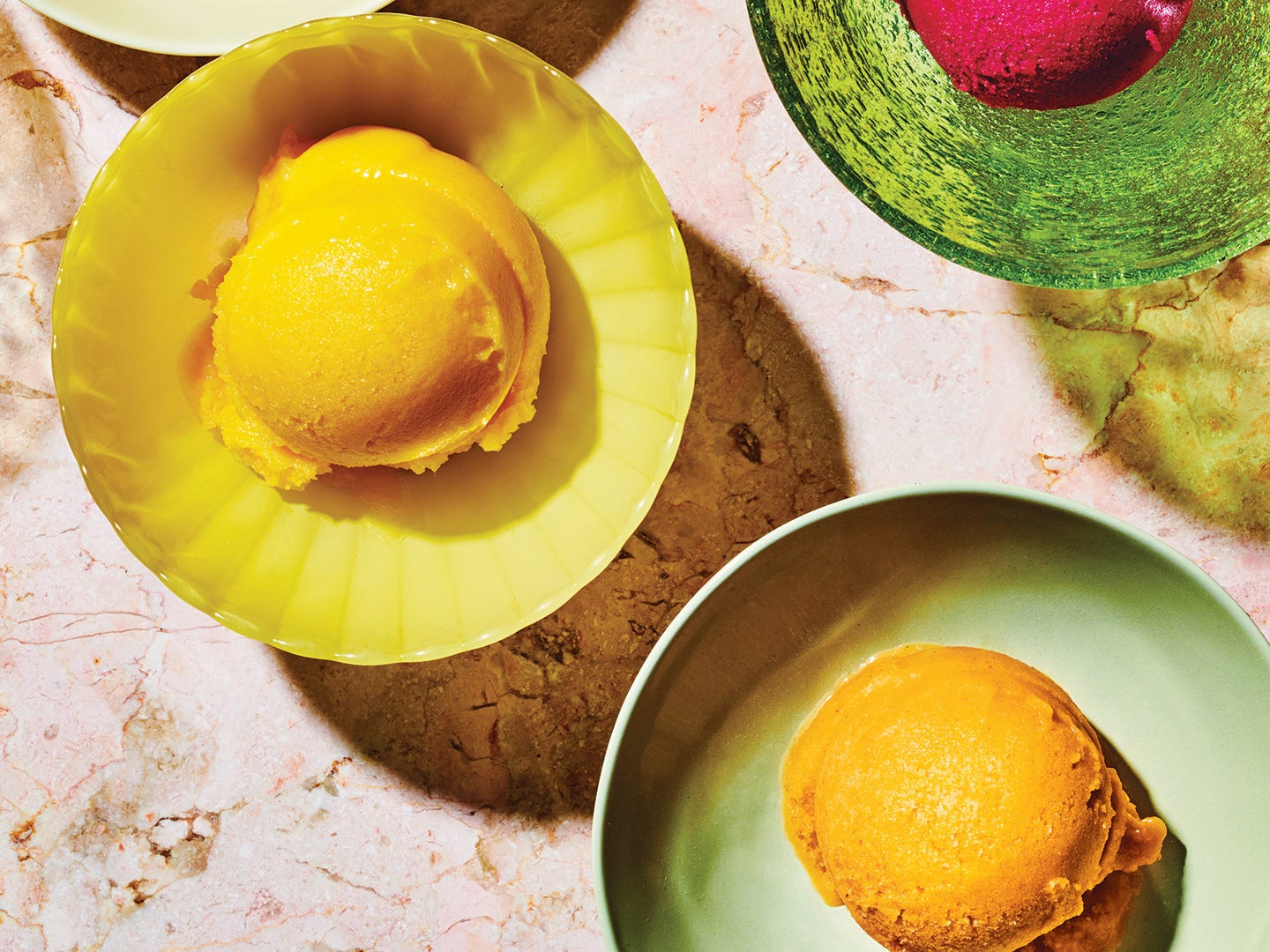 Stone fruits that are extra-ripe lend much more flavor and fragrance to a sorbet and are easier to reduce to a smooth purée. While this peach sorbet calls for lemon verbena, using fresh or dried thyme or lemon balm would work as well.
Featured in: Sorbet Lessons from Paris's Coolest Scoop Shop
Equipment
Verbena-Peach Sorbet
The aromatic herb lemon verbena makes an excellent foil for sweet yellow peaches in this summer dessert.
Yield:
makes about 1 quart
Time: 5 hours, 45 minutes
Ingredients
⅔ cup (160 g) raw cane sugar
2 cups (20 g) dried or fresh lemon verbena
3 large yellow peaches, unpeeled, pitted, and coarsely chopped (4 cups)
1 Tbsp. plus 1½ tsp. (20 g) fresh lemon juice
3 Tbsp. (40 g) heavy cream
Instructions
In a small pot over medium heat, whisk 1⅓ cups (300 grams) cold water and the sugar. Bring to a boil, stirring occasionally, until the sugar dissolves. Turn off the heat and stir in the lemon verbena. Cover the pot and refrigerate until completely cooled, about 1 hour.
When you are ready to churn the sorbet, set a fine mesh strainer over a medium bowl. Strain the mixture, pressing on the leaves to extract as much syrup as possible, then discard the solids.
In a blender or the bowl of a food processor, add the peaches and purée until completely smooth. Transfer 2⅓ cups (600 grams) of the purée into a large bowl and reserve; save the rest for another use. Stir in the lemon juice and the cooled lemon verbena syrup, then whisk in the heavy cream.
Transfer the mixture to the bowl of an ice cream maker, and churn according to the manufacturer's directions until the sorbet is thick and frozen, with the consistency of soft serve, about 30 minutes. Transfer to an airtight metal or plastic container and freeze until set, at least 3–4 hours.
To serve, dip an ice cream scoop or spoon in hot water, or temper the sorbet in the refrigerator for 20 minutes before scooping. Serve immediately.