Recipes
Pickled Shrimp with Satsuma Orange
Serves

serves 8-10

Cook

25 minutes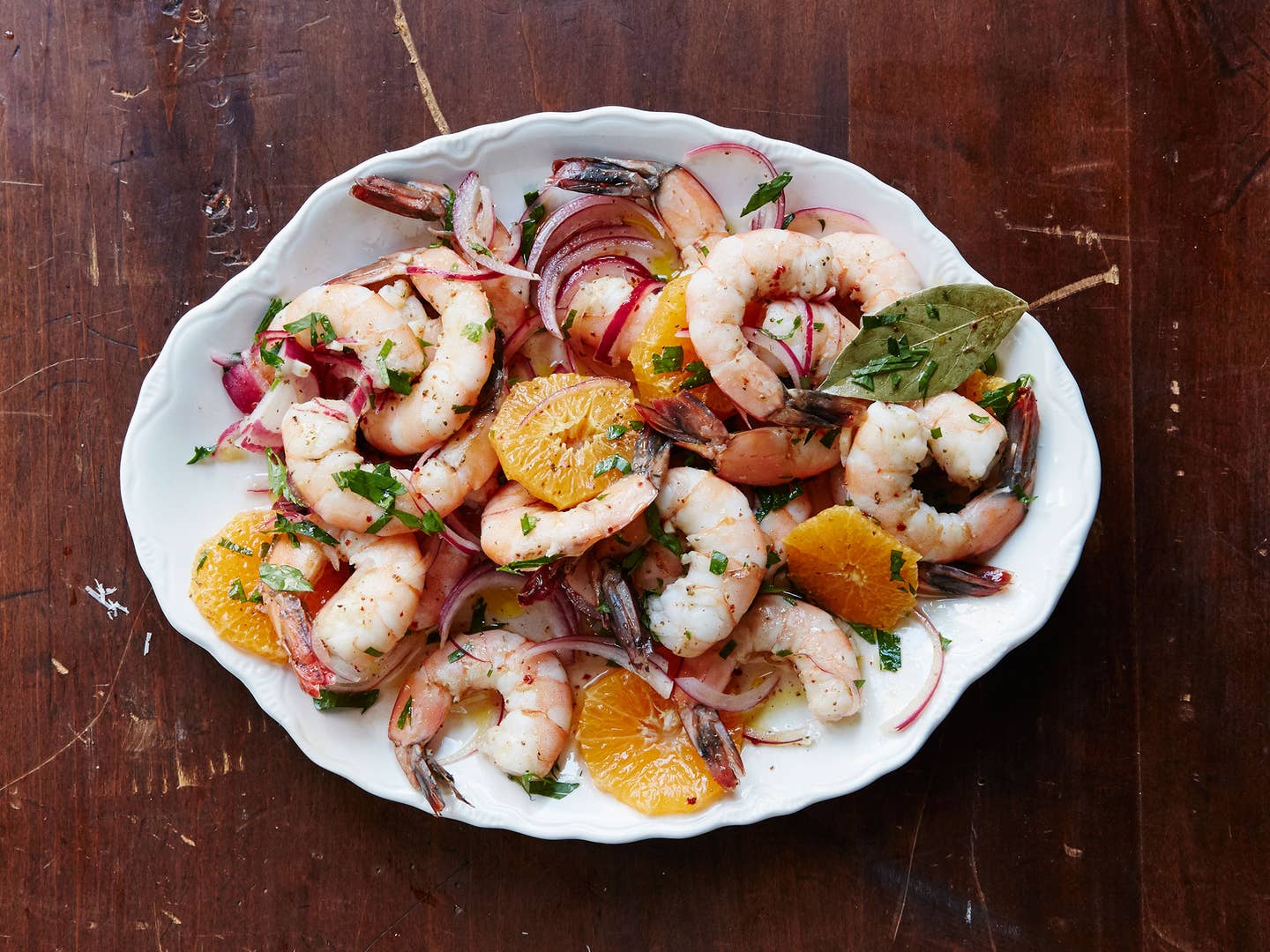 Bittersweet satsumas, a citrus fruit native to Louisiana, brighten these pickled shrimp, which chef Justin Devillier of New Orleans' La Petite Grocery spikes with Korean chile flakes. Substitute tangerines or any orange-related citrus and crushed red chile flakes, if necessary.
Ingredients
3 lb. shell-on medium shrimp, preferably Gulf white
2⁄3 cup fresh lemon juice
1⁄2 cup extra-virgin olive oil
1⁄4 cup white wine vinegar
1⁄4 cup finely chopped flat-leaf parsley
1⁄2 tsp. celery seed
1⁄2 tsp. Korean red chile flakes
1⁄4 tsp. ground allspice
4 bay leaves
3 satsumas or tangerines, peeled and cut crosswise into 1/4-inch slices
3 cloves garlic, minced
1⁄2 medium red onion, thinly sliced lengthwise
Kosher salt
Instructions
Step 1
Bring a large saucepan of water to a boil and then reduce the heat to maintain a simmer. Add the shrimp, bring the water back to a boil, and cook until they turn bright orange and are done, about 2 minutes. Drain the shrimp and let cool to room temperature. Peel and discard the shells and legs from the shrimp, leaving their tails attached.
Step 2
In a large bowl, mix the peeled shrimp with the remaining ingredients, except the salt, and toss until evenly combined. Cover the bowl with plastic wrap and refrigerate for at least 24 hours. Stir the shrimp and season with salt before serving.