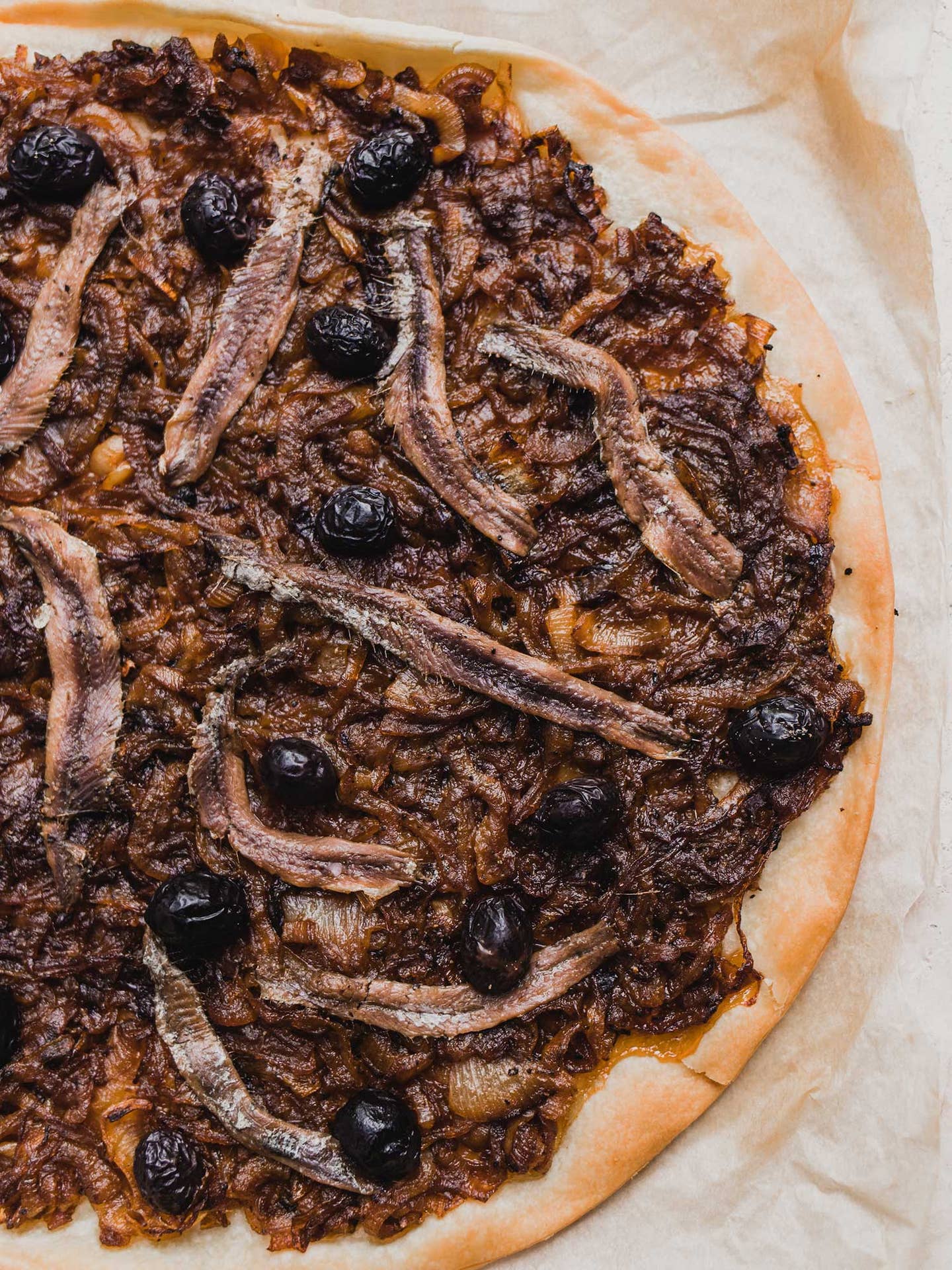 Drinks
This Savory French Tart Is an Excellent Excuse to Drink Rosé Year-Round
A Provençal classic topped with anchovies, olives, and caramelized onions, pissaladière is the perfect partner for a glass of chilled rosé
As fun and easy as it would be to say that a pissaladière is a French pizza, it's very much not. Sure, it has a yeasted dough. It's savory. Leftovers are delicious for breakfast. It even sounds a bit like you started to say "pizza" and got lost in another language on the way. Instead, the etymological and cultural origins of pissaladière are derived from something decidedly not pizza-like: a salted, fermented fish condiment.
Originating from the Nice region of France, pissalat (or pissala) is made by layering baby anchovies and sardines with salt, spices, and herbs, and fermenting the mixture for 45 days before pressing through a sieve to remove the tiny bones. While less common now, it is still possible to find artisanal pissalat. According to Rosa Jackson, a Canadian expat, food writer, and owner of Les Petits Farcis, a cooking studio in the Old Town of Nice, fishermen continue to make pissalat in the Niçoise region during the month of May, when anchovies are in season. Early versions of pissaladière were spread with the potent fish paste before a layer of onions was added.
Today it is more common to employ whole, fully-grown anchovies, scattering them and small Niçoise olives across a thick layer of deeply caramelized onions. The base remains a yeasted dough. "It has to be an olive oil-based bread dough, not a pastry base," says Jackson. "It's similar to the bread dough that's used in a fougasse."
Treasured as a street food and often sold and eaten as a late-morning or early-afternoon snack in Nice, pissaladière is easily—and regularly—made in the home. Mimi Thorisson, the author of A Kitchen in France and French Country Cooking, says her "favorite time to serve it is lunchtime with a salad and a little glass of wine."
While the ingredients and techniques are simple, each of the following tenets are key in creating a superior pissaladière at home. The final—some might say most important—rule lies outside the kitchen: always serve with well-chilled rosé.
While Julia Child did say you can use a puff-pastry base (and who are we to cross swords with Julia), an authentic pissaladière requires a yeasted, olive-oil-rich dough at its base. Thorisson calls the base "a French focaccia" with origins just across the French-Italian border in Italy's Liguria. According to Jackson, the final dough should be "slightly thicker than a pizza" but also "shouldn't be outrageously doughy." It's this textural balance that makes all the difference in the final pissaladière.
A thick layer of deeply caramelized onions anchors any good pissaladière. According to Larousse Gastronomique, "a good pissaladière should have a layer of onions half as thick as the base if bread dough is used." To concentrate their sweet, savory flavor and achieve a jammy texture, onions should be cooked low and slow for upwards of an hour or two. Jackson uses a deeper pan to ensure the onions don't brown too quickly, covering them with a parchment round to keep the moisture in for most of the cook time. "You're really melting the onions," she says. "When they've gotten really, really soft, you can let them brown. At that stage you need to stir them constantly to make sure they get an even color." The final color should be deep golden, as the onions will continue to cook in the oven.
Anchovies are the fishy reason we have pissaladière in the first place and are not to be skipped. Some cooks toss them in the pan with the onions, allowing the little fish to melt in and infuse the final tart with their umami flavor. Others layer them over the top, adding punches of briny flavor in decidedly artful designs. Thorisson prefers to make a modern take on the pissalat, a trick she learned from her aunt on the French side of her family. "You often see pissaladière with anchovies in a crisscross pattern, but that's so salty," she says. "I opt for making a modern paste of five to eight anchovies packed in oil mixed with the same number of sardines." Whichever way you go, seek out the highest-quality fish.
The olives used in a pissaladière are the small, black Niçoise variety. If you can't find them, substitute Kalamata or another brine-cured black olive but know it's not going to give you a truly authentic Niçoise pissaladière.
When asked what people drink with pissaladière, both Jackson and Thorisson are very clear: rosé. While not an ingredient in the pissaladière itself, the Provençal wine is a key component to a Niçoise table. "Rosé is what people typically drink in Nice," says Jackson. "It's light, crisp, and cold, produced all around the region, and goes really well with Mediterranean food."