Recipes
Pumpkin Soup with Orange and Parmigiano-Reggiano
Serves

serves 8

Cook

3 hours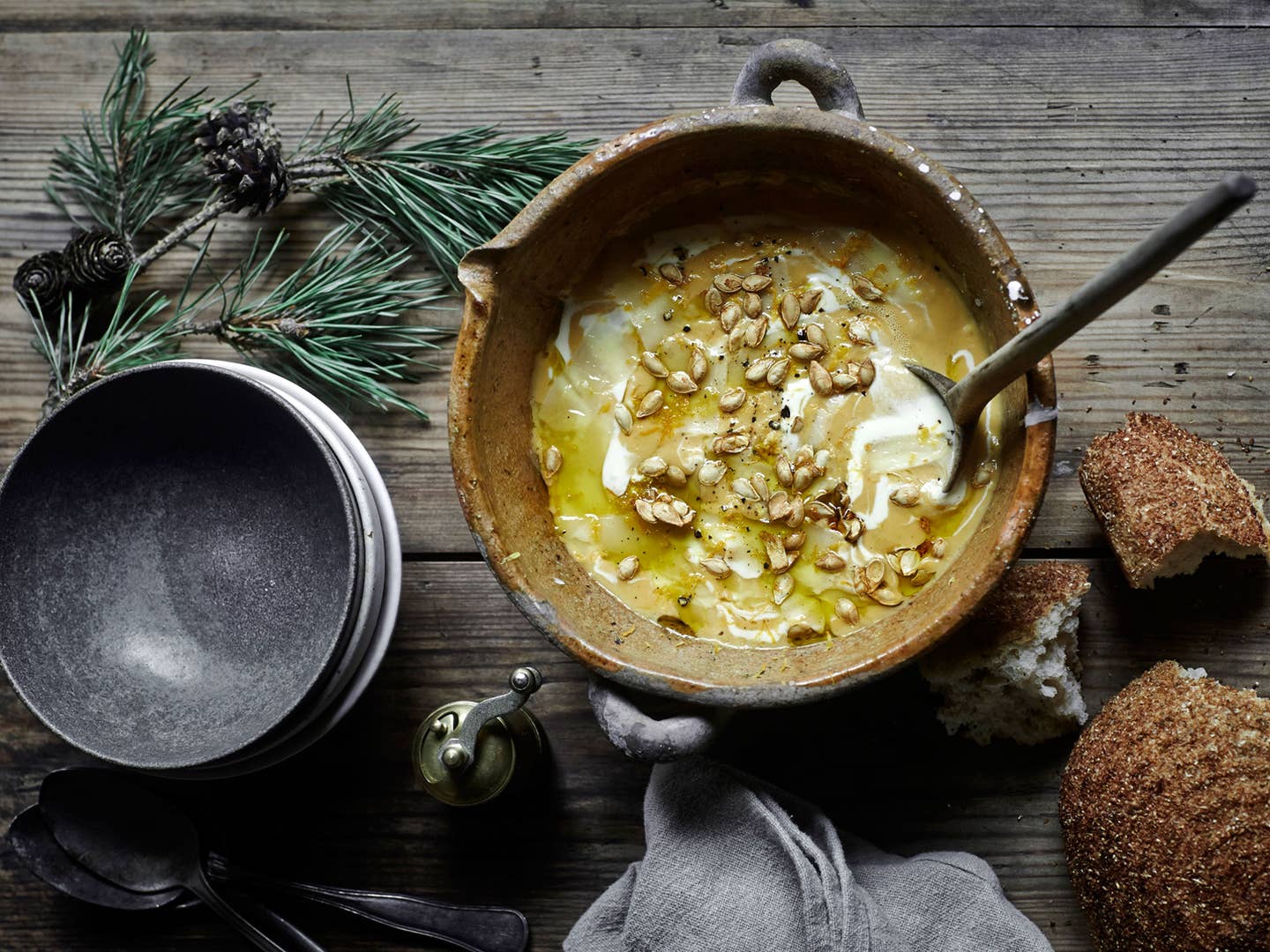 Caramelized roasted pumpkin gets an unorthodox hit of flavor from orange zest and juice, stirred in just before serving to brighten this wintry soup. Paul Cunningham of Henne Kirkeby Kro likes to use pumpkins local to Denmark, like hokkaido, but sugar pumpkins work just as well here, as does any buttery squash, like kabocha, butternut, or acorn.
Ingredients
1 medium (2 1/2–3-lb.) sugar pumpkin or butternut squash, trimmed
6 tbsp. extra-virgin olive oil
Kosher salt and freshly ground black pepper
4 cloves garlic, minced
1 large yellow onion, thinly sliced
1 Fresno chile or red jalapeño, stemmed, seeded, and finely chopped
6 cups vegetable stock
1 cup crème fraîche, plus more to garnish
Finely grated zest and juice of 1 orange
Parmigiano-Reggiano, for serving
Instructions
Step 1
Heat the oven to 350°. On a cutting board, halve the pumpkin lengthwise and scoop the seeds into a bowl. Cut the pumpkin halves into 6 wedges each and transfer to a baking sheet. Drizzle the pumpkin with 3 tablespoons olive oil, season with salt and pepper, and bake until tender, about 40 minutes. Transfer to a rack and let the pumpkin cool.
Step 2
Reduce the oven temperature to 300°. Rinse the pumpkin seeds to remove the stringy pulp and lay the seeds on paper towels to dry. Transfer the seeds to a small bowl, toss with 1 tablespoon olive oil, and season with salt and pepper. Spread the seeds on a small baking sheet and bake until toasted and crisp, about 1 hour. Transfer the sheet to a rack and let cool.
Step 3
In a large saucepan, heat the remaining 2 tablespoons olive oil over medium-high. Add the garlic, onion, and chile and cook, stirring, until softened, about 6 minutes. Scrape the pumpkin flesh from the skin and add to the onions, discarding the pumpkin skin. Pour in the stock and bring to a boil. Reduce the heat to maintain a simmer and cook, stirring occasionally, until the soup is slightly reduced, 35 to 40 minutes.
Step 4
Using an immersion blender or standing blender, purée the soup until very smooth and return to the saucepan over low heat. Stir in the crème fraîche and orange zest and juice and heat until warmed through. Remove the pan from the heat, season with salt and pepper, and ladle into serving bowls. Top each serving with some toasted pumpkin seeds, a generous grating of Parmigiano-Reggiano, and a dollop of crème fraîche.