Recipes
Radicchio and Polignano Carrot Salad with Burrata and Pomegranate
Serves

serves 4-6

Cook

20 minutes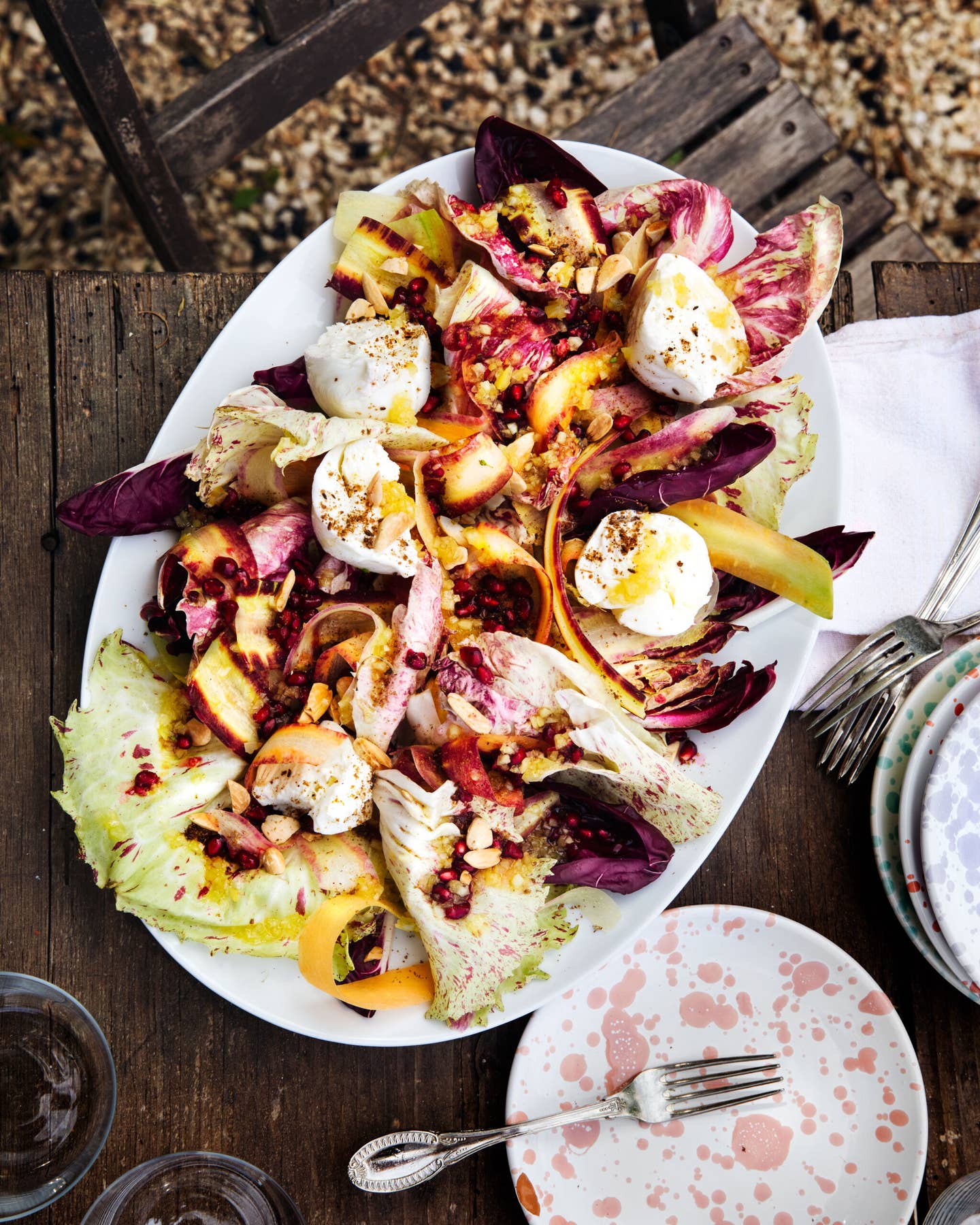 The dark-purple, orange, and yellow carrots of Polignano—a town north of Ostuni on Italy's Adriatic coast—have a startlingly bright color and punchy flavor. But any colorful, tender carrot will do. Goggi tops this salad with a tart, preserved-lemon vinaigrette, some cumin, mounds of burrata, and pomegranate seeds. "Pomegranates grow wild all over Italy, but Italians typically don't use them," she says.
Ingredients
For the dressing:
Rind of ½ medium preserved lemon, minced (2 Tbsp.)
1 tbsp. rice vinegar
2 tsp. fresh lemon juice
2 tsp. toasted cumin seeds, ground
1 1⁄2 tsp. honey
1⁄3 cup extra-virgin olive oil
Kosher salt
For the salad:
1⁄4 lb. radicchio leaves (such as castelfranco, rossa di treviso, or rossa di verona), washed and dried
3 medium colorful carrots (5 oz.), thinly shaved with a vegetable peeler
2 tbsp. assorted chopped fresh herbs such as dill, parsley, mint, cilantro, chive, or basil
1 ball of burrata (about 4 oz.)
1⁄4 cup pomegranate seeds
1⁄4 cup roasted almonds, coarsely chopped
Instructions
Step 1
Make the dressing: In a bowl, combine the lemon rind, vinegar, lemon juice, cumin, and honey. Slowly drizzle in the olive oil while whisking to emulsify. Season with salt.
Step 2
Make the salad: In a large bowl, combine the radicchio leaves, carrots, and herbs with 3 tablespoons of the dressing.
Step 3
Transfer the vegetables to a large, chilled serving plate. Top with chunks of burrata, the pomegranate seeds, and the almonds. Drizzle with a bit more dressing to taste and serve immediately.