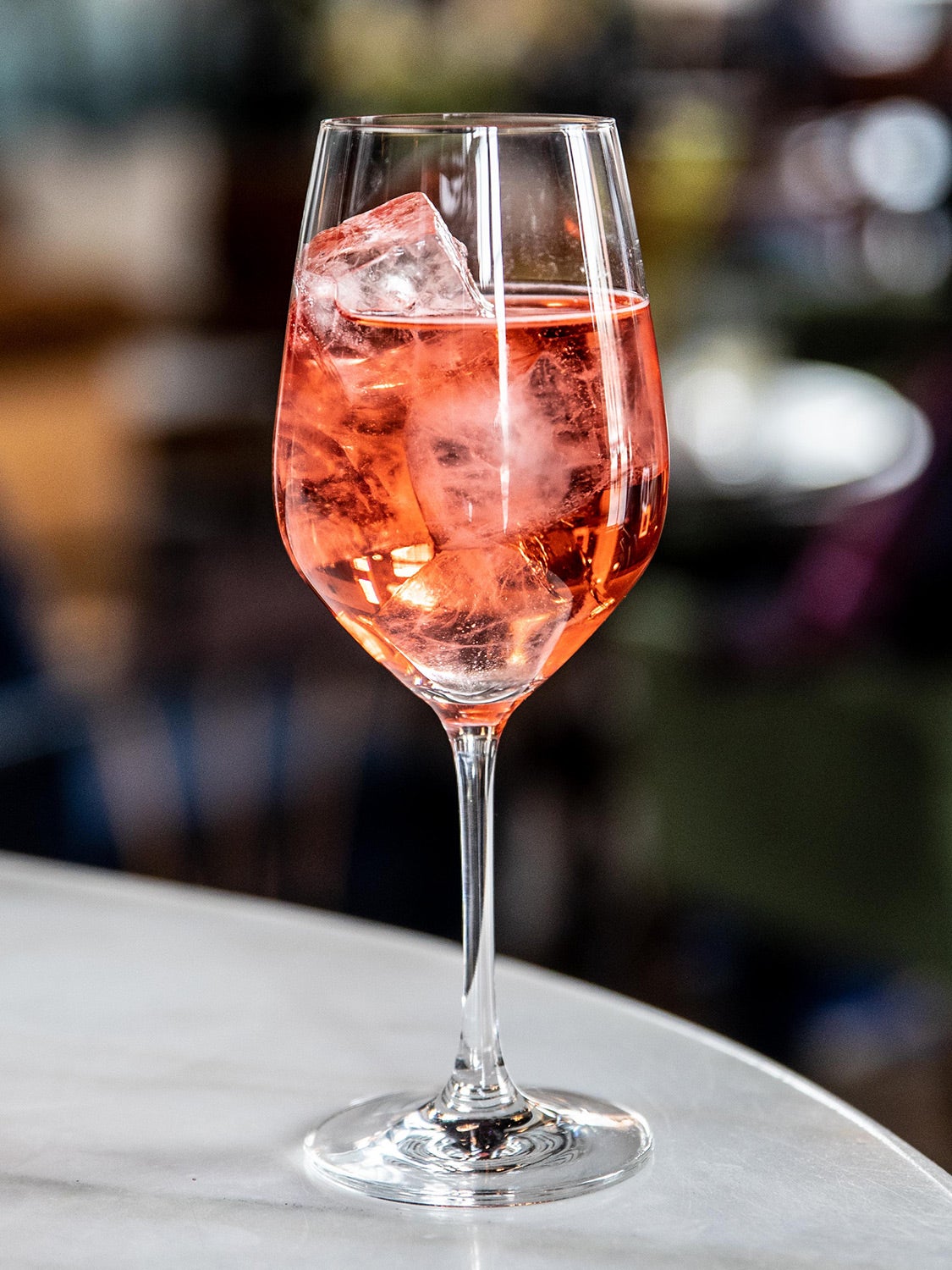 There are a lot of flavors happening in this spritz from Death & Co. Denver, but they all work together harmoniously––raspberry and rhubarb shine at the forefront while allowing the subtle aromatics from the gin, vermouth, and Campari to come through. Drizzle the leftover raspberry syrup over ice cream or pound cake for dessert.
Featured in: The Most Inventive Spritzes Around the Country for When You're All Spritzed Out
Equipment
Raspberry-Rhubarb Spritz
Campari replaces the Aperol in this spritz, while gin and blanc vermouth up the booziness. Rhubarb liqueur and homemade raspberry syrup give the drink a sweet-tart finish.
Time: 20 minutes
For the raspberry syrup:
6 oz. (1¼ cups) fresh raspberries
6 oz. (¾ cup) sugar
For the cocktail:
1¼ oz. (3 Tbsp.) gin
½ oz. (1 Tbsp.) fresh lemon juice
1½ tsp. (¼ oz.) Campari
1½ tsp. (¼ oz.) Dolin Blanc vermouth
1 Tbsp. (½ oz.) rhubarb liqueur
¼ cup (2 oz.) soda water
1 thin lemon wheel, for garnish
Instructions
First, make the raspberry syrup: In a blender, add the raspberries and sugar; purée until completely smooth. In a fine-mesh strainer set over a liquid-measuring cup, strain the raspberry mixture, discarding the seeds and any other solids. Cover and refrigerate until ready to use or up to 1 week.
Make the cocktail: In a cocktail shaker filled with ice, combine the gin, lemon juice, Campari, vermouth, rhubarb liqueur, and ¾ ounce (1½ tablespoons) raspberry syrup (reserve remaining syrup for another use); shake until well chilled. Strain into a wine glass filled with fresh ice. Top with soda water, garnish with a lemon wheel, and serve immediately.