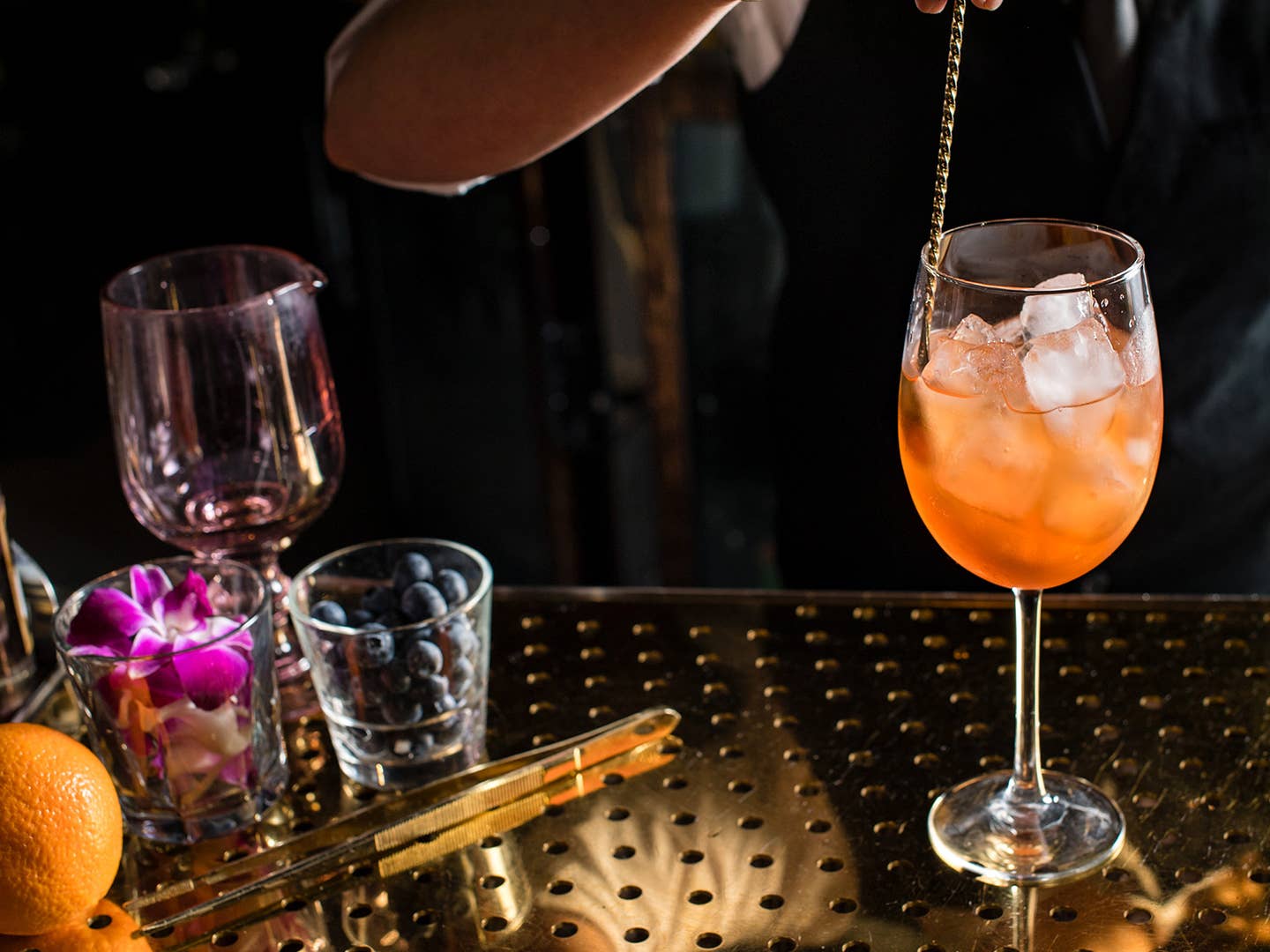 Drinks
The Most Inventive Spritzes Around the Country for When You're All Spritzed Out
While there's nothing wrong with the classic Aperol spritz, the country's top bartenders are making the drink a lot more interesting
Long before the debate about whether or not the Aperol spritz is a good drink, the spritz was just a glass of watered down wine. The tradition traces back to 19th century Austro-Hungarian-occupied Veneto, where soldiers found the local sparkling wine to be too strong for their palates, and in response, diluted it with ein spritzen of water. Over time, the practice evolved to include soda water, enabling spritz drinkers to bring the region's still wines into the mix, and eventually bitters.
Aperol came onto the scene in 1919, and after decades of building a loyal following in Italy and beyond, the brand developed its own version of a spritz, made with three parts Cinzano prosecco, two parts Aperol, and one part soda. Following a serious marketing push in the early 2000s (which is ongoing today), the drink's popularity is at an all-time high.
Objectively, the Aperol spritz is a delicious, balanced drink combining the aperitivo liqueur's bracing bitterness with prosecco's lightly sweet bubbles. But that doesn't mean there isn't room for experimentation and innovation in the spritz category. The basic template, a brilliant combination of acidity, herbaceousness, bitterness, and effervescence, has become a playground for bartenders across the country.
Here are six fresh takes on the spritz that are sure to satisfy, whether you follow the recipes to the letter or use them as inspiration for your own iterations. If you're ready to go beyond Aperol, pick up a few lesser-known bottles at your local liquor store, and get ready to spritz all season long.
San Diego's Raised by Wolves, a cocktail bar hidden inside a spirits shop, has made waves since opening, both for its drinks and its entrance that requires guests to come in through a revolving false fireplace. This light, bright spritz calls for the Italian wine-based Cappelletti Aperitivo, lychee liqueur, prosecco, and soda, and is a breeze to make at home—just the thing for your next cocktail party. The sweet tropical fruit notes play well with the bitterness of the Cappelletti, making for easy drinking.
Award-winning bartender Emily Yett heads up the drink program at Primrose in Las Vegas, and her affinity for low-ABV cocktails makes way for some playful options like this Garden Spritz. The dynamic duo of Salers, a bittersweet French gentian apéritif, and ultra-floral, chardonnay-based Contratto bianco vermouth serves as the base of this drink. A splash each of Prosecco and soda adds the requisite fizziness. It's an incredibly easy cocktail to replicate at home, and an ideal one for entertaining.
At moody, elegant Death & Co. Denver, a New York City import, the extensive cocktail menu features a handful of low- and no-ABV options, including this fruity spritz. It has a lot going on in the glass—a gin base is teamed with homemade raspberry syrup, Campari, vermouth, rhubarb liqueur, citrus, and soda—but all the components work together harmoniously, yielding a drink that's as elegantly complex as it is easy on the eyes. Bonus: the raspberry syrup recipe yields plenty of leftovers for drizzling on everything from ice cream to pound cake.
For those with a penchant for ultra-botanical flavor profiles, this one's for you. Peppery, aromatic gin meets Italicus Rosolio di Bergamotto, an Italian liqueur made with rose petals and bergamot, in this refreshing spritz tied together with the faintest hint of sea salt. Hailing from RPM Italian in Chicago, the cocktail is complex enough to impress guests yet easy enough to concoct at home on the regular.
At Auburn in Los Angeles, bar manager Israel Mejia mirrors the kitchen's "no-rules" philosophy with an elevated yet informal cocktail program. A base of Bonal Gentiane, a wine-based French apéritif infused with gentian, quinine, and herbs and botanicals plucked from the Grande Chartreuse Mountains in the Alps, is paired with a fellow French spirit, Calvados, made from the apples of Normandy. Rhubarb liqueur, raspberry vinegar, and sparkling wine add sweetness, acidity, and effervescence, resulting in a well-rounded, perfectly tart drink.
Old-world glamour—accented with a quirky, Wes Anderson-esque touch—awaits at Candy Bar inside Detroit's Siren Hotel. In this frothy, pastel-pink spritz-fizz hybrid, bartender Marlowe Johnson combines gin, citrus, fresh strawberry cordial, and coconut milk. Prosecco bridges the gap between the classic spritz tradition and cocktail culture's new wave. Reminiscent of a boozy strawberry egg cream, this sweet, bubbly drink would make an excellent solo treat at home or a delightful dessert at your next retro dinner party.