Recipes
Kashmiri Sour Cherry Chutney
Tart stone fruit sparkles in Chef Romy Gill's peppery, sweet-and-sour recipe.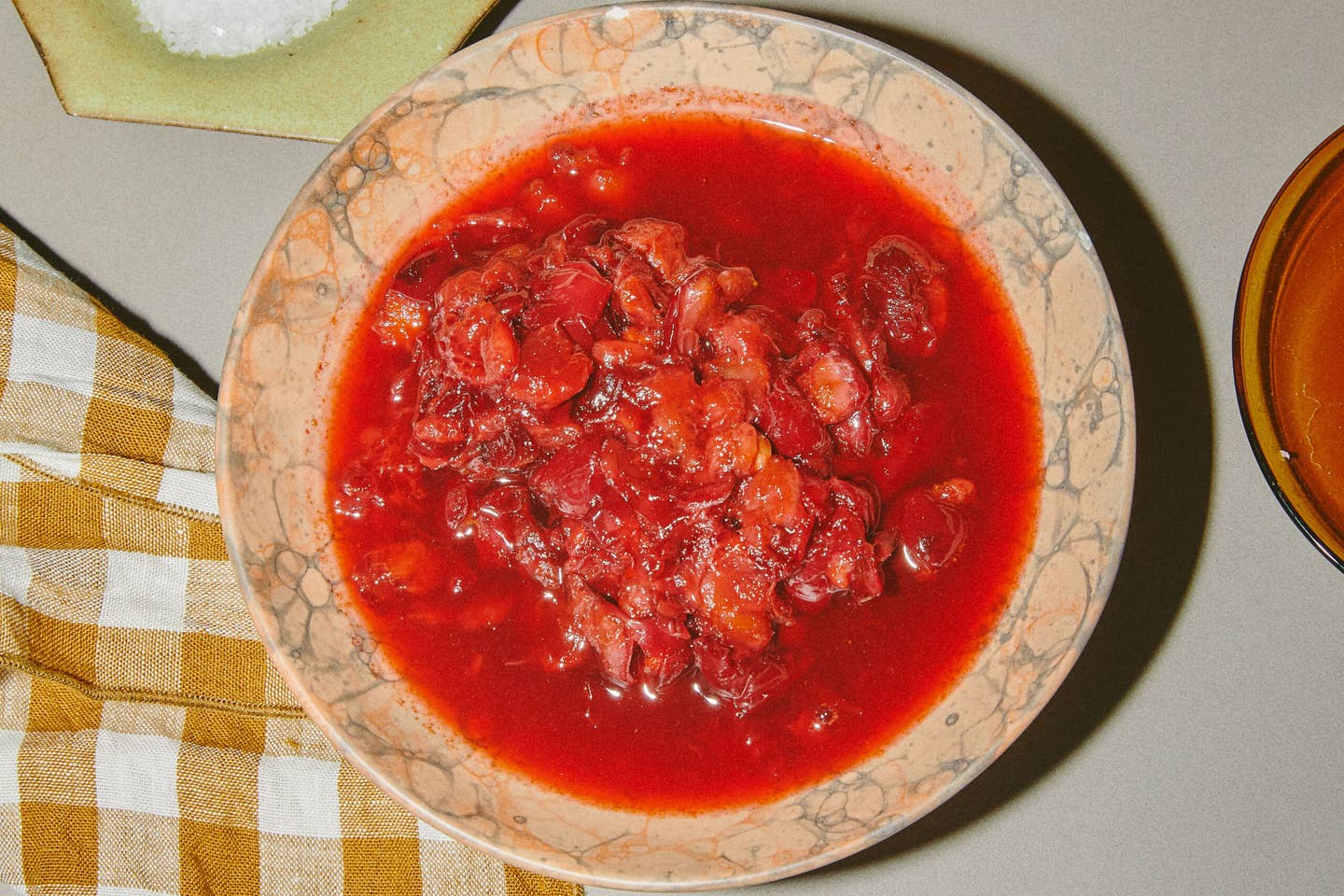 Kashmiri cuisine tends to be intricately spiced and quite rich, and this bright, chile-laced sour cherry chutney, which is adapted from British Indian chef Romy Gill's cookbook On the Himalayan Trail, offers a welcome balance to many of the region's heavier dishes. While her version is left chunky, Gill adds that you can feel free to blitz the mixture in a food processor for a smoother result. Cooking fresh cherries with their pits gives the chutney a faint, almondy flavor. However, when making this recipe out of season, frozen, pitted sour cherries make a suitable substitute—great news, because we love it as a replacement for cranberry sauce alongside a roasted turkey dinner. Just be sure to buy natural unsweetened frozen cherries, not sour cherry pie filling, which is typically packaged in a thick syrup.
Ingredients
3½ oz. sour cherries, washed
1 Tbsp. plus 1 tsp. superfine sugar
1 tsp. Kashmiri chile powder
½ tsp. fine sea salt
pinch asafoetida powder
Instructions
Step 1
To a medium pot set over medium heat, add the cherries and 1½ cups of cool water and cook, stirring occasionally, until the cherries are softened and just beginning to fall apart, about 15 minutes. Remove from the heat and drain (discard the cooking liquid or save for another use). Transfer to a medium bowl and set the sour cherry chutney aside until cool enough to handle.
Step 2
Once the cherries are cool, use your hands to lightly crush up the fruit, then pick out and discard any pits. Stir in the sugar, chile powder, salt, and asafoetida, transfer to a serving bowl, and serve at room temperature. This chutney is best eaten the day it is made, though leftovers keep well in an airtight container in the fridge for up to 2 weeks.