Recipes
Tamarind Chutney
The sweet-tart Indian condiment is right at home alongside all manner of South Asian fried snacks.
Serves

Makes 1 1⁄2 Cups

Cook

45 minutes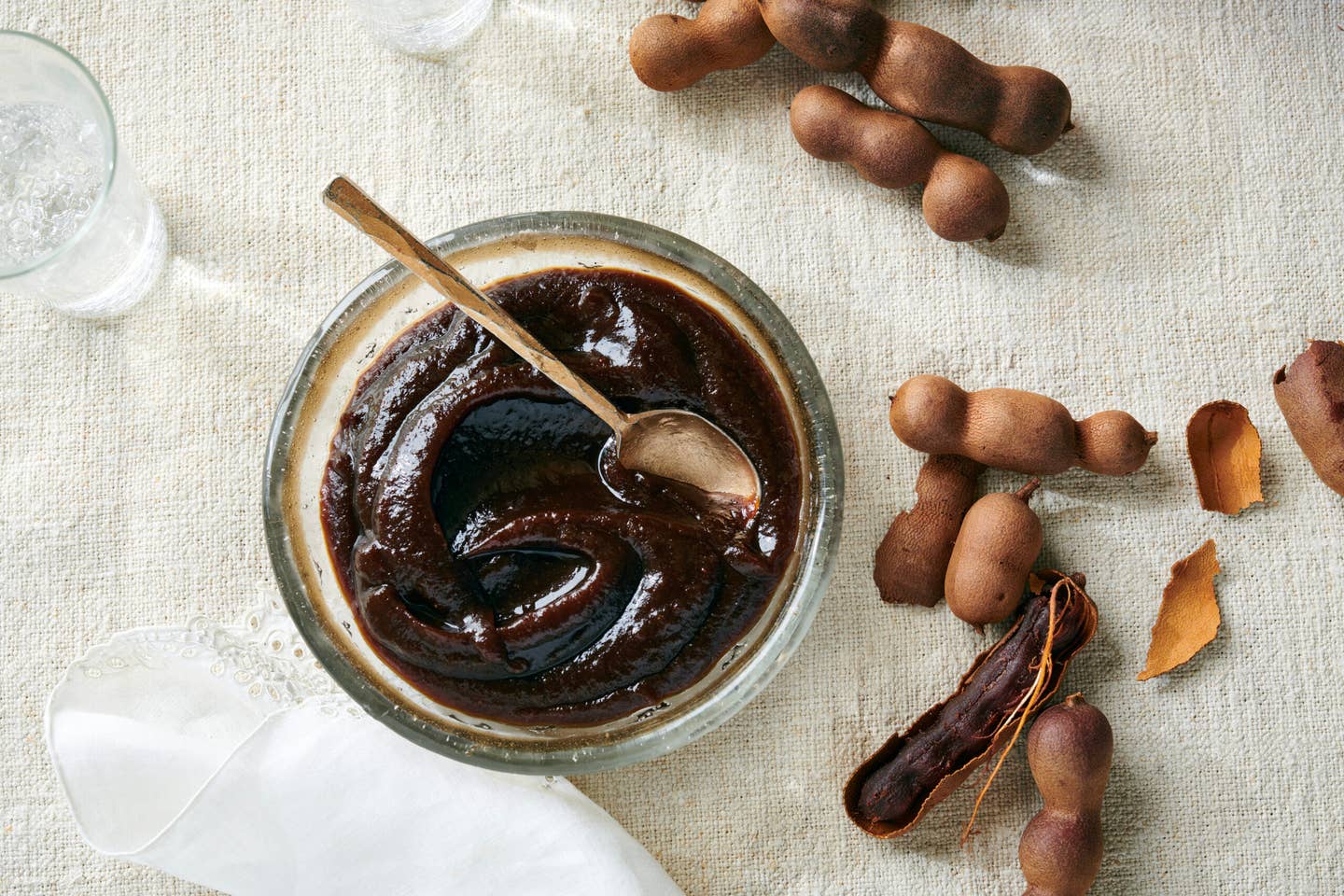 Tart chutneys are widely loved condiments throughout the Indian Subcontinent and beyond. This sweet-tart tamarind chutney is the classic accompaniment for South Asian fried snacks such as pakoras and samosas. We think the sweet and fruity sauce is also great alongside fried or roasted chicken, or barbecued pork. Look for blocks of compressed tamarind pulp in Asian or Latin American grocery stores.
Ingredients
One 8 oz. block seedless tamarind pulp
1⁄2 tsp. ground cumin
3⁄4 cup sugar
1⁄2 tsp. ground ginger
1⁄2 tsp. kala namak (black salt)
1⁄2 tsp. red chile powder, such as cayenne
Instructions
Step 1
To a nonreactive medium bowl, add the tamarind pulp and 2 cups of boiling water. Set aside until the pulp is very soft, about 30 minutes.
Step 2
Set a fine-mesh sieve over a second medium bowl, then pour the tamarind mixture through it, squeezing and pressing on the pulp with your hand to extract a smooth, thick paste.  Discard the fibers. Using a silicone spatula, scrape the paste from the bottom of sieve into the bowl then stir the strained mixture until smooth. Measure 1 cup of the liquid. Transfer the remainder to an airtight jar and reserve for another use. (Leftover tamarind pulp keeps well in the fridge for up to 2 weeks or in the freezer for up to 3 months.)
Step 3
To a small pot over medium-high heat, add the cumin and cook, stirring continuously, until fragrant, 1–2 minutes. Add the tamarind liquid, sugar, ginger, kala namak, and red chile powder and cook until the chutney has thickened, 12–15 minutes. Remove from the heat, cool to room temperature, and serve. Leftover tamarind chutney keeps well in the fridge for up to 2 weeks.