Recipes
Bacalao a Monção
Portuguese-style salt cod with Port wine, onions, and olives.
Serves

serves 4

Cook

1 hour 30 minutes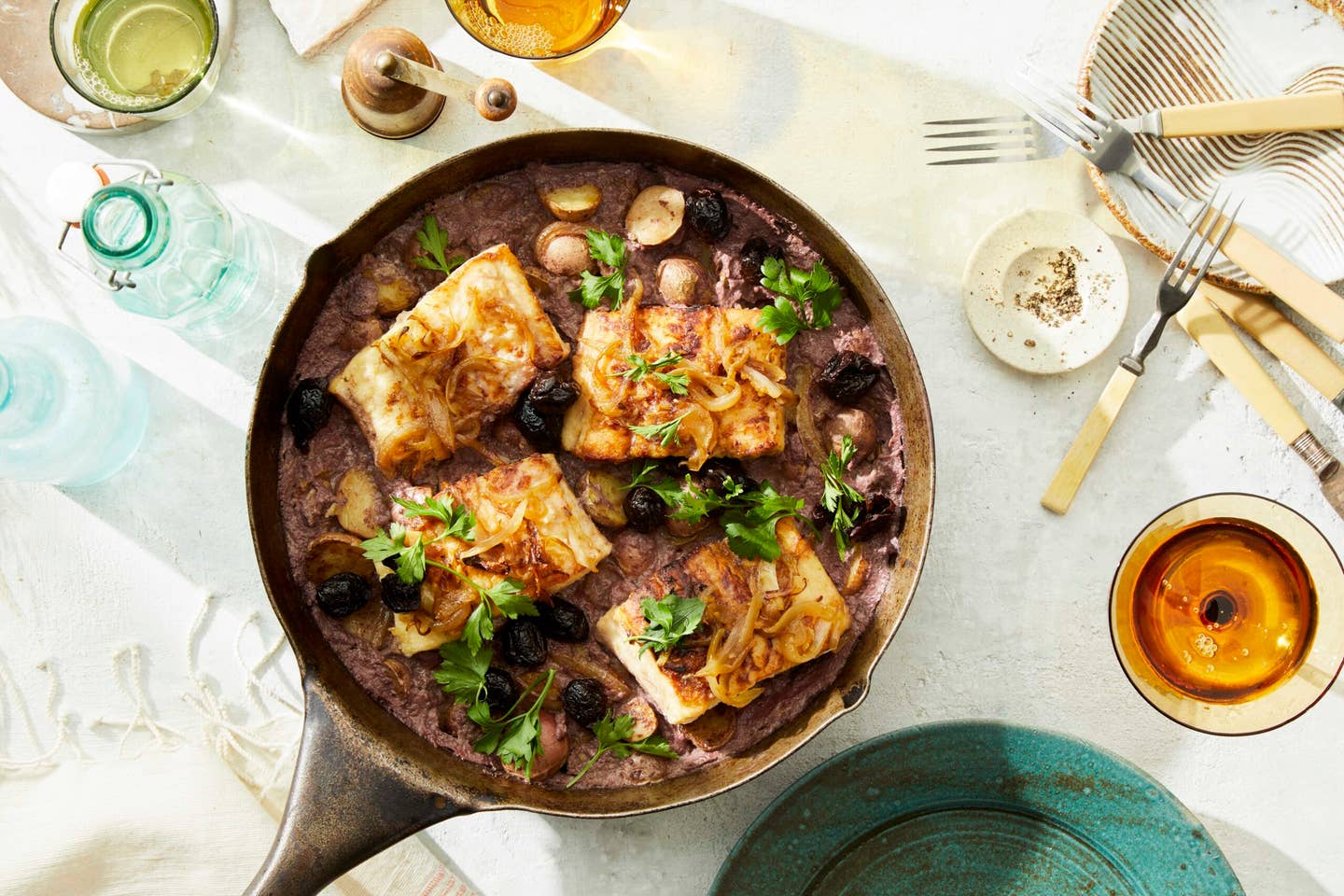 This homestyle salt cod recipe from Portuguese winemaker Joana Santiago is typical to Monçãao e Melgaço—a subregion of Vinho Verde. The richly sauced, savory fish pairs nicely with the local alvarinho wines, such as Quinta de Santiago "Vinha do Chapim," a crisp, single-vineyard bottling that is aged for 9 months in stainless steel.
Ingredients
4 5-oz. salt cod fillets, soaked overnight in milk and rinsed
1 tbsp. all-purpose flour, plus more for dusting
½ cups olive oil, divided
2 medium yellow onions, thickly sliced
2 medium garlic cloves, finely chopped
2¼ lb. small red potatoes, cut in half
1 cup whole milk
1 cup Port wine
2 large eggs
1 tsp. Dijon mustard
Kosher salt and freshly ground black pepper
¼ cups parsley leaves, for garnish
¼ cups black olives, for garnish
Instructions
Step 1
Preheat the oven (with one of its racks positioned in the center) to 350ºF.
Step 2
Fill a medium pot halfway with water, and bring to a boil over high heat. Fill a large bowl with ice water and set it by the stove. Add the salt cod fillets to the boiling water, cook for 1 minute, then using tongs or a spider skimmer, transfer the fish to the ice water to chill. Transfer the cod from the water to a plate; remove and discard any remaining pinbones and pat the fish dry with paper towels. Lightly dust on both sides with flour and set aside.
Step 3
To a large skillet over medium heat, add a ¼ cup of the olive oil. Line a large plate with paper towels and set it by the stove. When the oil is hot and shimmering, add the ​​potatoes, season with salt and black pepper, and cook, stirring often, until lightly brown all over, about 12 minutes. Transfer the potatoes to a heatproof bowl and set aside.
Step 4
To the same skillet, add the remaining ¼ cup olive oil. When it is hot and shimmering, add the cod and cook, turning once, until evenly golden brown, about 3 minutes per side. Transfer to the lined plate and set aside. To the same skillet, add the onions and cook, stirring frequently, until softened and beginning to brown, 10–12 minutes. Stir in the garlic, and cook until fragrant, about 2 minutes, then remove from the heat. Transfer about half of the onion-garlic mixture to a medium bowl, then spread what remains in the skillet in an even layer. Arrange the reserved potatoes evenly over the onion-garlic mixture, followed by the salt cod fillets. Top with the reserved onion-garlic mixture, then set aside.
Step 5
In a medium bowl, whisk together the flour, milk, Port, eggs, and mustard; season lightly with salt and black pepper, then pour the sauce over the cod and potatoes. Transfer the skillet to the oven and bake until the potatoes are fork tender, about 30 minutes. Remove from the oven, garnish with black olives and parsley, and serve hot.