Recipes
Broccoli and Potato Tikis
Turn bland winter vegetables into a crispy, spicy Pakistani street snack.
Serves

Makes 10 patties

Cook

1 hour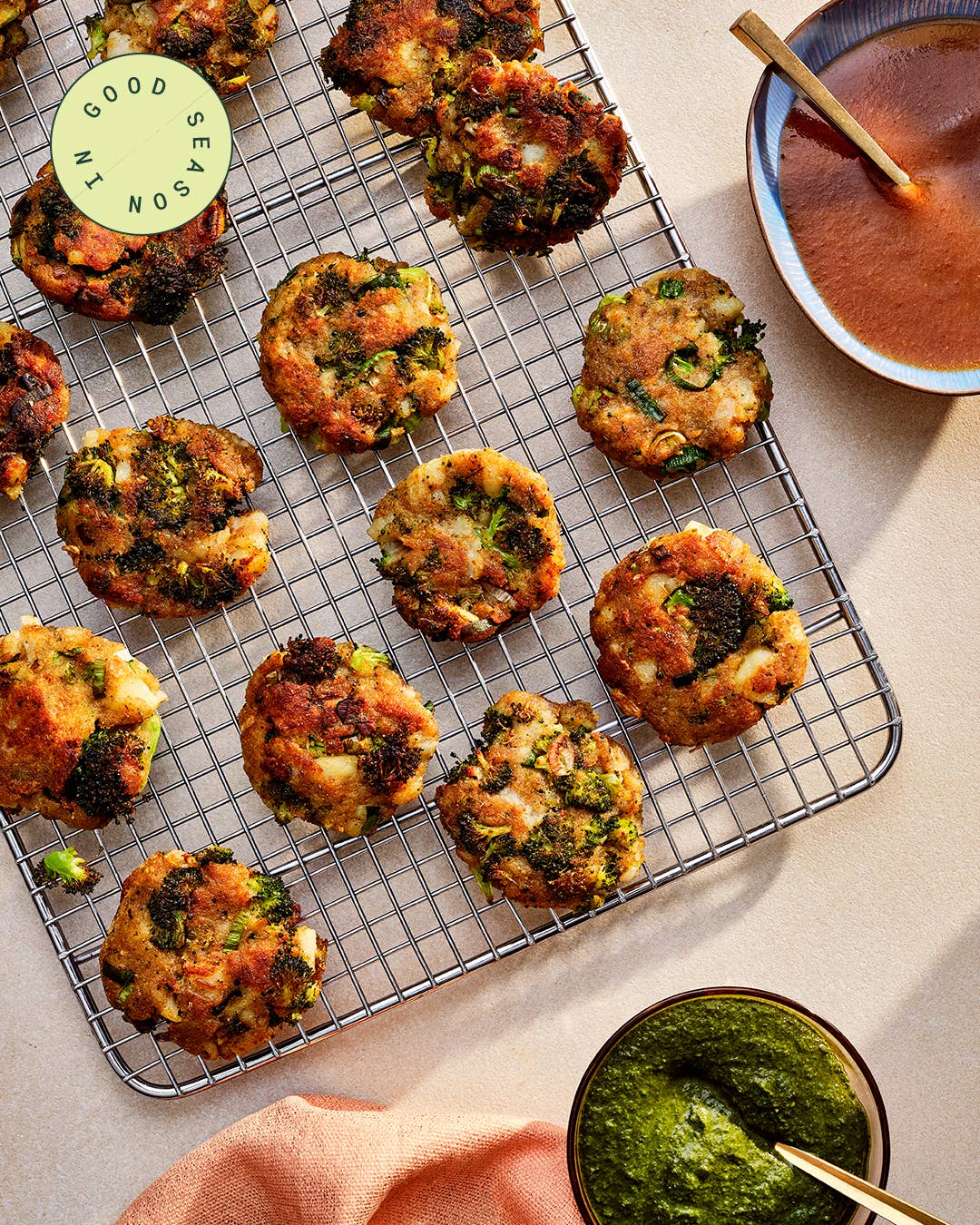 Welcome to SAVEUR's column on making the most of local produce according to contributing editor Fatima Khawaja. Here you'll find creative, unfussy meal ideas plus plenty of cooking advice—like what to do with that bumper crop of zucchini or how to store delicate heirloom tomatoes. Follow along, and you'll learn how to turn the season's bounty into easy plant-based meals.
Aloo tikis (potato patties) are a tea-cart staple in Pakistan. I love making them with broccoli this time of year: I get my greens in while still enjoying the cozy comforts of fried potatoes. Be generous with the spices—Diaspora & Co. is a great source for chile powders as they're fragrant, bright, and pack a punch. Guntur Sannam is a staple my kitchen, though cayenne is a suitable substitute.
Ingredients
1½ tsp. kosher salt, plus more
1 medium head broccoli (1 lb.), florets only
2 small russet potatoes (1 lb.), peeled and cut into 1-in. cubes
¾ cup bread crumbs
⅓ cup finely chopped cilantro, plus more for garnish
1 tsp. freshly ground black pepper
1 tsp. ground cumin
½ tsp. chaat masala
½ tsp. garam masala
½ tsp. ground Guntur Sannam chiles (see headnote)
4 scallions, trimmed and thinly sliced, plus more for garnish
1 large egg, lightly beaten
Vegetable oil, for frying
Mint chutney, tamarind chutney, or ketchup, for serving
Instructions
Step 1
To a medium pot, add the potatoes and enough water to cover by 4 inches. Generously salt, then bring to a boil. Turn the heat to medium to maintain a strong simmer and cook until the potatoes are barely tender, 15–20 minutes. Add the broccoli and cook until it's is bright green and tender and the potatoes are soft when pierced with a fork, about 10 minutes more. Turn off the heat.
Step 2
Strain the broccoli and potatoes and return them to the empty pot. Using a potato masher, coarsely mash the vegetables.
Step 3
Line a baking sheet with paper towels and set it by the stove. To the potato mixture, add 1½ teaspoons of salt, the bread crumbs, cilantro, black pepper, cumin, chaat masala, garam masala, ground chiles, scallions, and egg and stir to combine. Divide into 10 portions, then shape each into a ball and flatten into tightly packed ½-inch-thick patties.  
Step 4
To a large skillet set over medium heat, and add ⅛ inch of oil. When the oil is hot and shimmering, working in batches, fry the patties, turning once, until browned on both sides, 5–6 minutes total. Transfer the cooked tikis to the prepared baking sheet.
Step 5
To serve, sprinkle lightly with salt, then transfer to a platter and garnish with cilantro and scallions. Accompany with mint or tamarind chutney, or ketchup, for dipping.