Recipes
Caldo Verde (Portuguese Potato and Collard Green Soup With Chouriço)
Fresh greens, potatoes, and piquant pork sausage take center stage in this comforting Iberian classic.
Serves

serves 8-10

Cook

45 minutes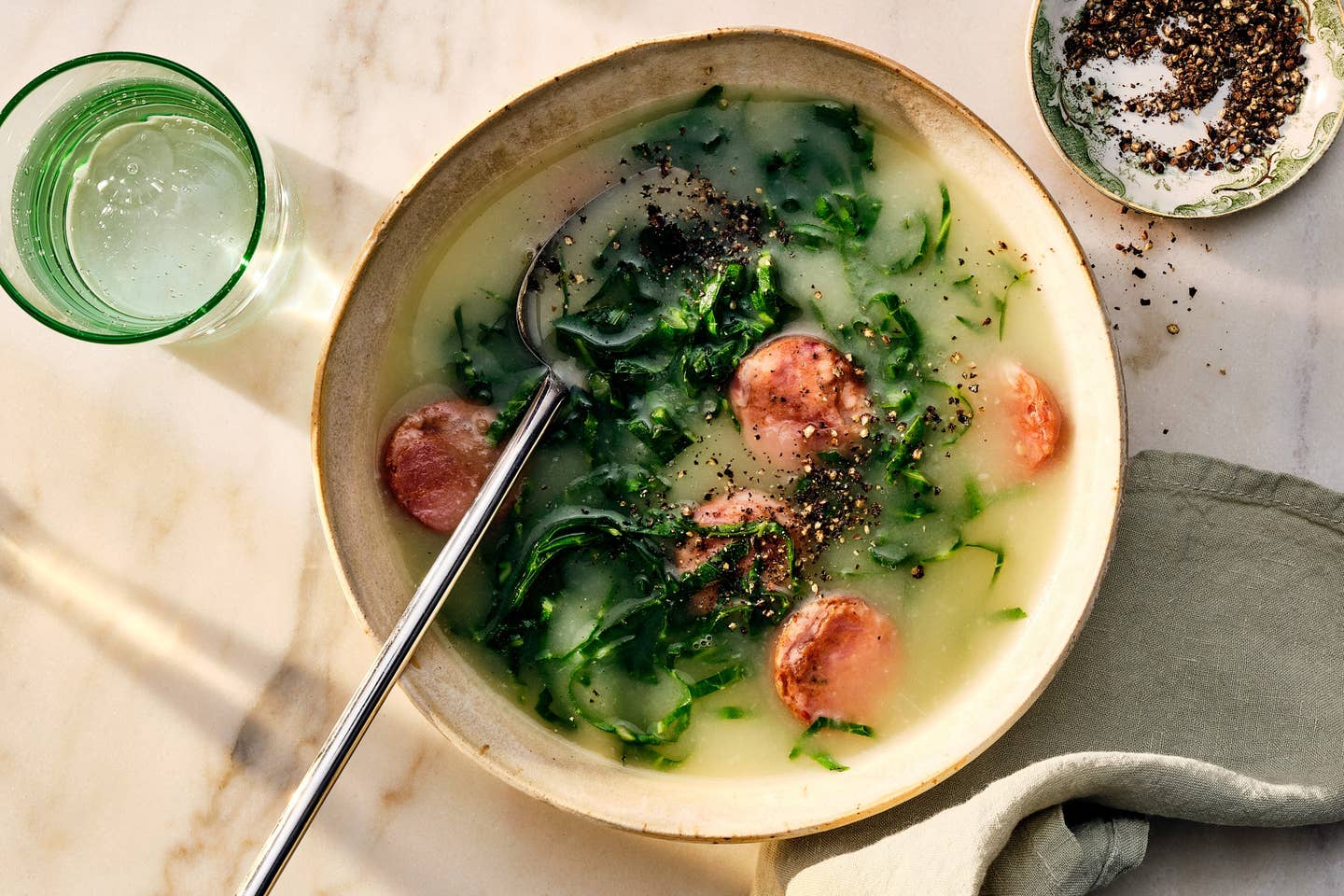 This simple, soothing soup from Lisbon resident Olivia Ferreira, which she taught to author Kitty Greenwald, is made richer with the addition of Portuguese-style chouriço, available online from the domestic brand Michael's or by visiting Portugalia Marketplace in Fall River, Massachusetts. This sausage is less cured than firmer Spanish-style chorizo; to ensure that the meat holds together in rounds, slice the sausage before removing its casing. Serve it hot with crusty papo secos, or Portuguese rolls.
Ingredients
1 lb. collard greens, cleaned, thick stems discarded
4 medium Yukon Gold potatoes, peeled and sliced ½ in. thick
2 medium yellow onions, ends removed and halved
2 tsp. plus ¼ cup olive oil, divided
One 5-in. link Portuguese chouriço, sliced into ¼-inch-thick coins
Kosher salt
Instructions
Step 1
Stack the collard greens atop one another, then roll the leaves into a tight cylinder. Using a sharp knife, very thinly slice the roll crosswise to create fine strands. Transfer to a colander in the sink and set aside.
Step 2
To a medium Dutch oven set over medium-high heat, add the potatoes, onions, and enough cold water to cover the vegetables by 2 inches. When the liquid boils, turn the heat to medium-low, add 2 tablespoons of the olive oil, and cook until the potatoes are tender when pierced with a fork and the onion is completely soft, 25–30 minutes. Using an immersion or regular blender, purée the soup.
Step 3
Bring a large kettle of water to a boil, then pour the water over the slivered greens (they will collapse, soften, and turn bright green). Set aside for 5 minutes to drain and steam slightly.
Step 4
Add the chouriço to the soup and cook until the slices are firm and their fat has rendered somewhat, 5–10 minutes. Stir in the remaining olive oil and slivered greens, and cook until the greens are tender but still green, 2–3 minutes more. Season to taste with salt, and serve.