Recipes
This Chicken Balti Tastes Even Better Than Takeout
Forget low and slow—this quick and saucy curry made with boneless breasts, ginger, and fresh tomatoes is on the table in under an hour.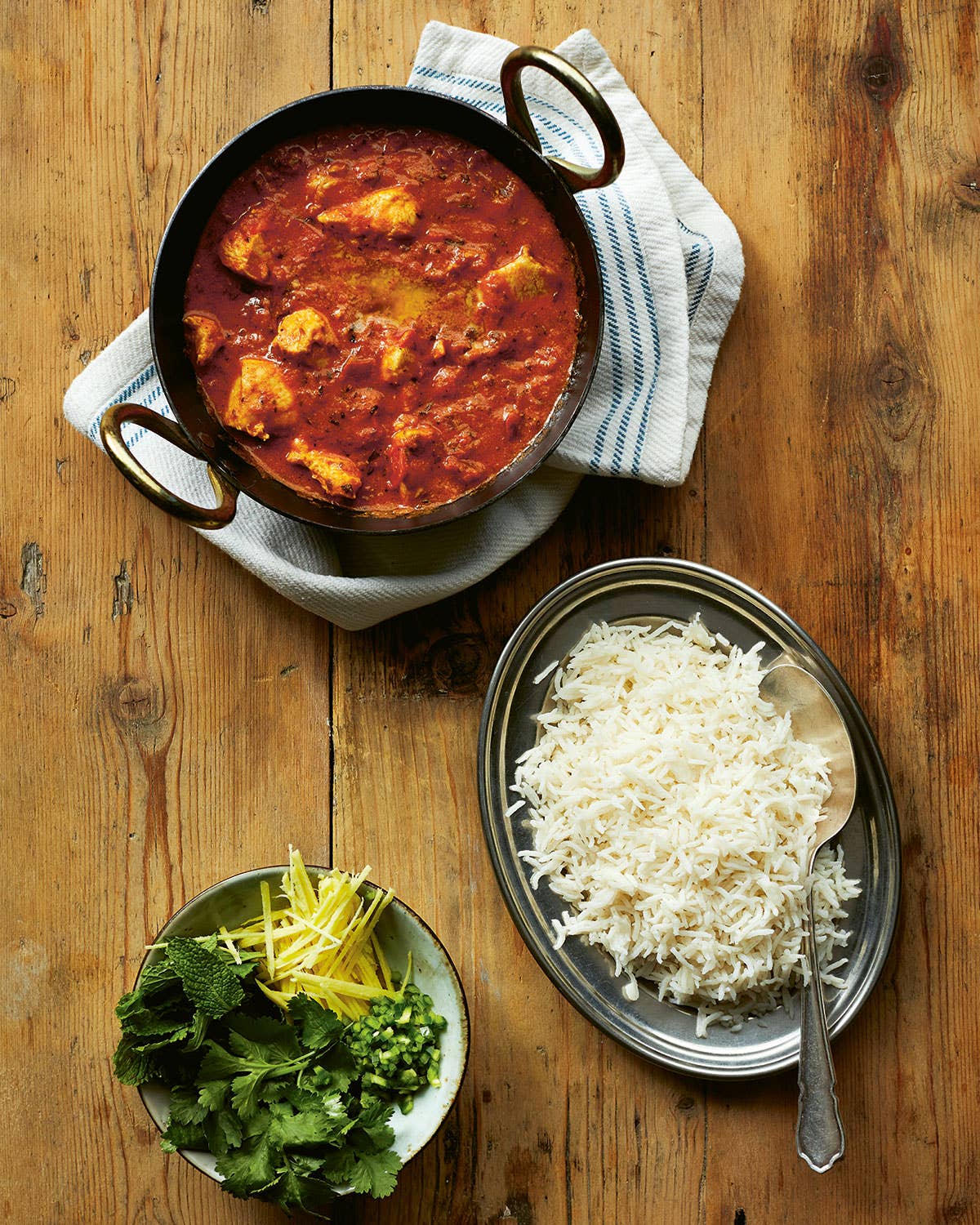 Chicken balti is named after the wok-style pan in which it's cooked, which literally means "bucket." Made popular in Pakistani-owned restaurants (mainly in Bradford and Birmingham, England), the cooking style is a fast stir-fry, with balti pans set over large stoves with vertical jet flames. This chicken balti recipe, however, is well-suited to home kitchens.
Ingredients
⅓ cup vegetable oil
1 Tbsp. plus 1 tsp. cumin seeds
4 garlic cloves, finely chopped
1 Tbsp. plus 1 tsp. finely grated ginger, plus more, thinly sliced, for garnish
4 boneless, skinless chicken breasts (1¾ lb.), cut into 2-in. chunks
8 medium tomatoes (2½ lb.), cored and finely chopped
½ cup plain full-fat yogurt
¼ cup tomato paste
¼ cup dried fenugreek leaves
2 tsp. crushed red chile flakes
2 tsp. freshly ground black pepper
1 tsp. ground turmeric
Kosher salt
4 Tbsp. unsalted butter
¼ cup fresh lemon juice
Coarsely chopped cilantro and mint leaves, for garnish
Finely chopped serrano chiles, for garnish (see footnote)
Boiled basmati rice (optional)
Instructions
Step 1
To a wok or large skillet set over medium-high heat, add the oil and cumin and cook until the seeds begin to sizzle, about 1 minute. Add the garlic and grated ginger and cook until fragrant, about 30 seconds, then add the chicken (working in batches if necessary) and cook, stirring occasionally, until very lightly browned all over, about 4 minutes more.
Step 2
Stir in the tomatoes, cover, and turn the heat to medium. Cook, stirring occasionally, until the tomatoes have released most of their liquid, 5–7 minutes. Uncover and add the yogurt and tomato paste and simmer until the oil starts to separate, about 9 minutes more.
Step 3
Add the fenugreek leaves, chile flakes, black pepper, turmeric, and salt to taste and simmer until the sauce is thick and fragrant, about 4 minutes. Stir in the butter and lemon juice, then garnish with the cilantro, mint, chiles, and sliced ginger. Serve with rice if desired.
Note: For a milder result, seed the chiles before chopping.