Recipes
Knedle (Croatian Plum Dumplings)
In this comforting Old World dessert, sweet stone fruit is encased in eggy dough before being boiled and sprinkled with buttered breadcrumbs.
Serves

5

Cook

1 hour 30 minutes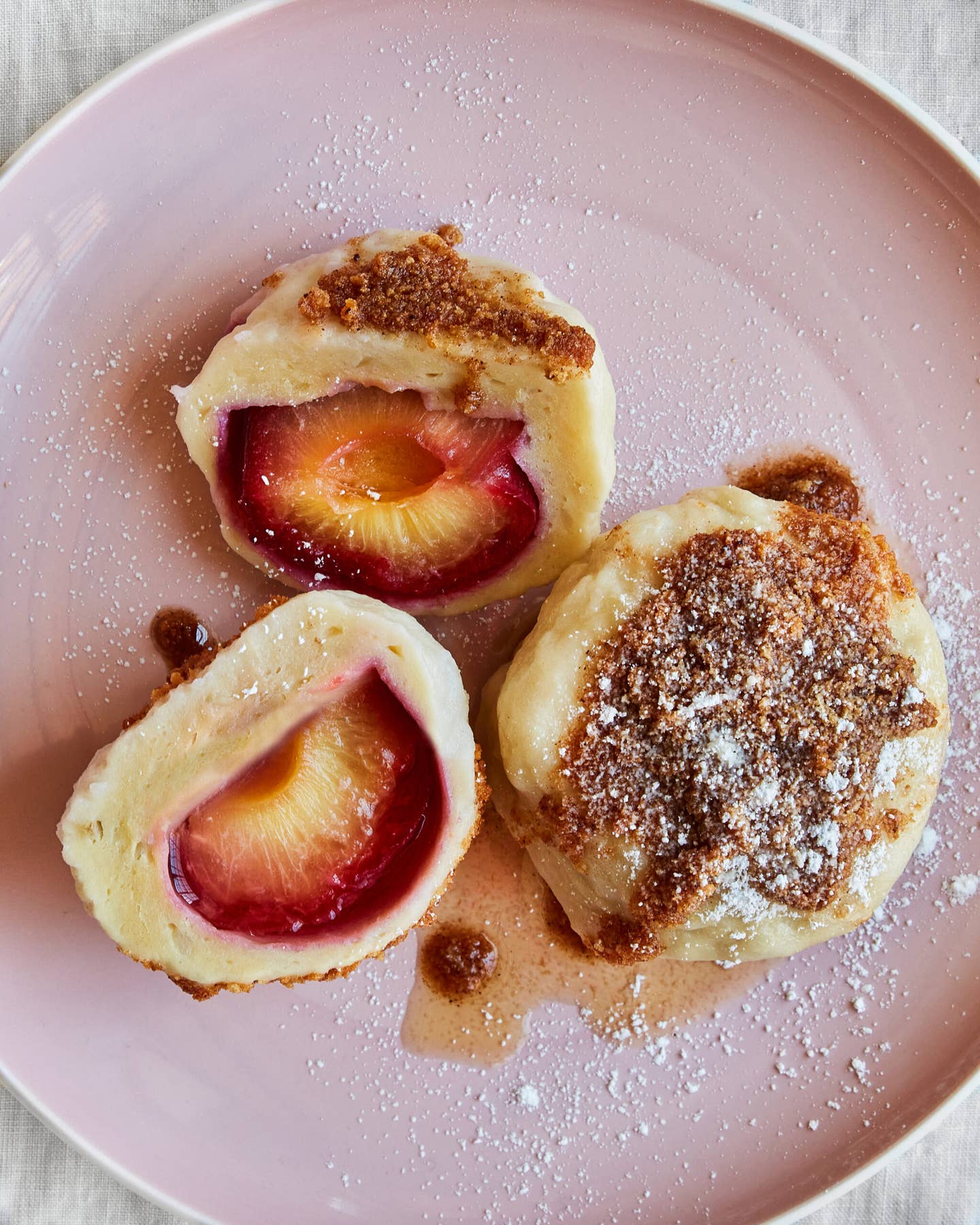 Grandmas Project, a heartwarming film series devoted to uplifting grandmothers and their food traditions around the world, introduced us to these old-school Croatian plum dumplings. The recipe comes to us from Dragica Karazija, who lives in Zagreb and was filmed by her granddaughter Iva Radivojevic. Dragica omits the sugarcube in her version, but we find it adds welcome sweetness. Apricots are also traditional and may be used instead of the plums.
Ingredients
2 lb. 2 oz. russet potatoes (about 2 large), peeled and coarsely chopped
2 cups all-purpose flour, plus more for dusting
½ tsp. baking powder
½ tsp. fine salt
2 large eggs, beaten
1 Tbsp. olive oil (not extra virgin) or vegetable oil
1 lb. 5 oz. very ripe black plums or apricots (about 5), halved longitudinally and pitted
10 sugarcubes (optional; see headnote)
4 Tbsp. unsalted butter
⅓ cup breadcrumbs, preferably homemade
2 Tbsp. sugar
Instructions
Step 1
To a medium pot, add the potatoes and cover with cold water by 1 inch. Bring to a boil, then turn the heat down to maintain a strong simmer and cook until the potatoes are soft, 15–20 minutes. Strain and return them to the pot, then mash until no lumps remain.
Step 2
Into a medium bowl, sift together the flour, baking powder, and salt and whisk to combine. Scrape the potatoes onto a well-floured surface, then cover with half of the flour mixture and knead gently to incorporate. Repeat with the remaining flour.
Step 3
Make a well in the center of the dough and add the eggs and oil. Working inward, begin folding the dough toward the center, kneading it as you go and adding more flour as needed to prevent sticking. Continue kneading until the wet ingredients are fully incorporated and the dough is a shaggy mass.
Step 4
Bring a large pot of water to a boil. Cut the dough in half and roll gently to form two logs. Divide each log into 5 equal pieces. Working with one piece, use your palms to gently flatten, then place a halved plum on top with the cavity facing up. Place a sugarcube in the cavity if desired, then pinch the sides over to cover and seal the plum in the dough. Roll gently to smooth the surface. Transfer back to the floured surface and repeat with the remaining plums.
Step 5
Boil the knedle until puffy and soft, about 12 minutes. Meanwhile, in a small pan set over medium-high heat, melt the butter. Add the breadcrumbs and cook, stirring occasionally, until golden and fragrant, 4–5 minutes.
Step 6
Strain the knedle and transfer to a platter. Sprinkle with the sugar and breadcrumbs and serve immediately.