Recipes
Croissant Bread Pudding with Bourbon Sauce
Douse flaky, custard-drenched viennoiserie in a buttery hard sauce for this grown-up take on a cozy classic.
Serves

serves 8-10

Cook

1 hour 20 minutes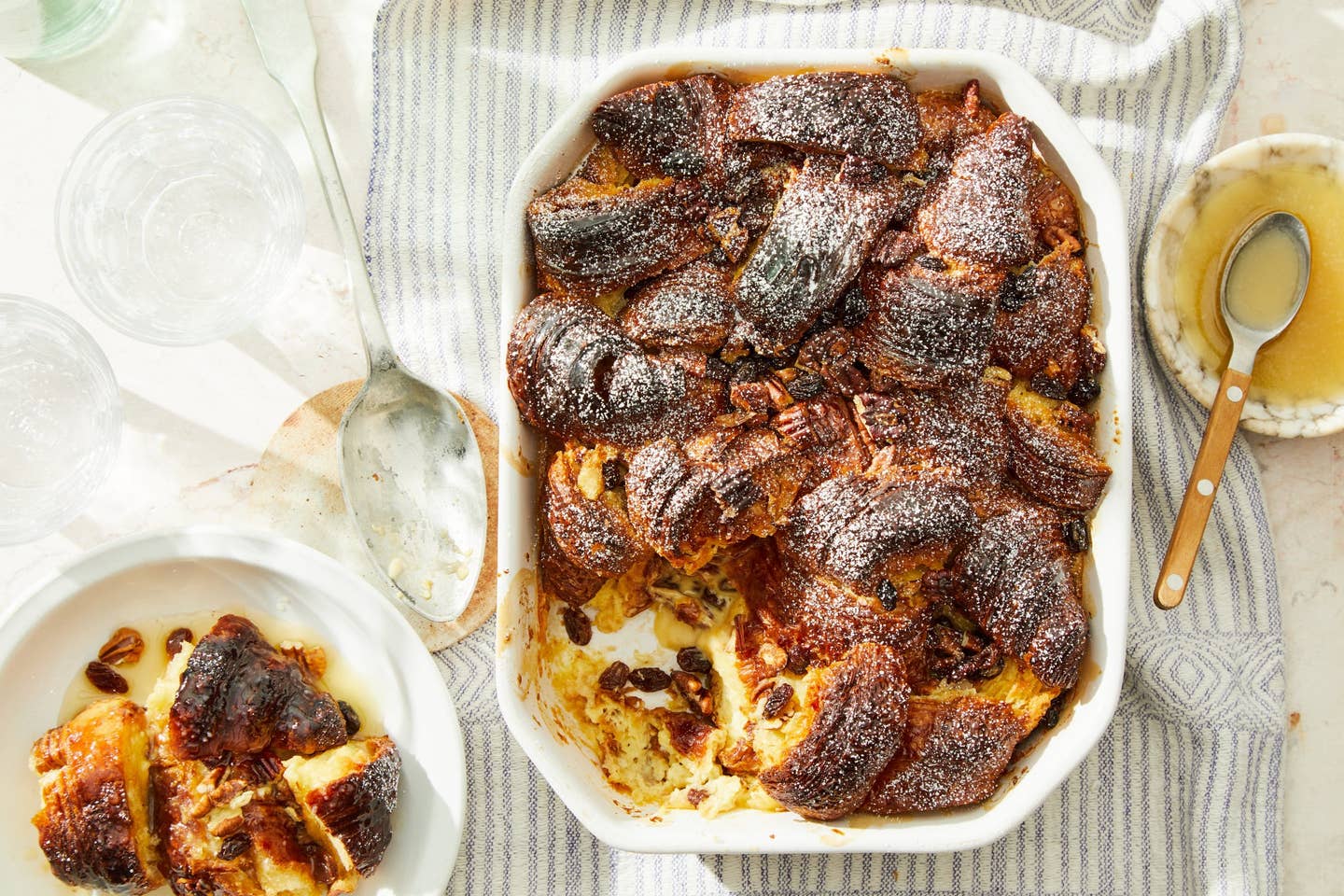 This extravagant bread pudding from author and editor Sarah Gray Miller uses croissants and a generous amount of heavy cream. Soak the raisins in the bourbon while you assemble the rest of the dish.
Ingredients
For the sauce:
6 tbsp. unsalted butter, plus more for greasing
1 cup sugar
½ cups heavy cream
¼ cups bourbon
1 tsp. kosher salt
1 tsp. vanilla extract
For the pudding:
1 cup raisins
½ cups bourbon
6 medium croissants, halved lengthwise
3 large eggs
2½ cups heavy cream
¾ cups sugar
2 tbsp. vanilla extract
½ tsp. kosher salt
½ cups coarsely chopped pecans, toasted, divided
Whipped cream or ice cream, for serving
Instructions
Step 1
Make the sauce: To a 12-inch cast-iron skillet set over medium heat, add the butter, sugar, cream, bourbon, salt, and vanilla. When the liquid boils, pour the sauce into a bowl and set aside. Clean the skillet, then grease with butter.
Step 2
Make the pudding: Position a rack in the middle of the oven and preheat to 375°F. To a small bowl, add the raisins and pour over the bourbon to soak; set aside. On a baking sheet, place the croissants cut-side up and bake until lightly browned, 8–12 minutes.
Step 3
Turn the heat to 350°F. Drain the raisins (save the infused bourbon for another use). In a large bowl, whisk together the eggs, cream, sugar, vanilla, and salt. When the croissants are cool enough to handle, tear them into bite‑size pieces. Cover the bottom of the empty skillet with half of the croissant pieces, then sprinkle with half of the raisins and ¼ cup of the pecans. Repeat with the remaining croissant pieces, raisins, and pecans, then pour the egg mixture over the top. Bake until the custard is set and the top is golden, 45–50 minutes.
Step 4
To serve, drizzle the warm bread pudding with the sauce, then cut it into squares or wedges and top each serving with whipped cream or ice cream.