Recipes
Old-School Gefilte Fish
Forget all your preconceptions—this homemade version of the classic Jewish appetizer is light, delicate, and not too sweet.
Serves

Serves 10 as an appetizer

Cook

8 hours 30 minutes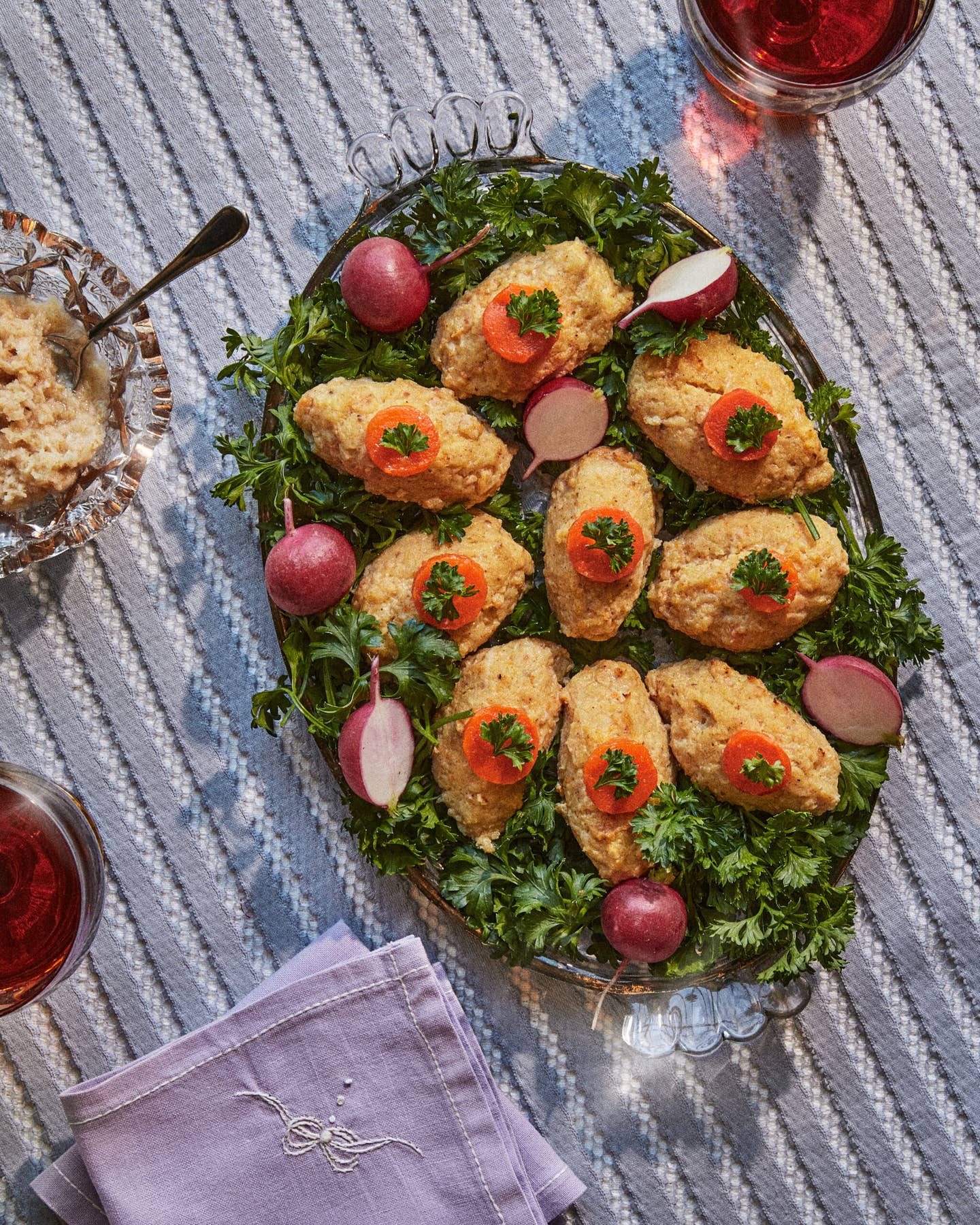 This Passover, consider ditching the usual jarred gefilte and make your own instead. This gefilte fish recipe is lighter, fresher, and less cloying than the dense, oblong patties found on the shelves of Jewish groceries next to the matzo ball mix and egg noodles. Those who enjoy a sweet-and-sour taste should double or triple the sugar. Horseradish is an essential accompaniment.
Ingredients
2 Tbsp. peanut or vegetable oil, plus more for brushing
2 medium onions, finely chopped, divided
2 matzo sheets, broken into pieces
2 medium carrots, 1 peeled and coarsely chopped, 1 sliced into ¼-in. coins
¾ lb. whitefish, pike, or other firm white fish fillets, cut into ½-in. chunks
¾ lb. carp fillets, cut into ½-in. chunks
2 large eggs
1½ tsp. sugar
2 tsp. kosher salt
1 tsp. ground white pepper, or black pepper
2½ cups fish stock, or chicken stock
Curly (or flat-leaf) parsley sprigs, for garnish
Fresh or bottled horseradish (white or red), for serving
Instructions
Step 1
To a medium skillet set over medium heat, add the oil and three quarters of the onions and cook, stirring occasionally, until soft and beginning to brown, about 14 minutes. Set aside to cool.
Step 2
In a large bowl, cover the matzos with cold water and set aside for 10 minutes. Drain, use your hands to squeeze out as much liquid as possible, and return to the bowl.
Step 3
In a food processor, pulse the carrot and remaining onion until very finely chopped, then add the matzo and pulse to combine. Scrape into the bowl and set aside.
Step 4
Position a rack in the center of the oven and preheat to 425ºF. To the empty food processor, add the whitefish and onions and pulse to a paste (the fish chunks should be no larger than a grain of rice). Scrape into the bowl with the matzo mixture. To the food processor, add the carp, salt, sugar, and white pepper and pulse to a paste. Scrape into the bowl with the whitefish, then add the eggs. Using your hands or a spoon, mix until homogeneous. (If the mixture is too loose to shape, cover with plastic and refrigerate for 1 hour.)
Step 5
Using two large spoons or wetted hands, shape about 2 tablespoons of the mixture into a quenelle or oblong ball and transfer to a greased 9-by-13-inch pan. Brush lightly with oil. Repeat with the rest of the mixture, then bake until just beginning to brown, about 21 minutes.
Step 6
Meanwhile, in a small pot, bring the stock and sliced carrot to a simmer, then pour over the fish to come two thirds of the way up the quenelles. Loosely cover with foil and turn the oven down to 325ºF. Bake, turning the balls over halfway through cooking, until cooked through and moist, about 45 minutes.
Step 7
Remove the pan from the oven and allow the fish to cool in the liquid, about 3 hours. Cover with plastic and refrigerate until thoroughly chilled, at least 3 hours.
Step 8
To serve, cover the bottom of a large platter with parsley if desired and scatter with the radishes, then arrange the gefilte fish on top. Top each fish with a carrot slice and parsley sprig and serve cold with horseradish on the side.