Recipes
Shahi Goat Korma
Made with succulent goat and delicate spices, this celebratory stew is fit for a king.
Serves

serves 6

Cook

1 hour 45 minutes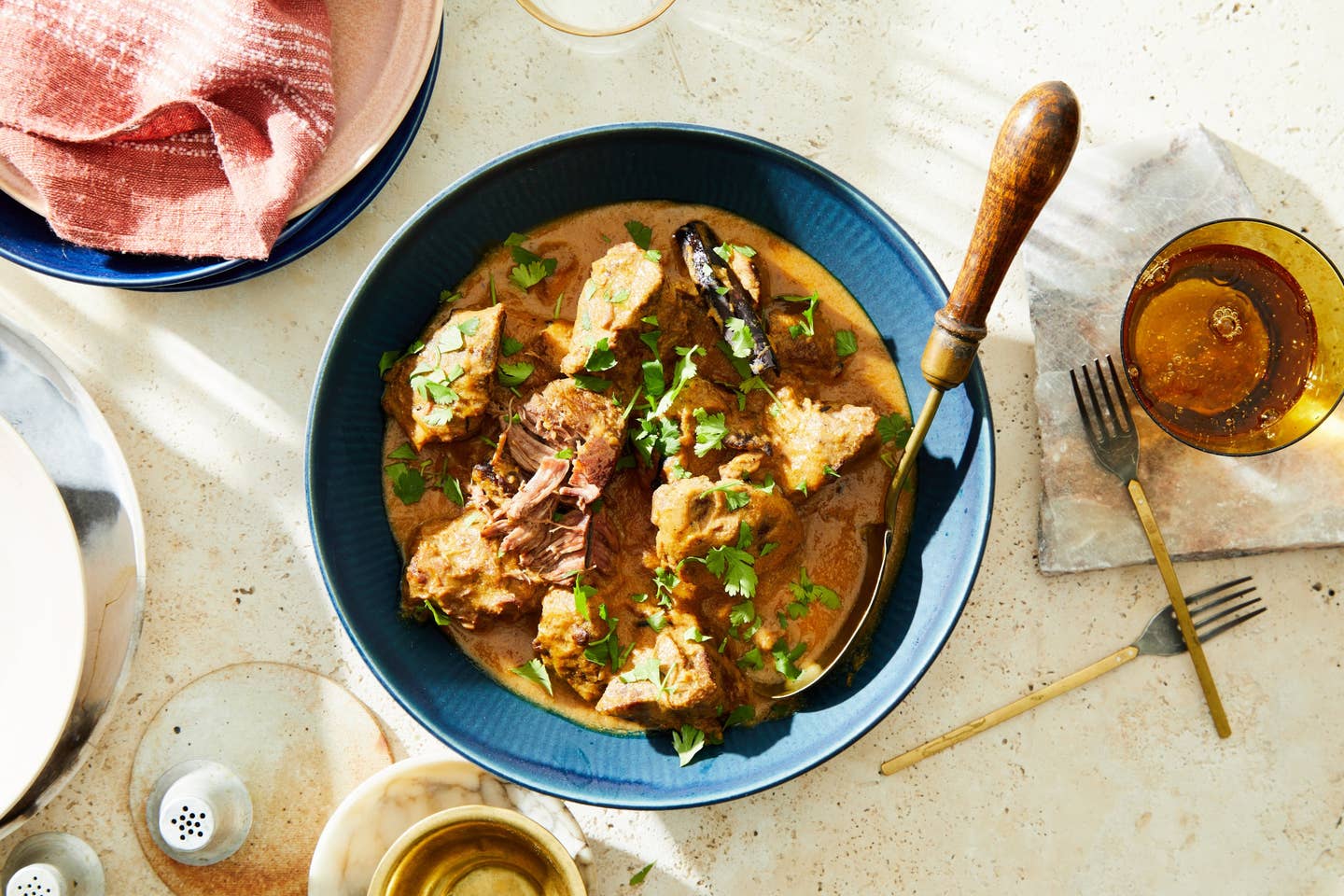 Originating in South Asia's Mughal Empire, korma (also spelled "qorma") was frequently prepared in royal Mughal kitchens. These days, made with goat, chicken, or simply vegetables, korma is typically associated with celebrations. Sahil Rahman, co-founder of the Washington, DC Indian restaurant, Rasa, loves to eat his Dolly Auntie's goat korma for Eid—so much so that the holiday is incomplete without it in the Rahman household. Eaten with rice or naan, the stew is thoughtfully layered with warm spices including green and black cardamom, cumin, clove, and cinnamon. There's also the addition of black cumin seed, a darker, thinner, and sweeter cousin of the more common brown cumin which is easily found in South Asian markets or specialty stores like Kalustyan's. What sets this dish apart from more everyday South Asian stews is the addition of yogurt, which results in a luscious, soul-filling mouthful.

We've adjusted Dolly Auntie's recipe here for use in an Instapot, but feel free to cook it traditionally—low and slow on the stove—or how Auntie likes to make it, using a pressure cooker. Just make sure to keep an eye on the heat and adjust as needed as the stew cooks.
Ingredients
1 cup vegetable oil
4 large yellow onions thinly sliced
6 green cardamom pods
6 black cloves
½ tsp. black cumin seeds
½ tsp. black peppercorns, divided
1 stick cinnamon
2 small bay leaves
2 lb. bone-in goat shoulder or leg meat, cut into 2-in. pieces
3 garlic cloves, crushed to a paste (2 tsp.)
One 1/2-in. piece fresh ginger, peeled and crushed to a paste (2 tsp.)
1 tbsp. kosher salt, plus more to taste
1 tsp. red chili powder
1 tsp. garam masala
1⅓ cups plain yogurt
2 black cardamom pods
¼ tsp. nutmeg powder.
Instructions
Step 1
To a multi-cooker set on high-saute, add ¾ cup of the oil. Once hot and shimmering, add the onions and cook, stirring frequently, until softened and evenly browned, about 30 minutes. Set the pot to low heat, and using a slotted spoon, transfer the browned onions to a plate, leaving as much oil as possible in the pot. Set the onions aside.
Step 2
Add the green cardamom pods, the cloves, ¼ teaspoon of the black peppercorns, the black cumin seeds, cinnamon stick, and bay leaves to the pot and cook, stirring frequently, until fragrant, about 1 minute. Turn the heat up to high-saute, then add the goat and cook, stirring frequently, until the meat is evenly browned, about 5 minutes. Stir in the garlic and ginger pastes and cook, stirring frequently, until the aromatics are very fragrant and beginning to brown. Stir in the salt, chile powder, and garam masala and cook until very fragrant, 2–3 minutes more. Add just enough water to barely cover the meat (about 5 cups), then cover the pot tightly with its lid and set to high-pressure cooking. Set aside to cook until the goat is almost fork-tender, about 20 minutes.
Step 3
Meanwhile, to a blender, add the reserved browned onions along with the yogurt, black cardamom pods, and the remaining black peppercorns. Blend on high to make a fine paste, then set aside.
Step 4
Once the goat is nearly fork-tender, uncover the pot and turn the heat to high-saute. Stir in the yogurt mixture and bring to a boil, stirring frequently, until the goat is completely fork tender and the gravy has thickened so that it coats the back of a spoon, about 25 minutes.
Step 5
Stir in the nutmeg, and cook 2 minutes more, then turn off the heat. Ladle the korma into deep bowls, and serve hot, with naan or rice on the side.