Recipes
Mountain Yam with Vinegared Sesame Sauce
Beloved in Japan, this tuber is a crisp and refreshing delight—and the perfect canvas for a rich, nutty dressing.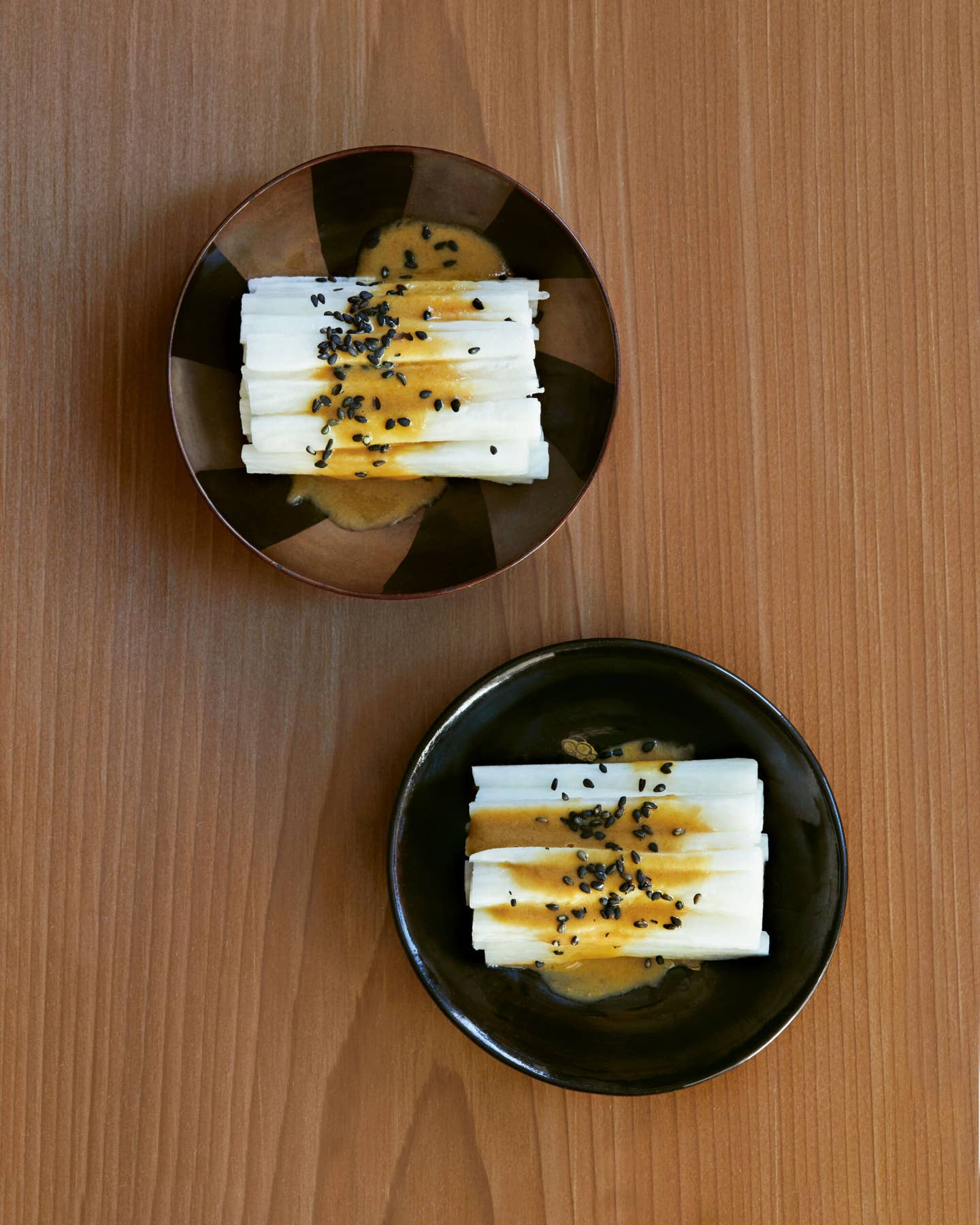 Mountain yam aficionados love its viscosity when finely grated, but for the uninitiated, fresh julienned pieces are an excellent way to enjoy the crisp texture of the tuber. In this mountain yam recipe with vinegared sesame sauce, the rich dressing balances beautifully with the delicately flavored vegetable.
When cutting mountain yam, place a clean cloth atop the cutting board, so the slippery pieces don't slide around as you julienne. To counteract the itchy properties of mountain yam, wash your hands and forearms with warm soapy water after handling.
Konbu dashi is easy to make from scratch, and a batch can be used to make a variety of vegetarian Japanese dishes. Look for white sesame paste at your local Japanese market, or online. Different brands of sesame paste have varying consistencies, so you may need to add more konbu dashi to make the sauce pourable.
Ingredients
One 4¾-in. piece mountain yam, scrubbed
2 Tbsp. Japanese white sesame paste
1 Tbsp. konbu dashi, plus more as needed
1 Tbsp. rice vinegar
2 tsp. shoyu
1 tsp. sugar
½ tsp. black sesame seeds
Instructions
Step 1
Peel the mountain yam; halve crosswise, then slice both cylinders lengthwise into thin slabs. Cut the slabs lengthwise into ½-inch-wide pieces. Divide the mountain yam among four small, shallow bowls, arranging them in stacks.
Step 2
In a small bowl, whisk together the sesame paste, konbu dashi, rice vinegar, shoyu, and sugar. Spoon the sauce evenly atop the mountain yam and sprinkle with sesame seeds. Serve cold or at room temperature.