Recipes
Pumpkin Cheesecake
Rum and gingersnaps add pizzazz to this comforting autumn classic.
Serves

serves 12

Cook

6 hours 20 minutes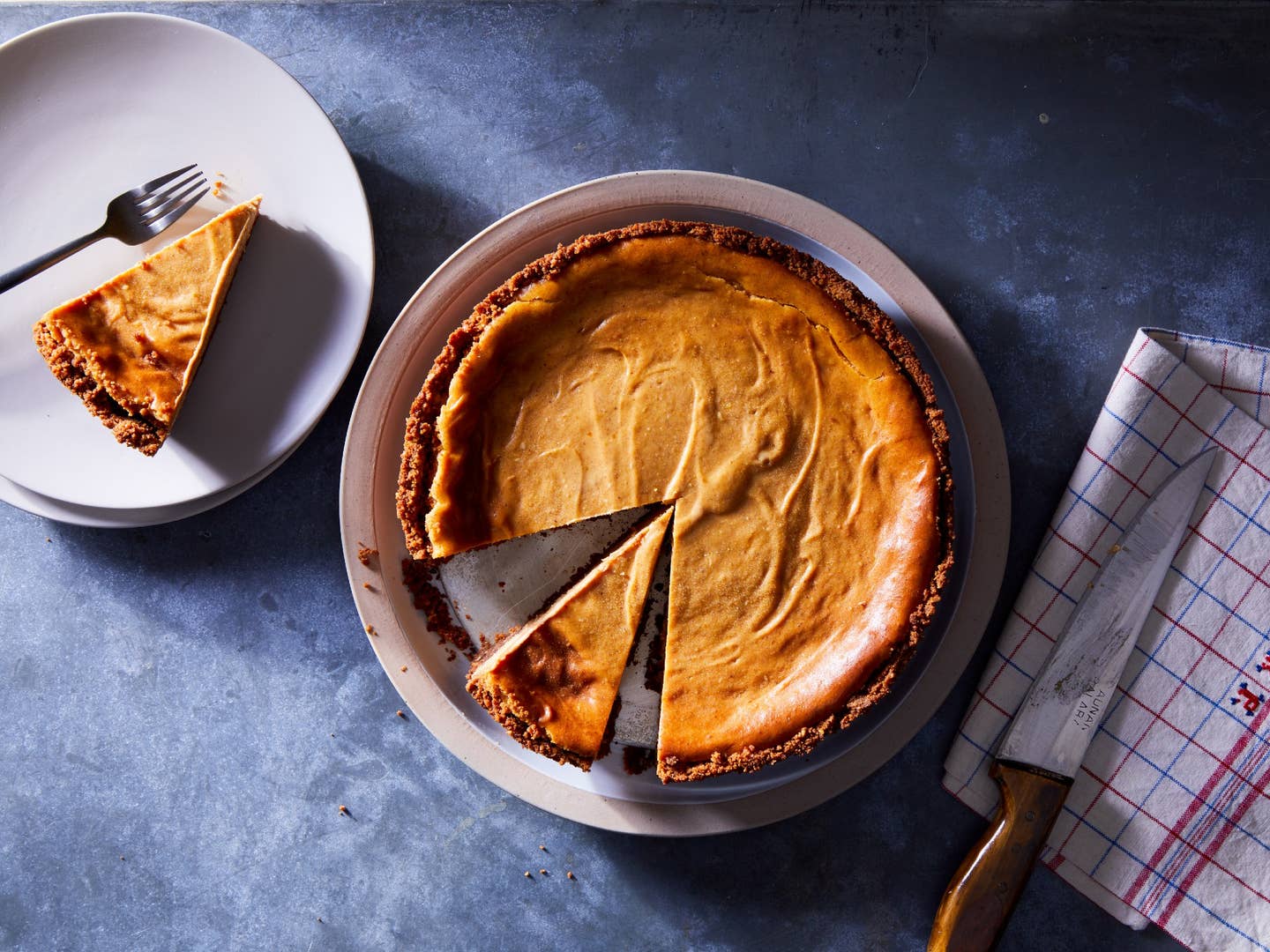 With its rum-scented creamy filling and a spiced undercarriage of gingersnap crumbs, this pumpkin cheesecake recipe from Bernard L. Herman's 2012 story "A Bountiful Shore" is a welcome revamp of the traditional dessert. Diehard bakers: feel free to zhuzh things up with from-scratch gingersnaps and pumpkin purée; for the rest of us mere mortals, there's always excellent-quality canned pumpkin (such as Libby's) and gingersnaps (such as the family-owned Susan Snaps).
Ingredients
13 oz. gingersnap cookies
1⁄2 cup coarsely chopped walnuts (2⅔ oz.)
1⁄2 cup confectioners' sugar
8 tbsp. unsalted butter, melted
1 3⁄4 lb. cream cheese, at room temperature
1 cup sugar
3⁄4 cup canned pumpkin
3 tbsp. dark rum
1 1⁄2 tsp. ground cinnamon
1 tsp. vanilla extract
1⁄2 tsp. kosher salt
1⁄4 tsp. ground cloves
1⁄4 tsp. ground ginger
1⁄4 tsp. ground mace
2 large eggs
Instructions
Step 1
Position a rack in the center of the oven and preheat to 350°F. To the work bowl of a food processor, add the gingersnaps, walnuts, and confectioners' sugar, and process until finely ground. Add the butter and pulse until incorporated. Transfer to a 9-inch springform pan set on a rimmed baking sheet. Using a glass, press the crumbs into an even layer on the bottom and halfway up the sides of the pan; set aside. Clean and dry the work bowl and return it to the base.
Step 2
To the empty work bowl, add the cream cheese, sugar, pumpkin, rum, cinnamon, vanilla, salt, cloves, ginger, mace, and eggs, then process until smooth, scraping down the bowl with a rubber spatula halfway through blending. Scrape the filling into the crust and bake until browned on top and the middle jiggles slightly when the pan is tapped, about 1½ hours. Let cool to room temperature, then chill until set, at least 4 hours.