Recipes
Quadrucci in Brodo con Spinaci (Pasta Squares and Spinach in Broth)
This brothy soup with spinach, onion, and tiny bites of handmade pasta is a restorative staple of Roman Jewish cooking.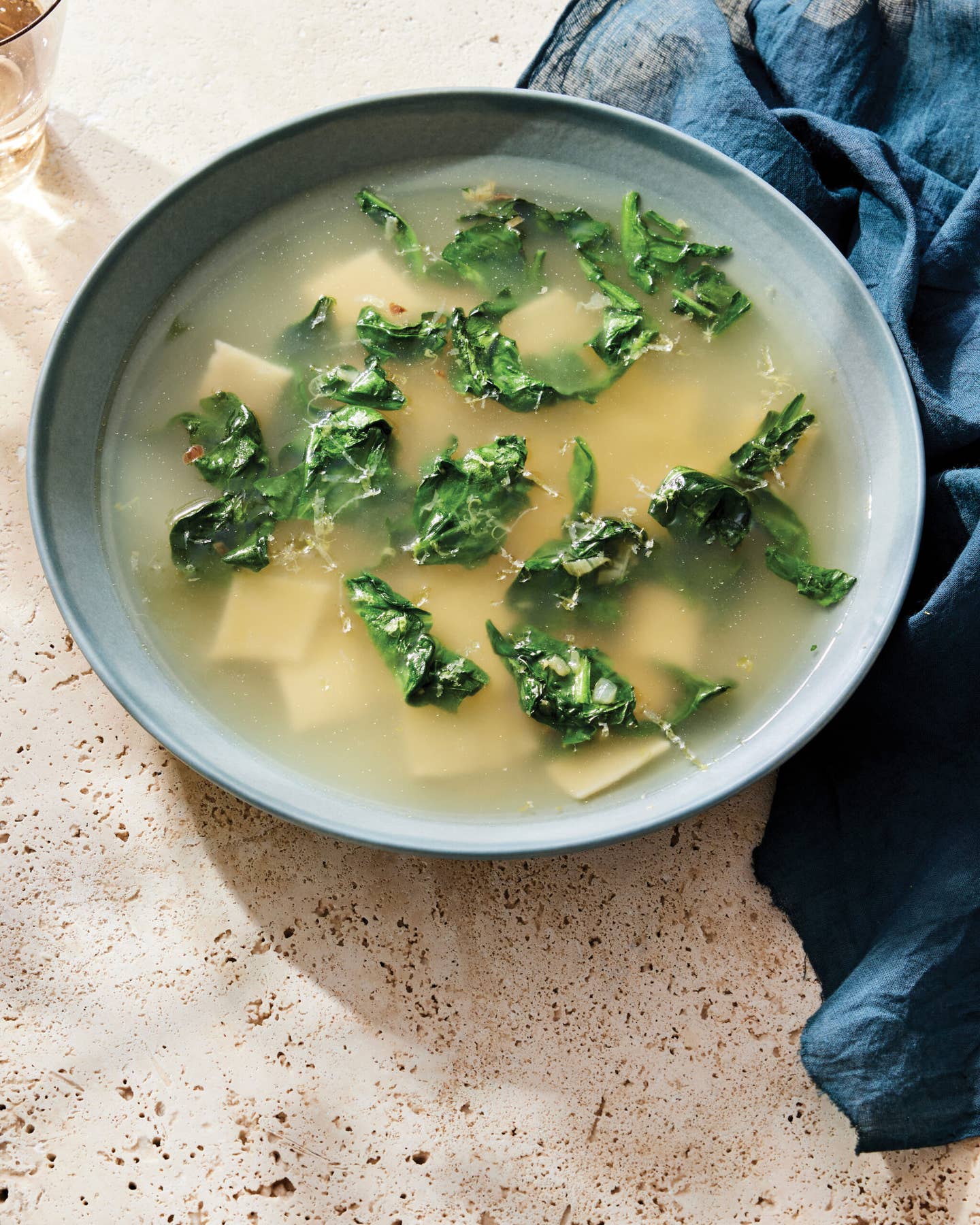 This brothy soup, adapted from Leah Koenig's new cookbook Portico: Cooking and Feasting in Rome's Jewish Kitchen, is often eaten by Roman Jews to break the Yom Kippur fast. Fresh pasta dough is thinly rolled, cut into tiny squares known as quadrucci, then briefly cooked in a warm broth with sauteed onion and spinach. After a day of fasting, the fresh flavor of the soup and the toothsome squares of pasta make it a wholly revitalizing return to everyday eating. This recipe embodies the Italian word "casareccio" and the Yiddish word "haimish", both of which translate to homemade. It's also an ideal introduction to pasta "fatto a mano" (made by hand, no special equipment required), but you can also use a pasta machine to roll out the dough before cutting. Use sturdy full-leaf spinach for this recipe; delicate baby spinach isn't suited for extended cooking in the broth.
Ingredients
For the pasta:
2 cups all-purpose flour, plus more for rolling
2 tsp. extra-virgin olive oil
1 tsp. kosher salt
2 large eggs plus 2 large egg yolks, lightly beaten
For the broth:
8 cups chicken or vegetable stock
2 Tbsp. extra-virgin olive oil
1 medium yellow onion, finely chopped
½ tsp. kosher salt
1 lb. spinach, stems discarded, leaves rinsed and coarsely chopped
1 tsp. finely grated lemon zest
Instructions
Step 1
Make the pasta: In a stand mixer fitted with the paddle attachment, beat the flour, oil, eggs, salt, and 2 tablespoons of warm water together on low speed until a shaggy dough forms. (If the dough looks dry, add more water 1 tablespoon at a time.) Switch to the dough hook attachment and knead on medium speed until smooth and elastic, 5
–
7 minutes.
Step 2
Turn the dough out onto a clean work surface and form it into a disk, then wrap tightly in plastic wrap and set aside to rest for at least 1 hour (up to 8).
Step 3
Line a baking sheet with parchment. Quarter the dough and rewrap all but one portion. On a lightly floured work surface, use a floured rolling pin to roll the dough quarter into a 1/16-inch-thick rectangle. Trim the ragged edges.Using a sharp knife or pizza cutter, cut the dough lengthwise into ½-inch-wide strips, then cut the strips crosswise into squares. Spread the quadrucci on the baking sheet (it is okay if they overlap a little) and repeat the process with the remaining dough.
Step 4
Fill a large pot with the stock and bring to a boil. Meanwhile, to a large skillet, add the oil, onion, and salt and turn the heat to medium. Cook, stirring occasionally, until soft and lightly browned, 6
–
8 minutes. Add the spinach and cook, stirring occasionally, until wilted, 1
–
2 minutes more. Remove from the heat and stir in the lemon zest.
Step 5
To the boiling stock, add the quadrucci and cook, stirring occasionally, until they float to the surface and are al dente, 2
–
3 minutes. To serve, divide the spinach mixture among six bowls, then ladle with the broth and quadrucci.