Recipes
Smokerless Smoked Chicken with Barbecue Sauce
Dip your toes into the world of hot-smoking with Eitan Bernath's easy spatchcocked bird.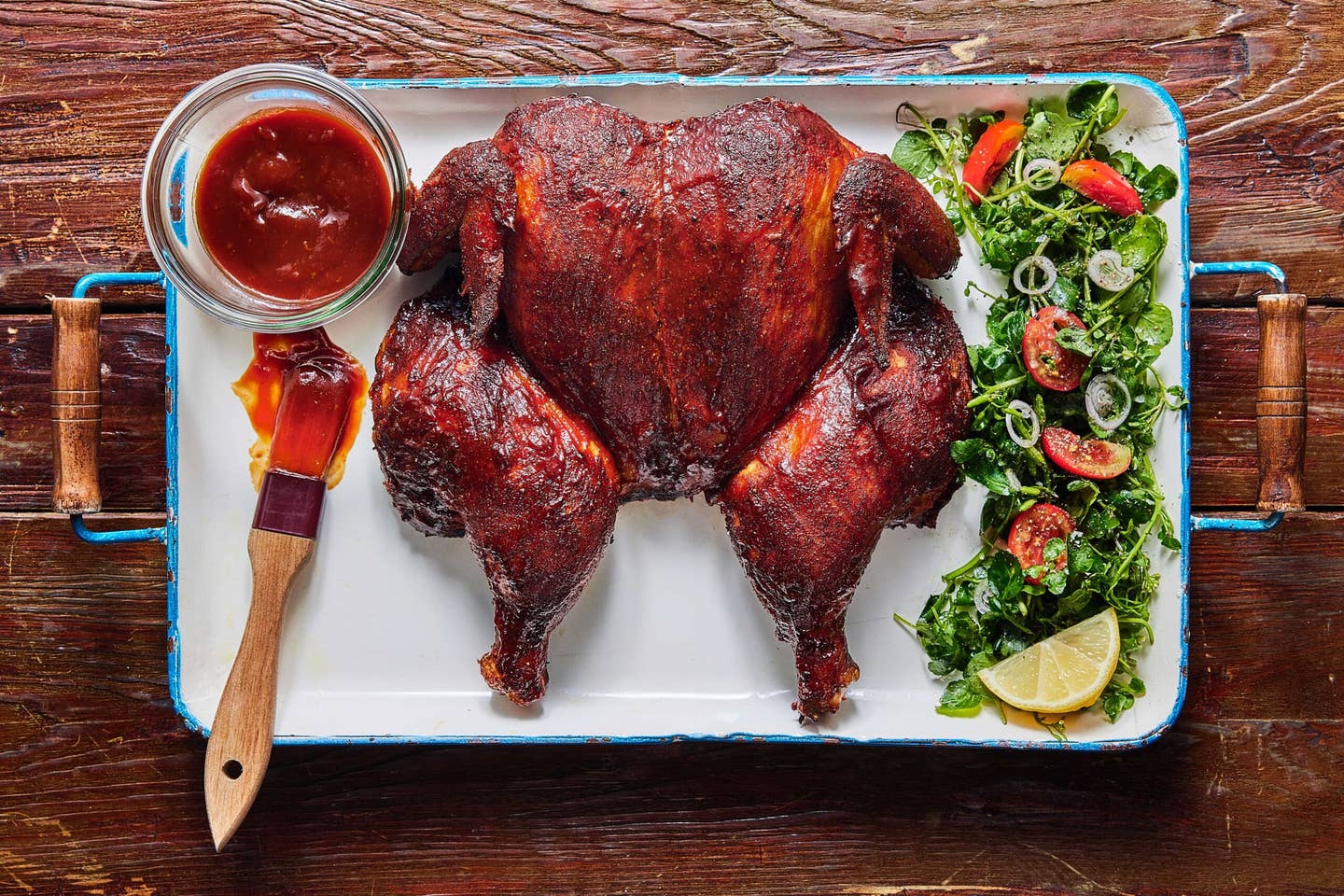 When I was growing up, there weren't many cooking tasks that fell to my dad, but that just meant the things he did make were—and still are!—his specialties. He's the matzo ball master in our home, the expert hamantaschen baker for Purim, and, most importantly, the family grilling expert. Although we always had a gas grill, Dad has never been one to compromise on taste; his trick for great grilled chicken—a foil packet of soaked wood chips thrown right onto the grates—is a low-effort way to infuse grilled foods with plenty of delicious smoky flavor.
Of course, this technique isn't quite the same as cooking chicken in an actual smoker, but for those of us without the extra barbecue gear, this trick makes a big difference. Now that I live on my own in Manhattan, I'm very lucky to live in an apartment with an outdoor space for a grill. My smokerless smoked chicken recipe is a celebration of the many chickens Dad grilled for us over the years. This one is spatchcocked—meaning the spine is removed and the bird is pressed flat —which makes it perfect for grilling, and results in faster and more even cooking. This step is easy to do at home, you can also ask your butcher to do it for you.
I dry brine my chicken in the fridge for at least 24 hours, then use yellow mustard to bind a sweet and tangy dry rub all over. I also like to whip my own sweet-and-savory barbecue sauce, which runs double duty as a finishing glaze and a dipping sauce. When I'm grilling over charcoal, I don't even bother with Dad's foil packet—I find it works just as well to throw some hardwood hickory or fruitwood pellets directly over the coals, enveloping the bird in a thick, fragrant smoke. This method results in an absolutely superior (and easily scalable) grilled chicken, perfect for summer and fall cookouts.
Ingredients
For the chicken:
1 Tbsp. mustard powder
1 Tbsp. pimentón (smoked paprika)
1 tsp. garlic powder
1 tsp. kosher salt, plus more
½ tsp. freshly ground black pepper
½ tsp. onion powder
¼ tsp. cayenne pepper
One 4-lb. chicken, giblets removed
2 tsp. yellow mustard
1½ cup wood pellets (for charcoal) or wood chips soaked for 1 hour (for gas)
Neutral oil
For the barbecue sauce:
¾ cup ketchup
¾ cup pineapple juice
2 Tbsp. apple cider vinegar
2 Tbsp. molasses
1 Tbsp. Worcestershire sauce
1 garlic clove, grated
1 tsp. kosher salt
Instructions
Step 1
In a small bowl, whisk together the mustard powder, pimentón, garlic powder, salt, black pepper, onion powder, and cayenne. Set aside.
Step 2
Spatchcock the chicken: Using paper towels, pat the chicken dry inside and out. Place the bird on a cutting board with its backbone facing up and, using poultry shears or a very sharp knife, cut along both sides of the backbone to remove it. Discard the backbone or save it for another use. Flip the chicken over and, using both hands, press firmly down onto the breast bone until you hear a sharp crack and the chicken lays mostly flat. Season the bird generously with salt, then place it on a wire rack. Place the rack in a large rimmed baking sheet, then transfer to the fridge to rest, uncovered, until the skin feels dry to the touch, at least 8 hours and up to 24 hours.
Step 3
When you are ready to cook the chicken, remove it from the fridge and set it aside to come up to room temperature, about 45 minutes.
Step 4
Meanwhile, make the barbecue sauce: In a medium pot over medium heat, stir together the ketchup, pineapple juice, apple cider vinegar, molasses, Worcestershire, garlic, and salt. Bring to a simmer and cook, stirring occasionally, until slightly thickened, about 15 minutes. Remove from the heat and set the sauce aside to cool to room temperature. Reserve half of the BBQ sauce for dipping.
Step 5
Brush the chicken all over with a thin layer of yellow mustard. Sprinkle the reserved spice mixture all over the chicken, including the non-skin side.
Step 6
Preheat your grill to 400–450°F (if your grill does not have its own thermometer, an infrared thermometer is helpful for this). If using a charcoal grill, sprinkle the wood pellets evenly over the coals right before you begin cooking the chicken. If cooking with gas, place the soaked wood chips in a small disposable aluminum baking pan on one side of the grill grates.
Step 7
Lightly oil the grill grates, then place the chicken skin-side-up on the grill. Cover and cook for 20 minutes.
Step 8
Uncover the grill and brush the chicken all over with half of the barbecue sauce. Cover the grill once again and continue cooking until the sauce is lightly caramelized and the chicken is cooked through—an instant-read thermometer inserted into the thigh should read 155°F—25–40 minutes more.
Step 9
Transfer the chicken to a clean wire rack placed on a clean baking sheet. Set the bird aside to rest at room temperature for 10 minutes, then transfer to a clean cutting board. Using a sharp knife, separate the chicken into 8 pieces (breasts, thighs, drumsticks, and wings). Serve warm, with the reserved barbecue sauce on the side for dipping.