Recipes
Soy Pickled Tomatoes with Silken Tofu
Silken tofu serves as the ideal vessel for flavorful pickled tomatoes in this no-cook recipe from cookbook author Hetty McKinnon.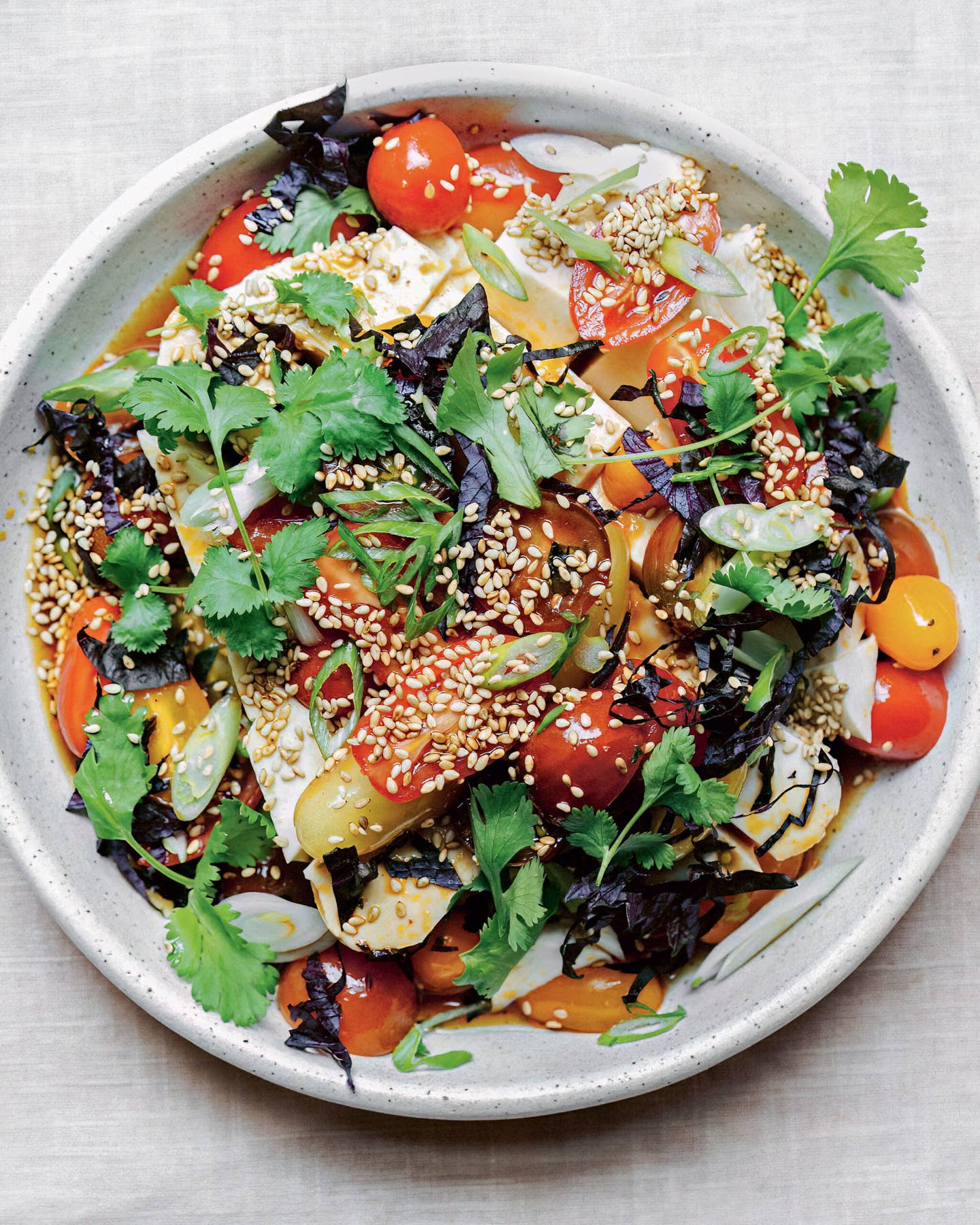 This recipe is brought to you by SAVEUR Cookbook Club, a passionate community of food-loving readers from around the globe that features our favorite authors and recipes. Join us as we cook through a new book every two months, and share your food pics and vids on social media with the hashtags #SAVEURCookbookClub and #EatTheWorld.
When the days are hot and the cherry tomatoes prolific, there's no reason to turn on the oven or stove. Instead, gather the juiciest specimens from the farmers market and make this luscious, satisfying dish adapted from author Hetty McKinnon's newest cookbook, Tenderheart: A Cookbook About Vegetables and Unbreakable Family Bonds. Silken tofu is the perfect vehicle for juicy tomatoes that have been luxuriating in a garlicky bath of soy sauce and vinegar and spiced up with chile oil. Best of all it's delicious served cold from the refrigerator, topped with a handful of fresh herbs. It's delicious on it's own, or served with rice. — Ellen Fort
Ingredients
For the pickled tomatoes:
12 oz. cherry or grape tomatoes, halved
2 Tbsp. soy sauce or tamari
1 Tbsp. black or rice vinegar
1 Tbsp. chile oil
1 Tbsp. toasted sesame oil
½ tsp. sugar
1 garlic clove, finely grated
For the tofu:
2 lb. cold silken tofu, drained and patted dry on all sides with paper towels
1 Tbsp. white sesame seeds, toasted
4 shiso leaves, thinly sliced (optional)
2 scallions, tops and bottoms trimmed, thinly sliced
Cilantro leaves, for garnish
Instructions
Step 1
Make the pickled tomatoes: In a medium bowl,  stir together all the ingredients and set aside to marinate for 10–20 minutes. (Alternatively, cover and refrigerate for up to 12 hours; bring to room temperature before using.)
Step 2
Meanwhile, make the tofu: Place the tofu onto a platter. Without cutting through to the bottom, slice the tofu in a crosshatch pattern at 1-inch intervals (this will help the sauce penetrate).
Step 3
To serve, spoon the reserved tomatoes and their sauce over the tofu, then scatter with the scallion, cilantro, shiso (if using), and sesame seeds.