Recipes
Strawberry Rhubarb Pâte de Fruit
Fruity chews with a kick of Créole shrubb.
Serves

16–18

Cook

5 hours 30 minutes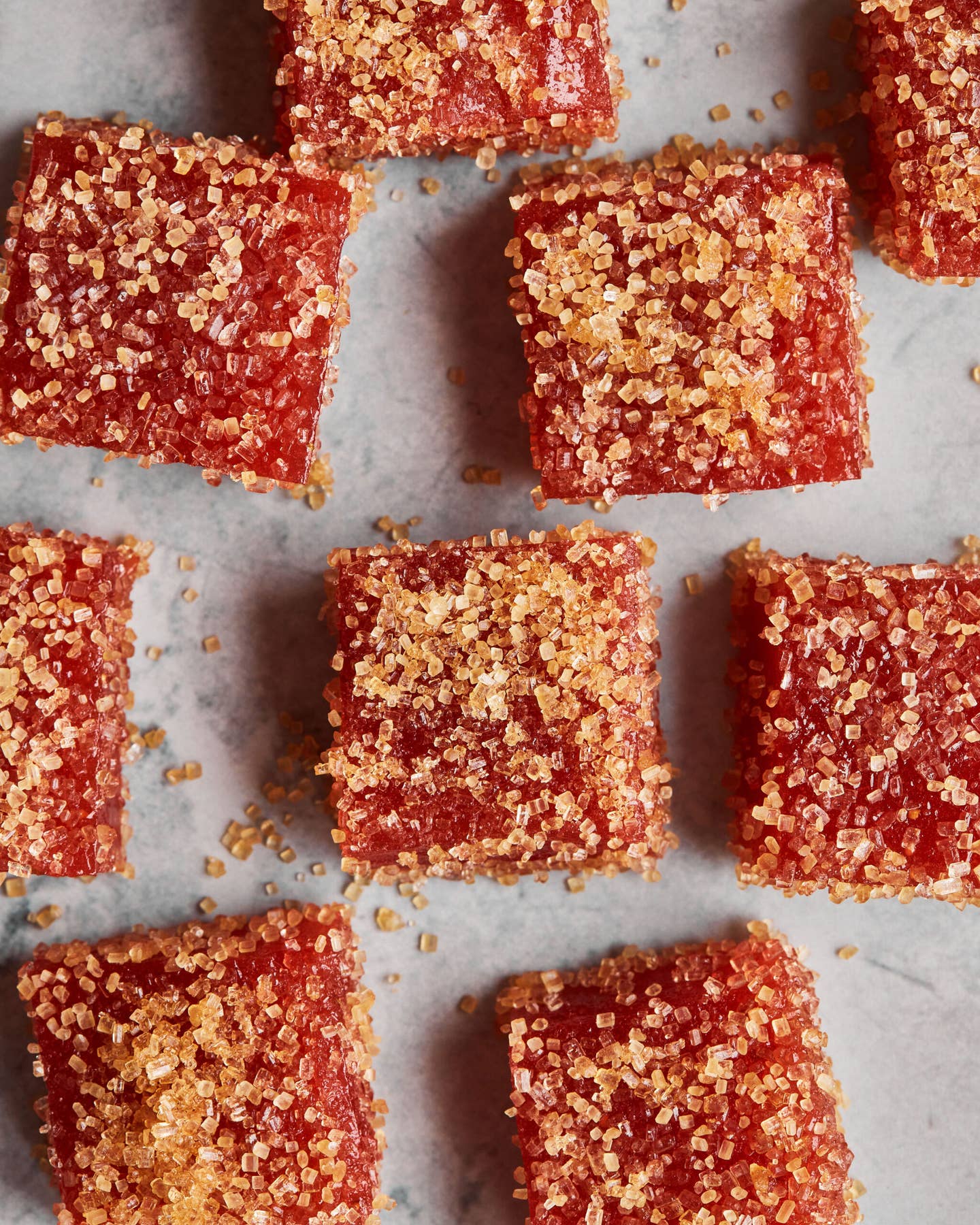 Instead of coating his pâte de fruit with plain white sugar, Bay Area pastry chef William Werner flavors Demerara sugar with Clément Créole Shrubb, a liqueur made of aged and white rhum agricole and bitter orange peels.
Ingredients
¾ cups raw sugar, such as demerara or turbinado
1 vanilla bean, split lengthwise, seeds scraped and pod reserved
1 oz. Clément Créole Shrubb or Cointreau
3 cups sugar, divided
2 Tbsp. plus 1½ tsp. pectin
Vegetable oil, for greasing
12 oz. rhubarb (2 medium stalks), cleaned and coarsely chopped
1 Tbsp. plus 1½ tsp. light corn syrup
7 oz. strawberries, hulled
1 Tbsp. fresh lemon juice
Instructions
Step 1
Position a rack in the center of the oven and preheat to 200°F. In a small bowl, rub the vanilla seeds into the raw sugar until incorporated. Pour in the Shrubb and stir to combine. Using a silicone spatula, spread the sugar mixture in an even layer on a parchment-lined baking sheet. Bake with the oven door slightly ajar until dried, about 30 minutes. Remove from the oven, and when cool enough to handle, use your hands to crumble; set aside.
Step 2
Oil an 8-by-8-inch baking pan and line with parchment. In a small bowl, whisk together the pectin and ¼ cup of the sugar; set aside.
Step 3
To a medium pot set over medium-high heat, add the vanilla pod, rhubarb, and 1 cup of the sugar and cook until the rhubarb is soft, 8–10 minutes; set aside to cool, about 45 minutes.
Step 4
Discard the vanilla pod and transfer the rhubarb mixture to a blender (do not clean the pot). Add the corn syrup and strawberries and purée, then pour back into the pot and turn the heat to high. When the liquid boils, whisk in the pectin mixture and cook, stirring continuously, until dissolved, 1–2 minutes. Whisk in 1 cup of the sugar and cook, stirring continuously, until dissolved, 1–2 minutes more. Repeat with the remaining sugar, then continue cooking until the mixture has thickened and a thermometer reads 175°F, about 5 minutes more. Stir in the lemon juice, then pour into the prepared pan. Let stand at room temperature until set, about 4 hours.
Step 5
To serve, cut the pâte de fruit into 1-inch squares and sprinkle with the reserved Shrubb sugar. (Pâte de fruit will keep in an airtight container at room temperature for up to 1 month.)