Recipes
Tomate à la Narbonnaise (Heirloom Tomatoes Stuffed with Feta and Basil)
An elevated summer salad from the South of France.
Serves

serves 4

Cook

35 minutes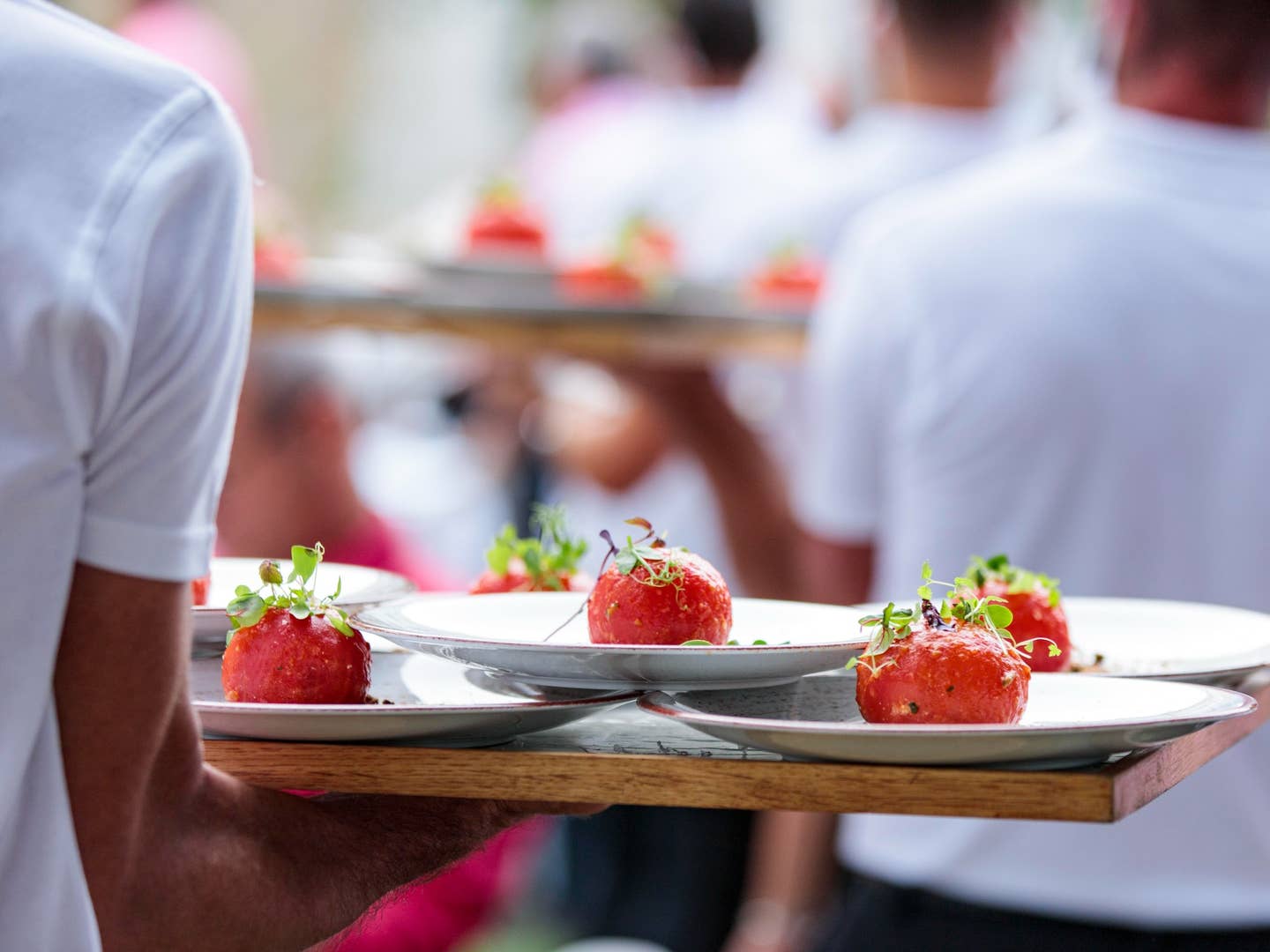 Laurent Chabert of Château L'Hospitalet designed this dish to pair with rosé—namely La Villa Rosé from Château la Sauvageonne in Languedoc-Roussillon. The young chef's whole menu is a love letter to the ingredients of the South of France—from the fine fleur de sel harvested at the nearby Salins de Gruissan, to the olive oil pressed from fruit grown alongside the area's many vineyards, to the herbs and tomatoes grown in his own kitchen garden. For the best results and the prettiest presentation, look for medium-firm, ripe tomatoes of consistent size.
Ingredients
4 medium red tomates (1 lb.), plus 4 small heirloom tomatoes, cored and coarsely chopped (2 cups), divided
Fine sea salt
¾ cups (4 oz.) greek feta, finely chopped
2 tbsp. basil leaves, finely chopped, plus more for garnish
⅓ cups breadcrumbs
3 tbsp. black olive tapenade
⅓ cups extra-virgin olive oil
⅓ cups tomato vinegar (such as Mutti brand)
Instructions
Step 1
Preheat the oven to 400°F; line a large baking sheet with parchment paper and set aside.
Step 2
Fill a large pot halfway with water. Season lightly with salt and bring to a rolling boil over high heat. Meanwhile, fill a large bowl with ice water and place it by the stove.
Step 3
Using a sharp paring knife, cut shallow crosses into the stem end of each red tomato and drop them into the boiling water. Cook for 30 seconds just to loosen the skins, then quickly use a slotted spoon to transfer the tomatoes to the ice water bath. When cool enough to handle, drain the tomatoes and remove and discard their peels. Using a small spoon or melon baller and starting from the stem end, hollow out the peeled tomatoes. Lightly season the interiors of the tomatoes with salt and set aside.
Step 4
In a medium bowl, toss together the chopped tomatoes, feta, and basil. Season lightly with salt, then spoon the mixture into the hollowed tomatoes and set aside.
Step 5
In a small bowl, toss together the breadcrumbs and tapenade. Transfer to the lined baking sheet, spread in an even layer, and bake, stirring occasionally, until dry and toasty, 5–7 minutes. Set aside to cool to room temperature.
Step 6
In a small bowl, whisk together the oil and tomato vinegar. Season to taste with salt.
Step 7
To serve, scoop about a tablespoon of the toasted tapenade crumbs onto each of 4 salad plates. Roll each tomato in the vinaigrette, then place them, cut side down, atop the crumbs. Top with fresh basil and serve at room temperature.