Recipes
Eli Zabar's Chocolate Caramel Matzo Ice Cream
Turn those leftover boxes of matzo into a knockout Passover dessert.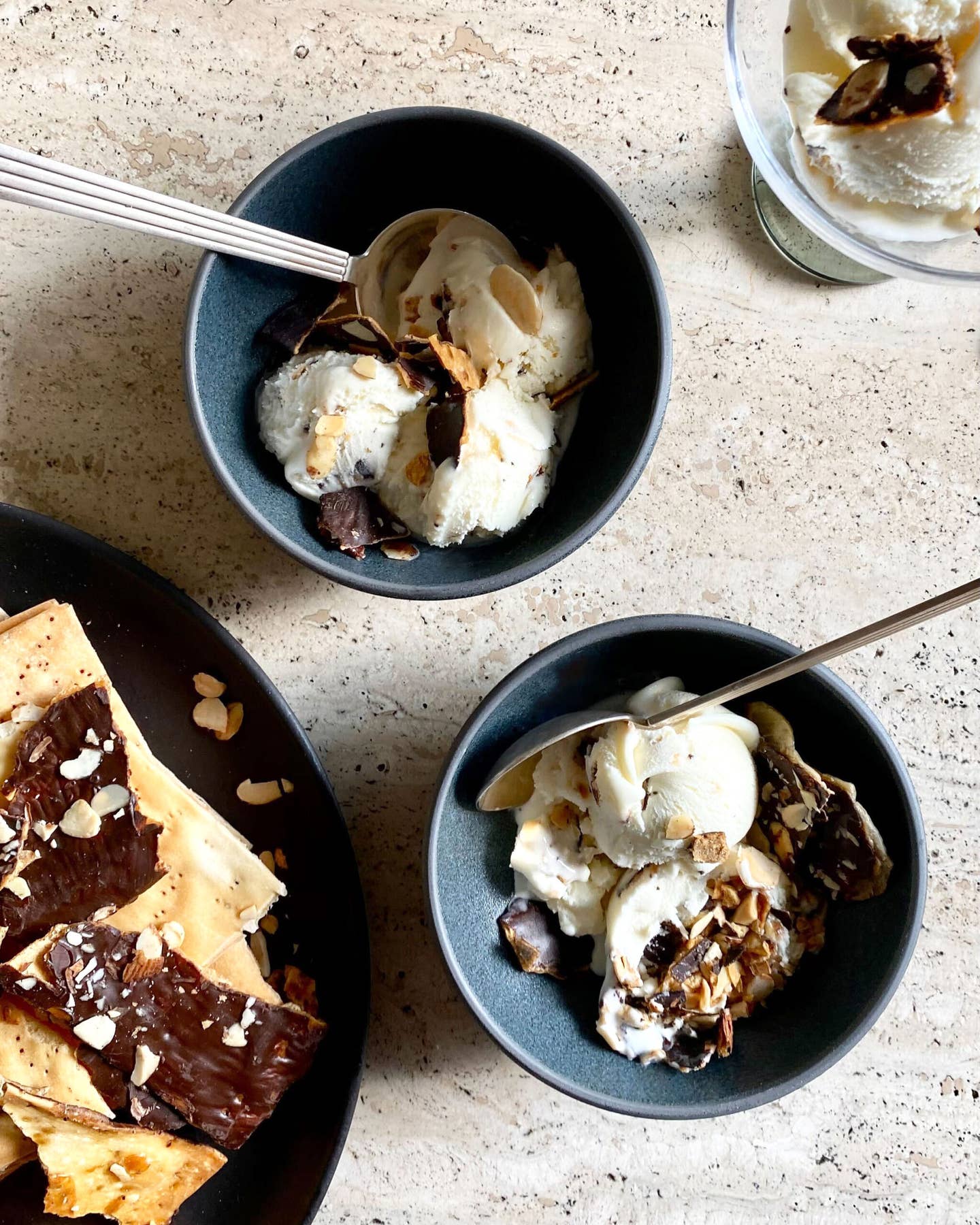 I've been making sourdough matzo for over thirty years and I've been making vanilla ice cream ever since 2003, when I opened Eli's Market on New York City's Upper East Side. Nothing brings me more joy than marrying two great ideas and finding other smart uses for simple products. My motto has always been "waste not, want not," and I firmly believe that just about everything I make can become even more delicious in its "second" life. Case and point: this seasonal chocolate caramel matzo ice cream.
My best ideas tend to come about when I mistakenly make too much of one item and need to figure out what to do with it. Almost anything can be repurposed and turning my unsold jelly donuts into jelly donut bread pudding or using the heels of crusty baguettes to make crostini batons are just two examples of the end result being almost better than the original ingredient. As we started planning for this Passover season, I realized my matzo and vanilla ice cream were such an excellent pairing that I'm almost annoyed I didn't think of it earlier. What about matzo ice cream sandwiches next year?
At the market, of course I use our own housemade sourdough matzo for this recipe. If you're unable to come by the shop to pick some up for yourself—or if you just want to use up your own Passover leftovers—Streits, Yahuda, or Schmurah work really well, too.
Ingredients
For the vanilla ice cream:
6 large egg yolks
2 cups whole milk
1 cup plus 3 Tbsp. sugar
Pinch kosher salt
1 vanilla pod cut open and scraped
2 cups heavy cream
1 Tbsp. vanilla extract
For the chocolate caramel matzo:
1½ cup light brown sugar
¾ cup heavy cream
16 Tbsp. unsalted butter
¼ cup sweetened condensed milk
2 tsp. kosher salt
1 tsp. vanilla extract
6 sheets plain matzo
6 oz. 60–70% chocolate, melted (1 cup)
½ cup toasted sliced or slivered almonds (optional)
Coarse sea salt, for sprinkling
Instructions
Step 1
Make the vanilla ice cream base: In a large bowl, whisk the egg yolks until smooth, then set the bowl by the stove. In a medium, heavy-bottomed pot over medium-low heat, whisk together the milk, sugar, and salt. Add the vanilla pod and scrapings and cook, stirring occasionally, just until the mixture reaches 130°F on an instant-read candy thermometer. Remove from the heat and, whisking vigorously, drizzle about a third of the hot milk mixture into the egg yolks until homogenous. Pour the milk-yolk mixture back into the pot and whisk until thoroughly combined. Return to medium-low heat and cook, stirring continually to avoid scrambling the eggs, until the custard reaches 170°F. (If the custard turns lumpy, remove from the heat immediately and use an immersion blender to emulsify.) Remove from the heat and stir in the vanilla extract.
Step 2
Set a fine mesh strainer over a large heatproof bowl or container and strain the hot ice cream base into it, discarding any solids. Whisk in the cream, then refrigerate or chill in an ice water bath, stirring occasionally, until completely cold, at least 6 and up to 24 hours. (The colder the base, the better the ice cream).
Step 3
Meanwhile, make the chocolate caramel matzo: In a medium pot over medium-low heat, melt the brown sugar. Cook, swirling frequently, until dark amber in color, 10–12 minutes (don't walk away from the stove; brown sugar caramel can burn very quickly). Whisk in the cream followed by the butter and condensed milk. Remove from the heat, then whisk in the vanilla and salt until completely smooth. Set aside at room temperature, stirring occasionally, until cooled to the consistency of smooth peanut butter, about 1 hour.
Step 4
Arrange the matzo on two large rimmed baking sheets in a single layer. Using an offset spatula or the back of a spoon, spread the caramel over the matzo in a thin and even layer. Pour the chocolate over the caramel-coated matzo, then spread that in an even layer as well. Sprinkle with toasted almonds (if desired) and coarse sea salt, then refrigerate until firm, about 1 hour.
Step 5
Set a large metal bowl in the freezer. When the ice cream base is chilled, churn in an ice cream maker according to the manufacturer's instructions until frozen and smooth, about 20 minutes.
Step 6
While the ice cream churns, coarsely chop the chocolate caramel matzo into bite-size pieces. As soon as the ice cream is finished, remove the metal bowl from the freezer, scrape half of the ice cream into it, and, using a silicone spatula, spread ice cream evenly over the inside surface of the bowl. Sprinkle evenly with 2 cups of the matzo pieces. Scrape the remaining ice cream into the bowl, spread it evenly over the matzo pieces, then sprinkle another 2 cups of matzo pieces over the top. Scoop into airtight pint containers and freeze until firm, at least 3 hours. To serve, scoop into bowls and serve with extra chocolate caramel matzo pieces, if desired.