Recipes
Roasted Turnips and Greens with Bacon Vinaigrette
Serves

serves 8-10

Cook

1 hour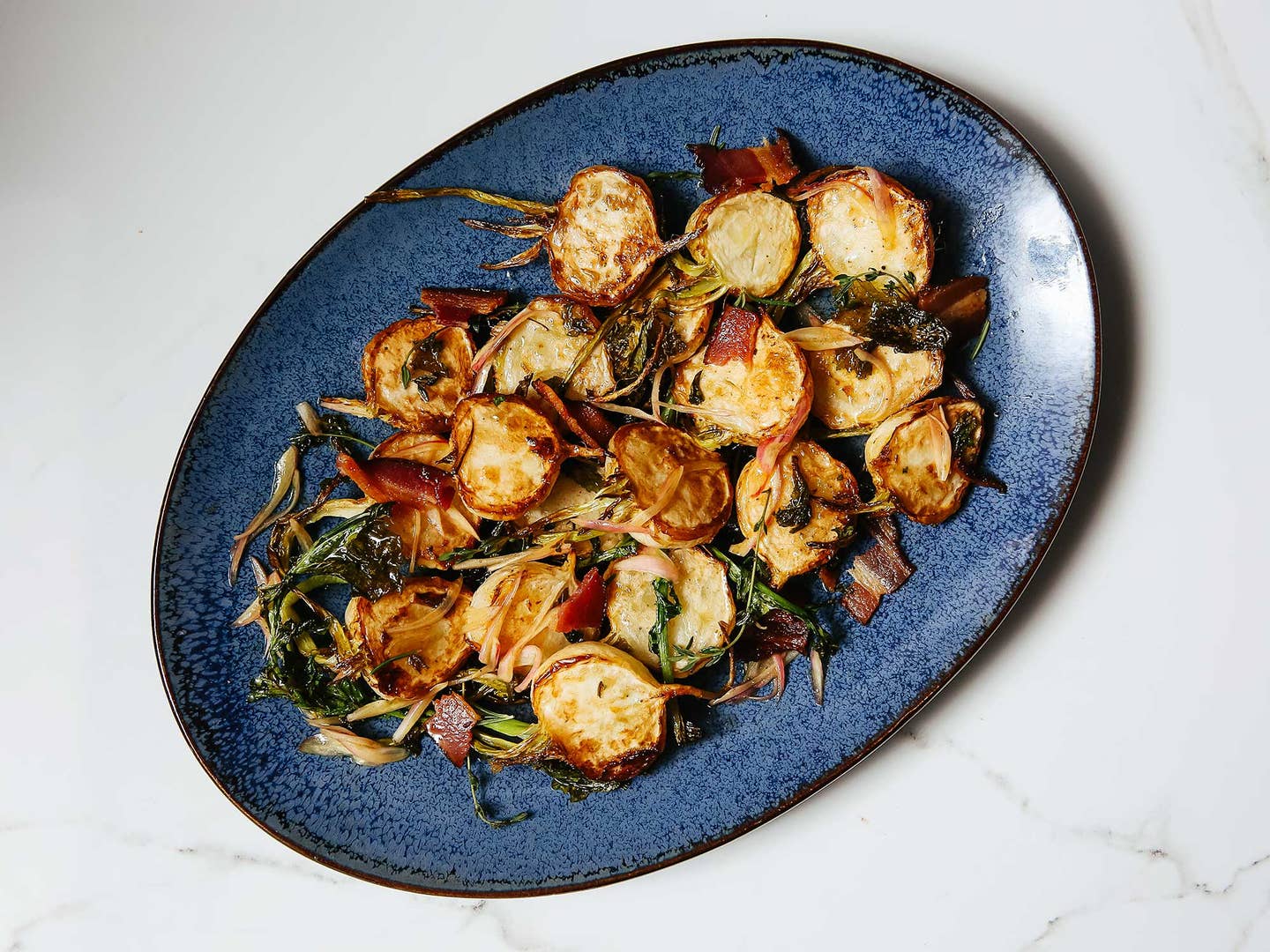 Pleasantly bitter turnips are roasted until sweet and then slicked with bacon fat and sherry vinegar in La Petite Grocery chef Justin Devillier's warm side dish, which also uses the root vegetable's hearty green leaves. If you can't find turnips with their greens still attached, use 1 pound of turnips and 8 ounces of collard greens.
Ingredients
3 oz. slab bacon, cut into 1/4-inch lardons
1⁄4 cup vegetable oil
2 tbsp. sherry vinegar
2 tsp. minced shallot
1 tsp. Dijon mustard
1⁄2 tsp. honey
Kosher salt and freshly ground black pepper
2 bunches medium-size turnips with their greens (1 3/4 lbs.)
1⁄4 cup olive oil
2 tsp. finely chopped rosemary
Instructions
Step 1
Heat the oven to 425°. Place the bacon lardons in a small nonstick skillet and heat over medium-high. Cook, stirring, until the bacon renders its fat and is crisp, about 6 minutes. Using a slotted spoon, transfer the bacon to paper towels to drain and pour 2 tablespoons of the rendered fat into a small bowl; discard the remaining fat or save for another use. Stir the vegetable oil into the bacon fat along with the vinegar, shallot, mustard, and honey until emulsified. Season the vinaigrette with salt and pepper.
Step 2
Trim the greens from the turnips, wash and dry them thoroughly, and chop into 1-inch pieces. Trim the turnips and quarter or halve them so they are roughly the same size. In a 12-inch skillet, heat the olive oil over medium-high. Add the turnips, cut sides down, and cook until golden brown, about 10 minutes. Flip the turnips, transfer the skillet to the oven, and bake until the turnips are tender, 18 to 20 minutes.
Step 3
Remove the skillet from the oven and stir in the greens to wilt slightly. Season the turnips and greens with salt and pepper and transfer to a serving platter. Sprinkle with the reserved bacon and rosemary and drizzle with the vinaigrette.