Recipes
Sardinian Flatbreads with Parmigiano, Coppa, and Chiles (Carta di Musica)
Serves

makes 12-14

Cook

1 hour 10 minutes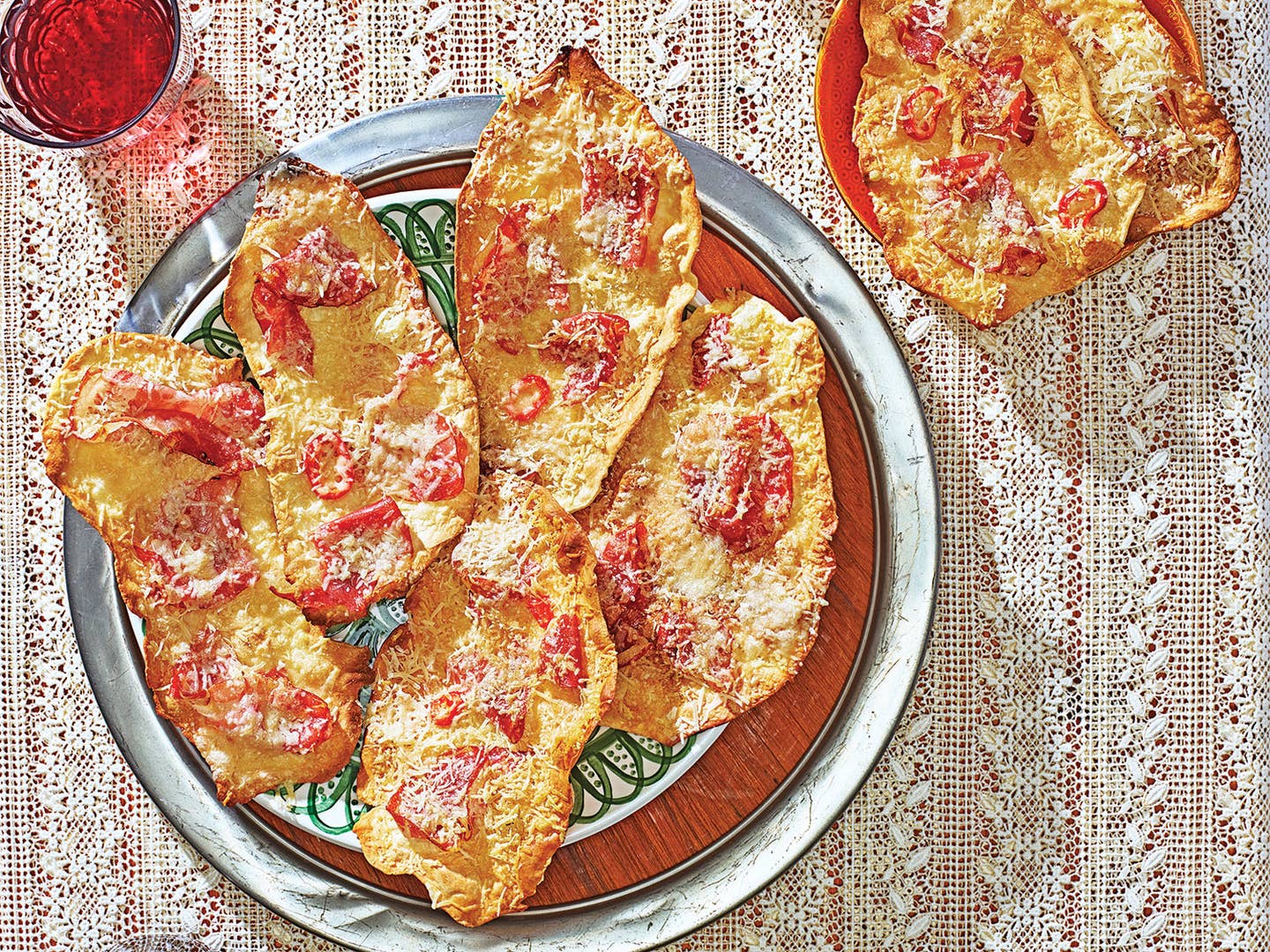 These semolina flatbreads are delicious with any antipasto, and also a blank canvas on which to bake cheeses, cured meats, or other toppings. (This version from SAVEUR editor-in-chief Stacy Adimando's cookbook Piatti incorporates Parmigiano from northern Italy, and capocollo from southern.) The cheese melts down to a thin layer—so pile on more as needed before or midway through baking.
Ingredients
For the Flatbreads
1 cup plus 1 Tbsp. semolina (durum) flour (180 g)
1 cup plus 1 Tbsp. all-purpose flour (137 g)
1¼ tsp. kosher salt, plus more as needed
For the Toppings
2 oz. Parmigiano-Reggiano, finely grated on a microplane (13/4 cups), plus more, if desired
28 thin slices coppa or capocollo (6 oz.), or any cured salumi you like, torn into large pieces
28 thin slices fresh or pickled chiles, such as Fresno or jalapeño (optional)
Freshly ground black pepper
Instructions
Step 1
Make the flatbreads: In a large bowl, stir the flours and salt with a fork. Add ¾ cup water; stir until crumbly. Squeeze the mixture into a ball, scooping and kneading the crumbs together repeatedly until a dough forms.
Step 2
On a clean counter, knead the dough until springy, 2 minutes.
Step 3
Set a rack with a flat, heavy metal baking sheet, baking steel, or a pizza stone in the top of the oven, and preheat to 500°F. Once preheated, pull off a piece of dough about the size of half to three-quarters of a ping-pong ball; flatten slightly. Using a rolling pin, roll it out, rotating it as needed and pressing hard against the counter to help it stay steady, until the dough is as thin as possible. (If it tears slightly in a few little places, that's okay.) When it's at its thinnest, around 6–8 inches long and a few inches wide, rub the dough with a small amount of kosher salt to season.
Step 4
Peel the dough piece off the counter and transfer it to the preheated baking sheet or stone. Bake until the dough is firm and browned on the sides, 7–8 minutes. Meanwhile, roll out more pieces of dough, continuing to place them on the preheated pan or stone as you go. Continue until all the dough is rolled, varying the sizes as you desire.
Step 5
Remove the pieces and let cool. At this point, you can store or eat them, or bake with toppings.
Step 6
To bake with toppings: Preheat the broiler to high and set a rack just beneath it. On a large, foil-lined baking sheet, add as many carta di musica as can fit in a single layer. Sprinkle about 2 tablespoons of cheese over each. Coarsely tear 2 pieces of coppa and place atop each flatbread, scrunching them slightly. Top with some of the chile slices, if using. Sprinkle with a little more cheese and some black pepper.
Step 7
Broil until the cheese is melted, 2–3 minutes, adding more while broiling, if desired. Serve warm or at room temperature.