Recipes
Sautéed Collard Greens with Six-Hour Caramelized Onions
Serves

serves 4-6

Cook

6 hours 40 minutes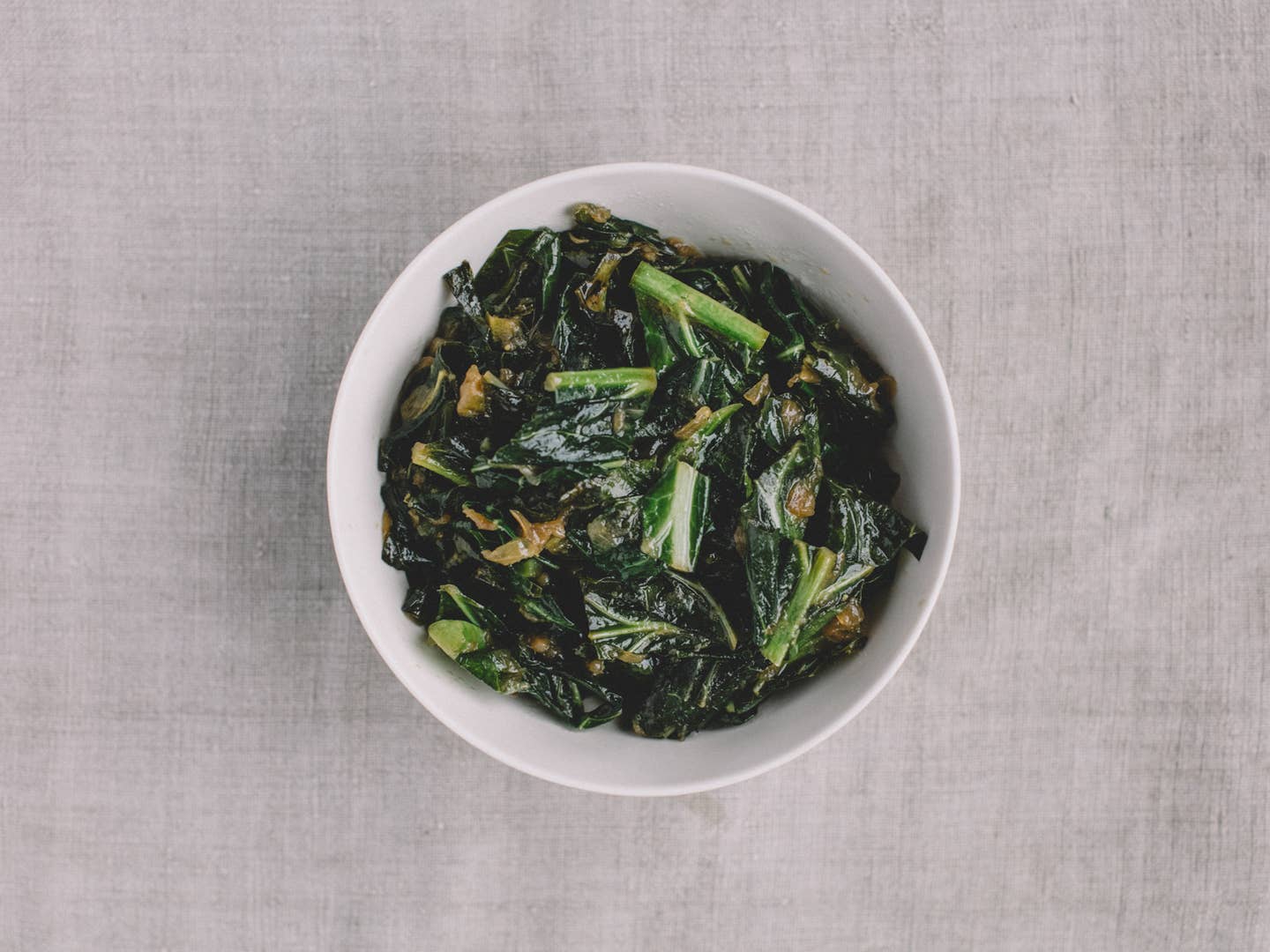 Chef Michael Solomonov of Zahav uses these caramelized onions as an essential part of his cooking: Copious amounts of onions are cooked low-and-slow for hours until they're uniformly dark brown and have the consistency of soft butter. Make a large batch and store them in the refrigerator for up to a month to use as a garnish—or with salads, roast chicken, or on toast with ricotta. Here, he's swirled them into sautéed chopped collards, giving the greens a deep, umami-like bittersweet flavor for a simple side dish.
Ingredients
For the Six-Hour Caramelized Onions (makes 2 1/2 cups)
1⁄2 cup olive oil
6 lb. yellow onions (about 12 large), thinly sliced
Kosher salt
For the Collard Greens
1⁄2 cup olive oil
8 cups finely chopped collard greens (about 2 1/2 lbs.)
1 1⁄2 cups Six-Hour Caramelized Onions
1⁄2 cup red wine vinegar
2 tsp. ground fenugreek
2 tsp. kosher salt
Instructions
Step 1
Make the caramelized onions: In a very large Dutch oven, heat olive oil over low. Add onions and season liberally with kosher salt. Cook, stirring occasionally, until the onions are darkly caramelized and spreadably soft, about 5 1⁄2 to 6 hours. Scrape the onions in a bowl and let cool.
Step 2
For the greens: In a large saucepan, heat the olive oil over medium-low. Add the collard greens and cook, stirring occasionally, until the collards are wilted, about 25 minutes. Stir in the caramelized onions, vinegar, fenugreek, and salt and cook to blend flavors, about 5 minutes. Remove the pot from the heat, scrape the collards into a bowl, and serve while hot.