Recipes
Seared Radicchio with Raisins and Shaved Parmigiano
Serves

serves 6-8

Cook

45 minutes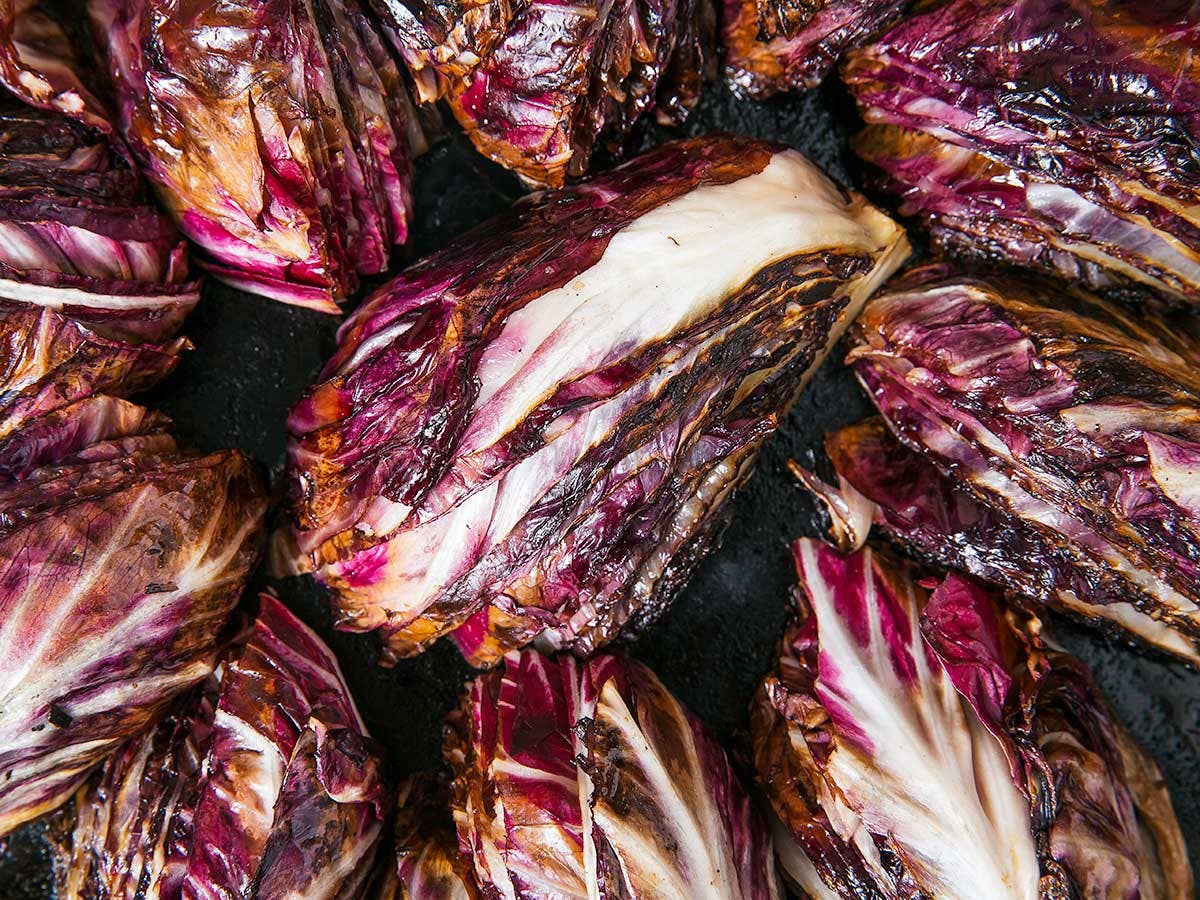 This warm salad is made with a naturally sweet, high-quality balsamic vinegar to balance the bitterness of the leaves. If top-shelf balsamic vinegar di Modena is unavailable or out of your price range, cooking the grocery store version down by about one-third of its volume over a medium-low flame—and further sweetening it to taste with a drizzle of honey as needed—helps produce a similar level of sweetness.
Ingredients
3 1-lb. heads of radicchio, trimmed and quartered through the stems
1⁄4 cup plus 2 Tbsp. extra-virgin olive oil, divided, plus more for drizzling
Kosher salt
Freshly ground black pepper
1⁄2 cup raisins
1⁄4 cup good-quality balsamic vinegar
2 oz. Parmigiano-Reggiano, shaved into wide ribbons with a vegetable peeler (¼ cup)
1⁄4 cup toasted hazelnuts, coarsely chopped
Instructions
Step 1
Lay the radicchio quarters on a large baking sheet or platter and drizzle ¼ cup of olive oil over them. Season liberally with kosher salt and pepper.
Step 2
In a small bowl add the raisins and balsamic vinegar, then set aside to soak at room temperature while you cook the radicchio.
Step 3
In a large skillet set over medium-high heat, add the remaining 2 tablespoons of olive oil. When the oil is hot, add the radicchio quarters cut side down; cook until browned at the edges and firm-tender throughout, 3–5 minutes per side.
Step 4
Transfer the radicchio to a large serving platter, cut side-up; spoon a few raisins and a bit of their soaking liquid over each wedge, allowing the liquid to drizzle between the leaves. Top the radicchio with the cheese shavings and the toasted hazelnuts. Drizzle generously with olive oil, and serve warm or at room temperature.