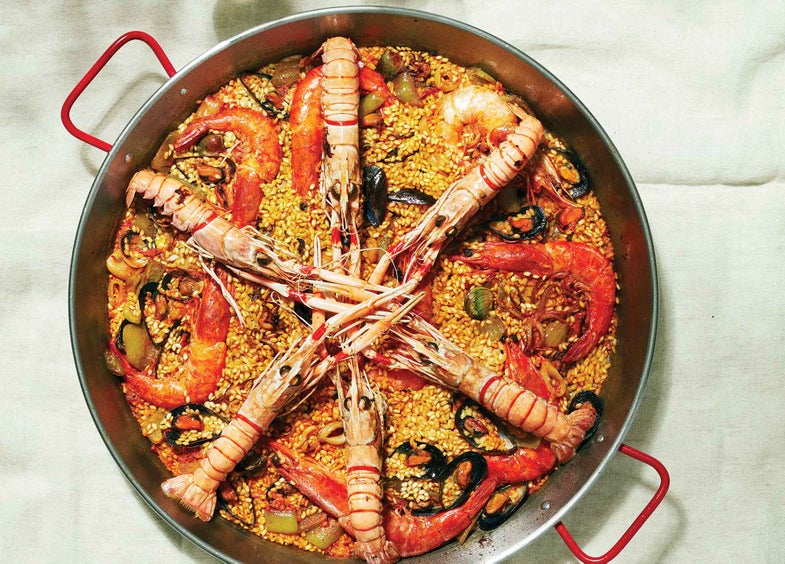 This regal-looking shellfish paella draws much of its flavor from a lightly salty, fresh-tasting fish stock and a mix of shellfish seared in advance in the pan to deepen their flavors. Although you'll see elaborately decorated shellfish paellas at touristy restaurants, the tradition is to cook some of the shellfish into the rice and uncover it while you eat, and display the larger langoustines on top. The clams are best cooked sepa­rately, as a couple of sand-filled shells can wreck an entire paella. For extra insurance, purge the clams by covering them in cold, generously salted water for 20 minutes before using.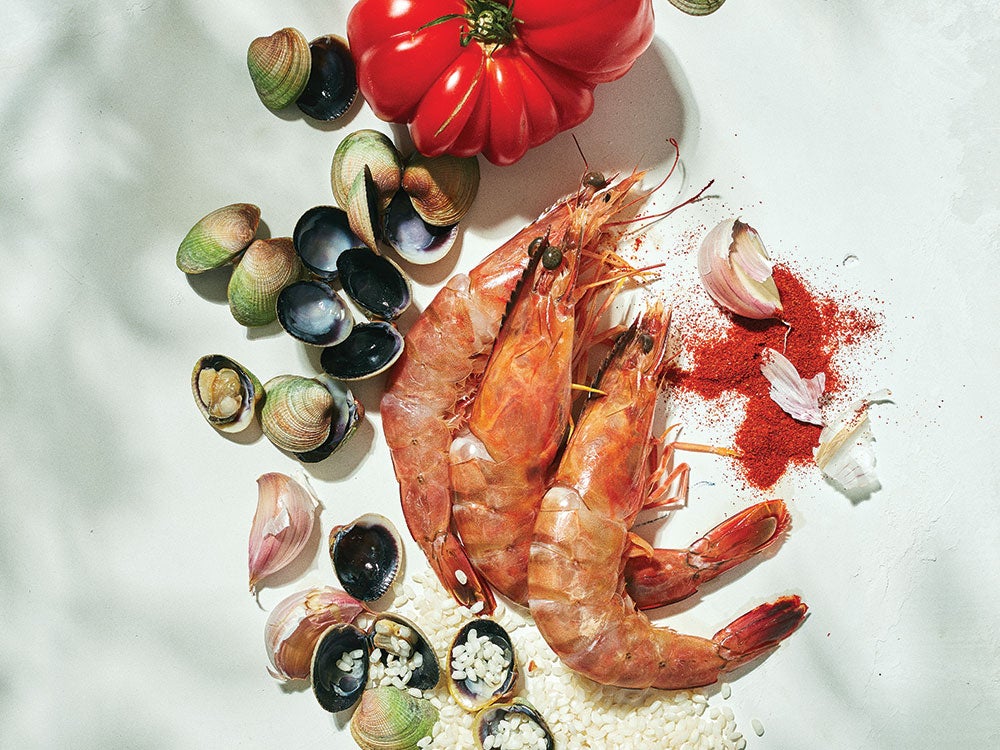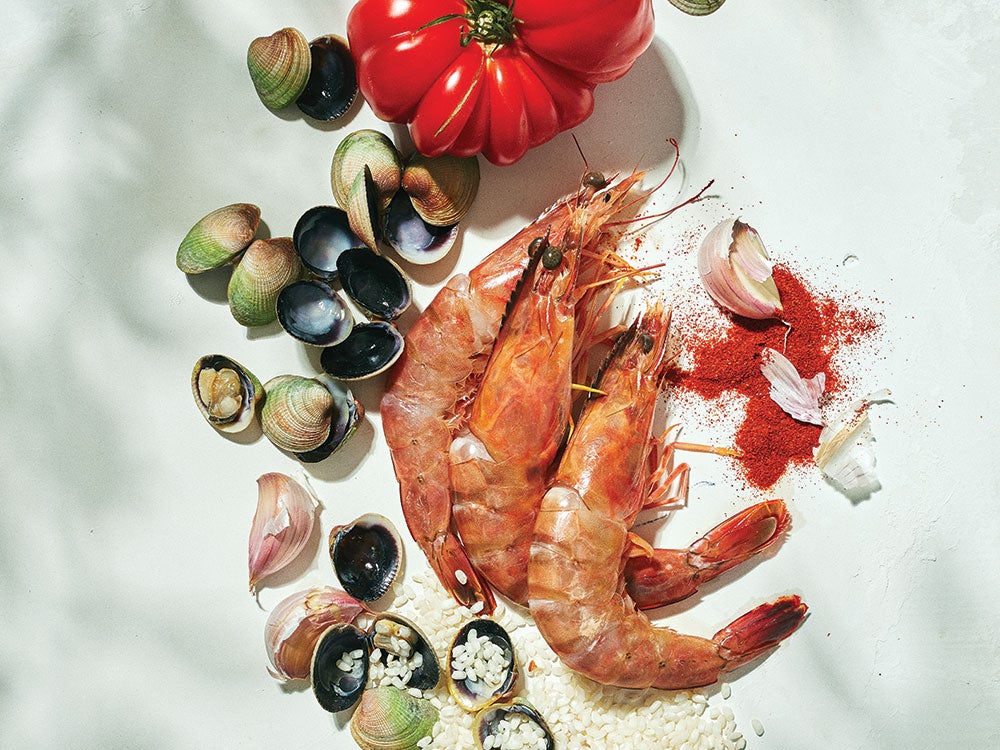 Your complete guide to mastering the Spanish essential and scoring perfect soccarat
Featured in: How to Make the Ultimate Paella
Paella de Marisco (Shellfish Paella)
Fresh fish stock and a mix of seared shellfish are the key to this pretty paella.
Time: 1 hour
Ingredients
1 generous pinch saffron threads (loosely packed ¼ tsp.)
1⁄2 lb. small clams, scrubbed
1⁄2 lb. mussels, cleaned
5 tbsp. extra-virgin olive oil
1 garlic clove, peeled
8 jumbo or 12 large head-on shrimp (about 1¼ lb.)
6 whole langoustines (scant 1 lb.)
1⁄2 lb. cleaned squid or cuttlefish, cut into ⅓-inch pieces
1⁄2 green bell pepper or 1 sweet Italian green pepper, cut into ½-inch pieces (1⅓ cups)
1⁄2 tsp. kosher salt, plus more as needed
3 medium red tomatoes, seeded then grated on a box grater (1¾ cups)
1 tsp. Spanish pimentón dulce (sweet paprika)
6 cups fish stock
2 cups bomba rice or another short- or medium-grain Spanish rice
Instructions
In a small dry skillet over medium-high heat, add the saffron. Cook, shaking the pan occasionally, until the strands are brittle and darken slightly, 3-4 minutes. Remove to a small bowl and coarsely grind the saffron between fingers. Set aside.
In a medium saucepan, add 1 cup water; cover and bring to a boil over high heat. Lower the heat to medium-high and add the clams. Cover and cook, shaking the pan from time to time, until the shells have opened, 2–3 minutes (discard any clams that do not open).
Transfer the clams to a large bowl, then strain the liquid through cheesecloth into a separate medium bowl; set aside. Twist off the empty half of each clam shell and discard.
Rinse out the saucepan and add ½ cup water; cover and bring to a boil over high heat. Lower the heat to medium-high and add the mussels; cover and cook, shaking the pan from time to time, until the shells have opened, 2–3 minutes (discard any mussels that do not open).
Add the mussels to the bowl with the clams (discard the liquid). Twist off the empty half of each shell and discard.
In a 17- to 18-inch paella pan, heat 4 tablespoons oil over medium heat. Add the garlic and cook, stirring, until aromatic, 1–2 minutes. Remove the garlic and discard. Add the shrimp and langoustines and cook, turning occasionally, until the colors have changed slightly and the meat is mostly cooked, 6–8 minutes; transfer to a platter. Clean out any legs or antennae from the pan, then add the remaining tablespoon oil, the squid or cuttlefish, green pepper, and ¼ teaspoon salt; cook, stirring frequently, until the green pepper is firm-tender and the squid is just barely cooked, 3–4 minutes. Add the tomato, ¼ cup of the reserved clam liquid, and another ¼ teaspoon salt and cook, continuing to stir frequently, 5 minutes. Stir in the pimentón and immediately pour in the fish stock. Sprinkle in the saffron and return the shrimp, clams, and mussels to the pan.
Bring the liquid to a boil over high heat. Sprinkle the rice around the pan. Using a wooden spoon, check that the rice is evenly distributed and that all the grains are submerged (this should be the last time you stir the paella); cook over high heat, rotating the pan as needed over the heat source, for 10 minutes. Taste the liquid for salt and add more if needed. Arrange the reserved langoustines like spokes across the top of the rice. Lower the heat to low and simmer gently until the liquid is absorbed and the rice grains are just tender but still have an al dente bite to them, 8–10 minutes. (If all the liquid has evaporated and the rice is still not done, drizzle some more of the reserved clam liquid over the rice where needed and cook for a few minutes more.) If needed, to develop soccarat, raise the heat to medium and cook, watching and smelling closely for burning, until the rice at the bottom of the pan browns and crisps slightly, 1–2 minutes. Remove from the heat.
Let the rice rest for 5 minutes before serving to allow the starches to firm up slightly. (If the top layer of rice seems a tad too firm, cover the pan with a few paper towels or a clean kitchen towel while it rests.)