Recipes
Skate and Romanesco Soup (Minestra di Broccoli e Arzilla)
Serves

serves 6

Cook

1 hour 30 minutes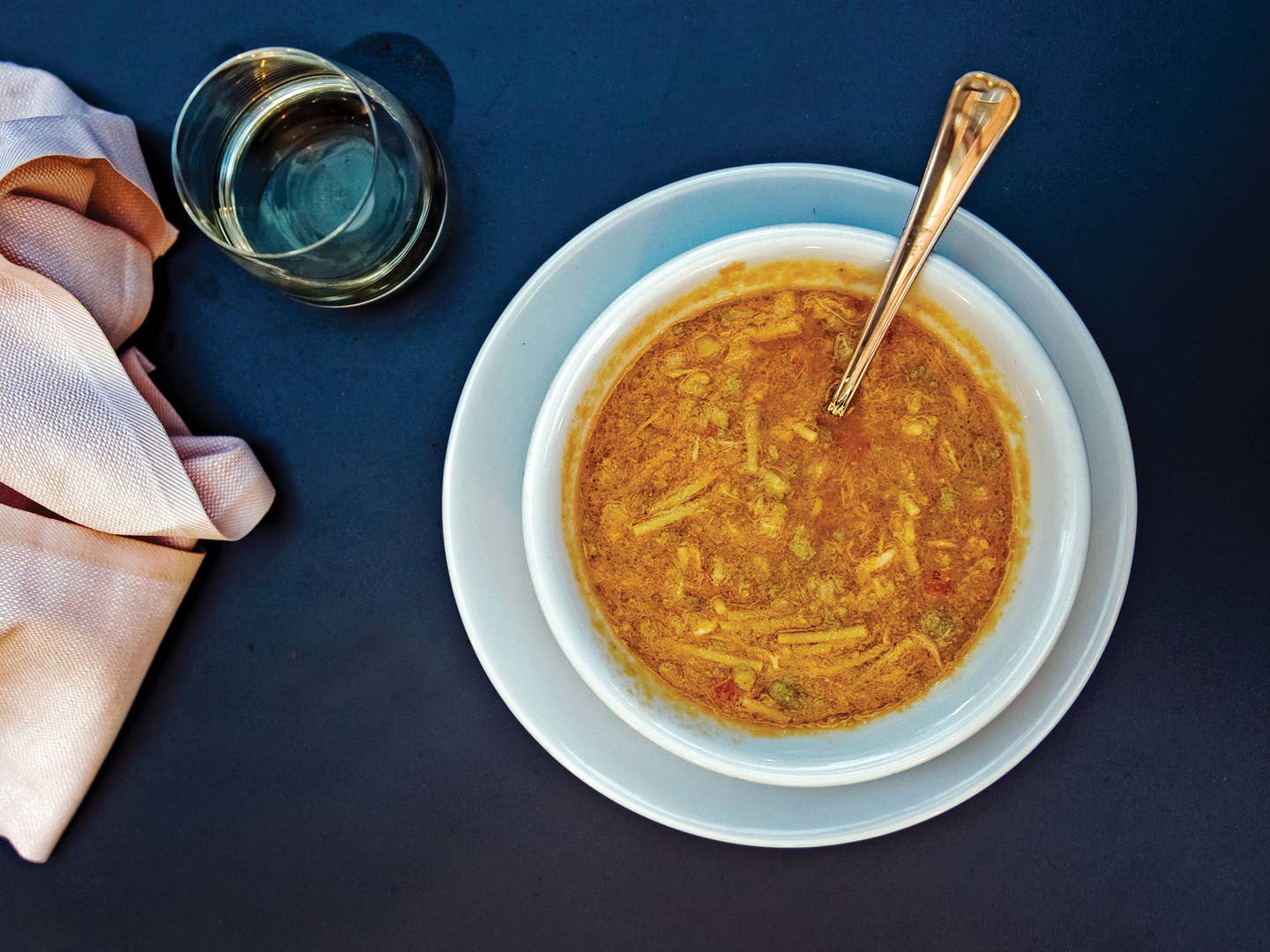 For this skate and romanesco soup, thickened with spaghetti, have your fishmonger remove the skin from the skate fillets, but leave the bones in—they are essential for flavoring the soup. If you can't find romanesco, cauliflower makes a fine substitute.
Ingredients
1 1⁄2 lb. skinless, bone-in skate fillets (see note, above)
3 sprigs flat-leaf parsley
1 stalk celery, thinly sliced
1 medium carrot, thinly sliced
1 small yellow onion, halved
2 tbsp. olive oil
1 clove garlic, peeled and smashed
1⁄2 tsp. crushed red chile flakes
1 head romanesco or cauliflower, leaves trimmed, cored, and finely chopped
Kosher salt and freshly ground black pepper
2 tbsp. canned tomato purée
4 oz. spaghetti, broken into pieces
Instructions
Step 1
In a large saucepan, combine the skate with the parsley, celery, carrot, onion, and 5 cups water. Bring to a boil, reduce the heat to maintain a simmer, and cook, skimming any foam that rises to the surface, until the skate flesh falls away from the bone easily, about 30 minutes. Using a slotted spoon, transfer the skate to a bowl, let cool, then pick out and discard the bones, leaving the meat in the bowl. Pour the cooking liquid through a fine sieve into a bowl and add enough water to make 6 cups total.
Step 2
Return the saucepan to low heat and add the olive oil. When the oil begins to shimmer, add the garlic and cook until lightly browned, about 4 minutes. Stir in the chile flakes and cook until fragrant, 1 minute. Add the romanesco or cauliflower, season with salt and pepper, and cook, stirring, until softened, about 10 minutes. Stir in the reserved cooking liquid and the tomato purée and bring to a boil. Stir in the spaghetti and cook until al dente, about 10 minutes. Remove the pan from the heat, stir in the skate meat, and season with salt and pepper before serving.