Recipes
Spanish Vermicelli Noodles with Prawns, Cockles, and Squid (Cazuela de Fideos con Mariscos)
Serves

serves 6-8

Cook

1 hour 5 minutes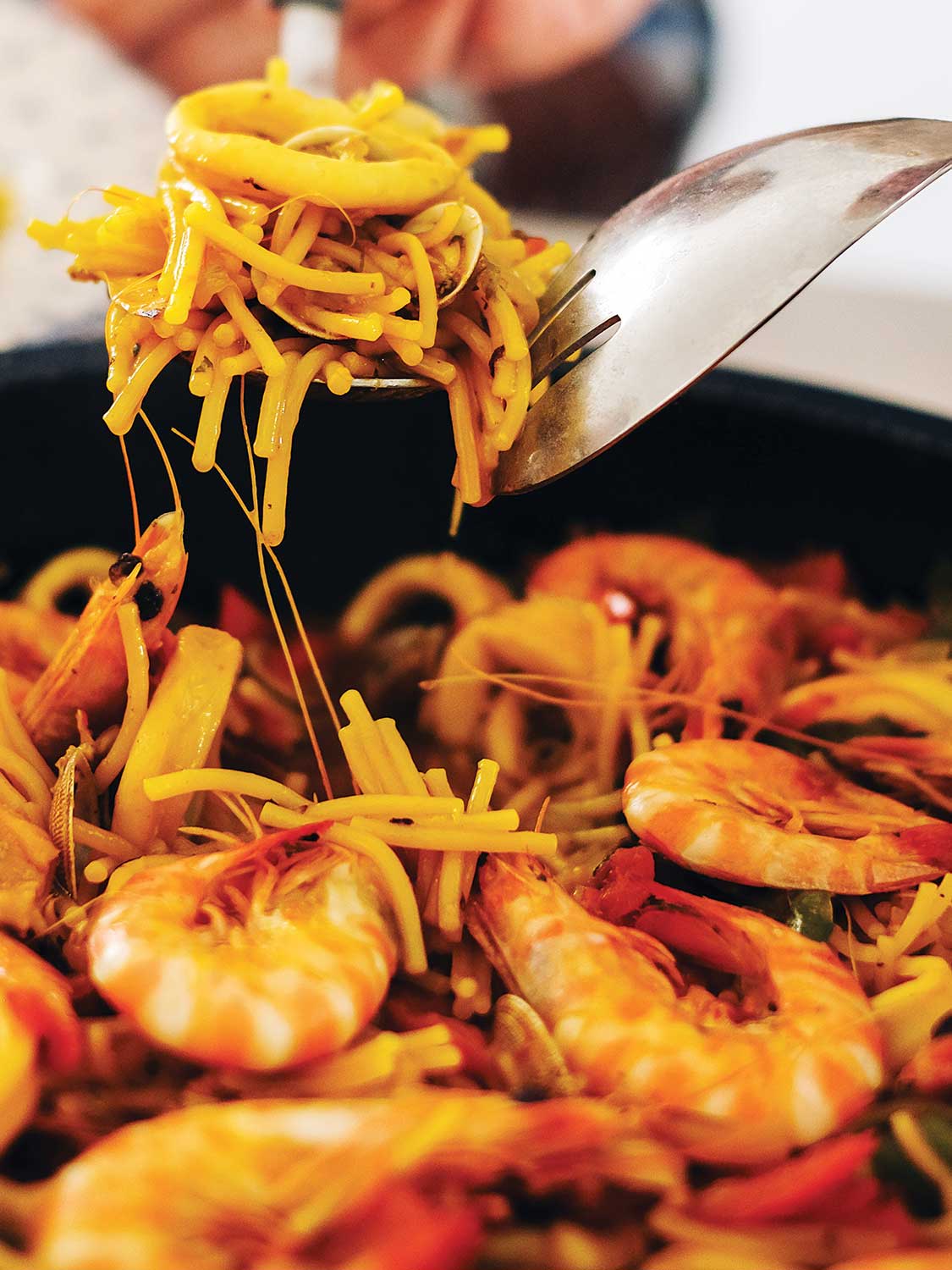 Equipo Navazos' Jesús Barquín ritualistically enjoys scouring the fresh fish market in Sanlúcar de Barrameda for the area's incomparable shellfish. He cooks mantis prawns, langostinos, and clams and their sweet and salty juices into fideos, Spain's national noodle, a short vermicelli. The dish is reminiscent of paella, but a hefty portion of the liquid used is dry fino sherry. Watch the noodles at the bottom of the pot for burning; unlike paella, you don't want a crispy edge.
In Jerez, a sherry maker and a criminologist have embarked on a quest to find the oldest, most potent casks of amontillado (and discover why it just makes food taste better).
Ingredients
10 each mantis prawns and langostinos de Sanlúcar, or substitute red prawns or small tiger prawns for both (about 1 lb. 6 oz.)
1 cup fino sherry, divided
1⁄4 cup plus 1 Tbsp. extra-virgin olive oil, divided
20 cockles, chirlas, or other small clams (about 12 oz.)
1 tbsp. plus 2 tsp. kosher salt, divided
1 lb. squid or cuttlefish tubes, cleaned and cut into ½-inch-thick rings
4-5 medium tomatoes (1 lb.), peeled and diced
1 onion (7 oz.), diced
1 red bell pepper (5 oz.), cut into ½-inch squares
1 long Spanish green pepper (2½ oz.), cut into ½-inch squares
1 tsp. cumin seeds
1⁄2 tsp. loosely packed saffron
1 small garlic clove
1 lb. (5 cups) short fideos, or angel hair pasta broken into 2- to 3-inch pieces
Instructions
Step 1
Shell and devein half of the prawns and langostinos and leave the other half intact. In a medium (4-quart) pot over high heat, add 2 cups water, ½ cup fino, and 1 Tbsp. olive oil; bring to a boil, then add the cockles. Cover the pot and cook until the shells start to open, about 5 minutes. Using a slotted spoon, remove the cockles to a bowl, then pluck the meat from the shells; discard the shells. Strain and reserve the cooking liquid (you will have about 2 cups).
Step 2
Rinse the pot and fill with 3½ cups water and 1 tablespoon kosher salt; bring to a boil over high heat. Add the prawns and cook until lightly curled and no longer opaque, about 4 minutes (they will not be fully cooked through); remove with a slotted spoon. Add the cooking liquid to the cockle juice (you should have about 4½ cups liquid total).
Step 3
In a 12-inch rondeau pan or high-sided skillet over high heat, heat the remaining ¼ cup olive oil. Add the squid and cook, stirring occasionally, until browned slightly, 4–5 minutes. Season with ½ teaspoon kosher salt, then transfer to a plate and set aside. To the same pan, add the tomatoes, onion, and red and green peppers. Cook, stirring occasionally, over medium-high heat for 5 minutes. Stir in the remaining fino sherry and cook until almost all of the liquid has evaporated, 6–7 minutes.
Step 4
Meanwhile, using a mortar and pestle, grind the cumin, saffron, garlic, and 1 teaspoon salt together until well combined. Add the spice mixture to the pan, then rinse the mortar with a few tablespoons of the reserved cooking liquid. Add the remnants to the pan, along with the remaining reserved cooking liquid. Raise the heat to high and bring the mixture to a boil. Add the noodles, cover, and cook over medium-high heat for 5 minutes. Uncover the pan and lower the heat to medium. Add all of the seafood to the pan and cook, gently stirring now and then, until the seafood is fully cooked through and all of the liquid has just been absorbed, 5–7 minutes.