Spicy Mashed Vegetable Curry with Rolls (Pav Bhaji)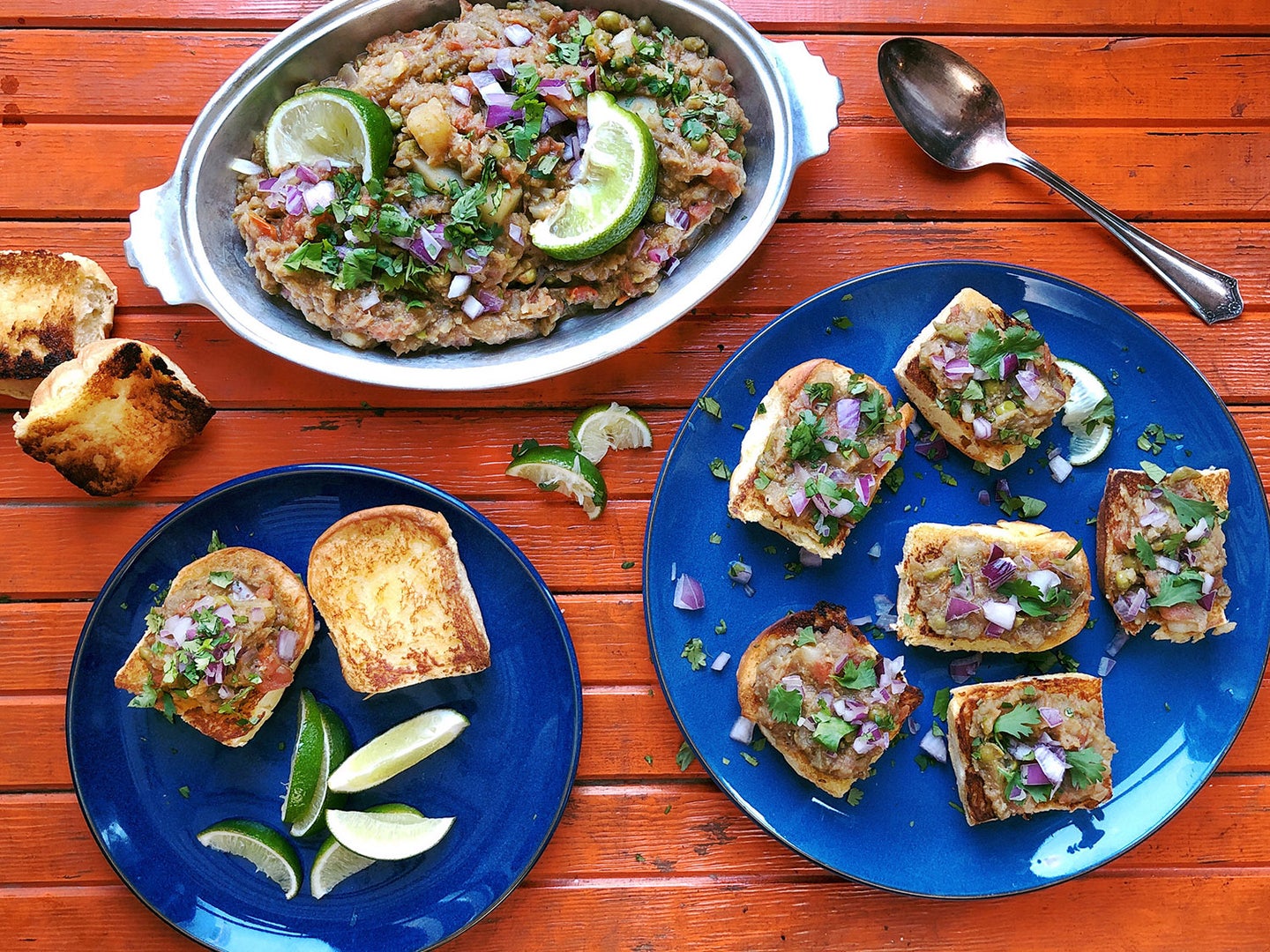 This unique curry—a blend of mashed vegetables, ginger, chiles, and spices—is served with small, soft bread rolls called pav that resemble Parker House rolls. The word pav comes from pao, the Portuguese word for bread, originally brought to the country by Portuguese colonists. A popular street food in Mumbai, pav bhaji will often be made with an eponymous spice blend, or masala, used specifically for that purpose. Pav bhaji masala is available in Indian grocery stores, but more readily available garam masala is a fine substitute. Serve the rolls and vegetable curry with plenty of chopped red onion and cilantro, and lime wedges for squeezing.
What You Will Need
Spicy Mashed Vegetable Curry with Rolls
This unique curry is served with small, soft bread rolls called pav (from the Portuguese word for bread, pao) that resemble parker house rolls.
40 minutes
Ingredients
1 1⁄2 lb. Yukon Gold potatoes, peeled and cut into 1-inch pieces (3 cups)
1 lb. Japanese eggplant, stemmed and cut into 1-inch pieces (4 cups)
3⁄4 lb. cauliflower, cut into large florets (3 cups)
Salt
1 tbsp. plus 2 tsp. pav bhaji or garam masala
2 tsp. sugar
1 tsp. ground turmeric
Pinch of ground asafetida
16 cloves garlic
3 green thai chiles, stemmed
1 (2") piece ginger, peeled and thinly sliced crosswise
1⁄4 cup vegetable oil
1 tbsp. cumin seeds
2 3⁄4 cups finely chopped red onion, divided
1 cup frozen peas, thawed
1 lb. 6 oz. plum tomatoes, coarsely chopped (3 cups)
6 Tbsp. (2 oz.) softened, unsalted butter
16 pav or parker house rolls, split but left hinged
1⁄3 cup coarsely chopped cilantro
2 limes, cut into wedges
Instructions
Put potatoes, eggplant, and cauliflower into a steamer set over a pot of boiling water. Cover and steam until tender, 20–25 minutes. Transfer vegetables to a bowl, mash with a potato masher until roughly mashed, and season to taste with salt; set aside.
Put 1 tbsp. of the pav bhaji masala, sugar, turmeric, asafetida, garlic, chiles, ginger, and 1⁄3 cup water into a blender and purée until smooth; set masala purée aside.
Heat oil in a large skillet over high heat. Add cumin seeds and cook, stirring frequently, until fragrant, 5–7 seconds. Quickly add three-fourths of the onions and cook, stirring constantly, until onions are light brown, about 5 minutes. Add masala purée and cook, stirring and scraping, until most of the liquid has evaporated, about 1 1⁄2 minutes. Add peas, tomatoes, and 3⁄4 cup water and cook, stirring occasionally, until tomatoes are soft and the liquid is reduced by half, 5–6 minutes. Remove from heat, mash with a potato masher until coarsely puréed, and add reserved mashed vegetables. Return to heat and cook until flavors meld, 5 minutes. Stir in remaining 2 tsp. pav bhaji masala; season with salt to taste. Keep warm.
Heat 4 tbsp. of the butter in another skillet over medium-high heat. Working in batches, fry the pav, cut side down, until toasted, about 1 minute. Flip and fry tops for 30 seconds more. Divide mashed vegetables among six plates, garnish with remaining onions and cilantro, and dot the potato mixture with the remaining butter. Serve with the pav and lime wedges (to squeeze on top for extra zing).